WhatsApp is undoubtedly one of the most used apps in the world, whether be it on Android devices or iOS supported phones. Millions and millions of people use this platform to sent uncountable text messages, files and to even make voice as well as video calls.
However, there is always a flipside to some of the most useful things available on this planet and WhatsApp is no exception. With active usage, comes a long list of unread messages from various chats, in which, finding important contacts and chats feels like finding a needle in a haystack. Keeping this mind, the Facebook-owned platform has come up with a great idea of Pinned Chats, through which users can pin three of the most important chats at the top of the list, and every time who open the messenger, these three chats stay at the top, irrespective of the number of messages coming from any of the contact or group.
WhatsApp Pinned Chat Feature was earlier available on the beta version but with the recent update, WhatsApp has launched this feature worldwide for Android users and you can download it from Google Play. Apart from Pin option, WhatsApp users can also enjoy other features such as Delete, Mute and Archive Chats, which can be opted for after long-pressing a particular chat.
How to use the WhatsApp Pinned Chat Feature
First of all, current users will need to update their app through Google Play and once that is done, they just need to tap and hold on a particular chat, until the pin icon, along with delete, mute and archive option, appears right on top. Tap on the pin option and the said chat will automatically move right at the top. You can pin three chats at maximum.
If you want to unpin a chat, long press on the chat and the unpin option will appear at the top this time. After tapping on the unpin option, the chat will move down the long chain of threads.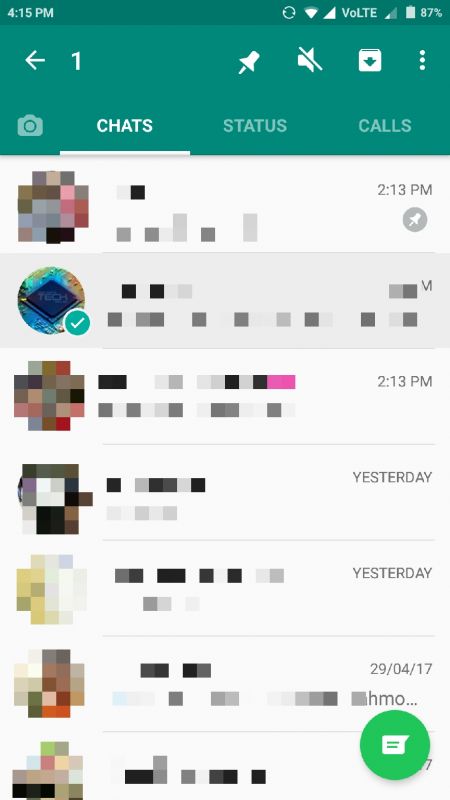 For users all over the world, the WhatsApp Pinned Chat Feature might turn out to be a pretty awesome as well as useful update, given the fact that many of us find the inbox wall flooded with way too many useless, not every time, messages. If you are part of an office or Family group, the WhatsApp Pinned Chat Feature will ensure that you don't miss any of messages from them after pinning them right on the top.
This new feature is also very useful 'very' active WhatsApp users, who constantly receive messages from various threads, as they will now be able to simply pin their favorite chats at the top instead of scrolling down.
However, users will be able to pin just three chats/groups as of now and we expect WhatsApp to update the feature for say 10 chats. Yes, people do have these many important threads and in some cases, it's even more.
As for WhatsApp, the company has been constantly updating its app ever since its inception and one of the latest updates was the Status feature that allows users to post a picture for 24-hours, for all their contacts to view.
The Facebook-owned platform is also said to be gearing up for launching a mobile payment solution through WhatsApp itself, and it seems like Mark Zuckerberg is planning something big for the platform.
If you have managed to use this feature, do tell us about your experience and how useful is it's for you, in the comments section below.