In an age of social media, we have all become expressive than before. We have, without a speck of doubt, begun elaborating, communicating and expressing like never before. It is, therefore, only wise to say, that social media, in a sense, has become a voice for the voiceless; giving a platform of expression to those who hitherto refrained from opening up. And what's rather interesting is that whilst one may typically reserve words or be choosy in expressing, there are several tools available nowadays through which you can emote yourself.
One thing, in that light, that comes to the mind is emojis. They are to social media expression what a nod of the head of approval or showing a thumbs up or wagging a finger is in the real life.
One simple symbol of the expression of human feelings and the person that is being corresponded to, understands exactly what the sender of the message intends. Right? Facebook has mastered this craft by way of offering a plethora of emojis that have, in a way, empowered the less talkative. Furthermore, even the more outgoing or expressive have habitually taken to the emoji expression akin to a fish taking to the waters.
But could Facebook continue to remain the only form of social media where emoji-styled expressions are used? Or, will it be that there shall be another social media site will take up this form of expression?
While there are no confirmed answers available at this point in time, what's clearly known is that Twitter is all set to explore a similar space for itself, wherein it gives access to its users toward a whirlpool of emoji-styled expressions that one has, thus far, come to associate exclusively with Facebook.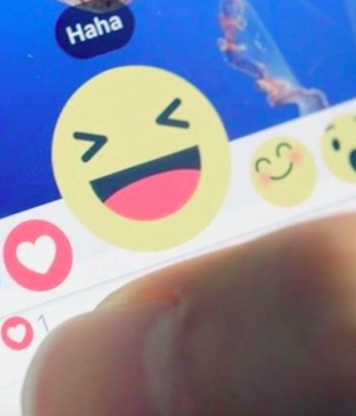 And it's hardly a surprise as to why this is happening. Well, we are in an age where all forms of communication, especially those in the realm of social media are ever-evolving. Isn't it?
Now, let's come to the development that specifically focuses on Twitter going the Facebook way where it comes to the emojis:
Microblogging site Twitter may add new emoticons to augment its formerly star-shaped, currently heart-shaped Like button, according to app researcher Jane Manchun Wong.
As reported by The Verge, the assets Wong found – which have been reliable predictions of future features in the past – show 'cheer,' 'hmm,' 'sad,' and 'haha' emoji reactions, though some currently only have a placeholder emoji.
Facebook has had a similar set of reactions since 2016. But Wong's leak shows that Twitter could be taking a slightly different path when it comes to which moods it wants users to express: while it has laughing and sad expressions in common with Facebook, Twitter may also include a makes-you-think and cheer option.
Now, the above being told, what's important to introspect in this case is whether the introduction of Facebook-style emojis will add a sense of light-heartedness to a micro-blogging platform which, up to this date, seems tailor-made for serious, thoughtful and introspective minds.
Also Read: The Number Of People Who Shop On Facebook Marketplace Is Simply Incredible!
It's in some ways a situation where the 'possible' introduction of emojis goes on to make a level-playing field between the mega Mark Zuckerberg-driven platform and the one pioneered by Jack Dorsey.