With the Global Coronavirus outbreak, it is not always possible to meet people in person. People and organizations across the world are using video conferencing tools such as Skype, Teams, and Zoom. These applications are a great idea for countering social isolation as well as keep people working from home. Here are some video calling and conferencing options for both official and personal use.
Video chat with Skype
Skype was released back in 2003, making it one of the oldest and best-known video chat providers. Through the app, you can make calls to up to 50 people at the same time. You can download Skype for both Mac and Windows computers. In addition, iOS and Android apps are available, as well as corresponding Alexa and Xbox programs.
After you have completed the download, you need to create an account. Once logged in, you can start video and audio telephony. For this, you need a webcam and a working microphone which are usually already available in laptops and cell phones. To call a person, you need the username of the person concerned. You should get this in advance by SMS or email, but there is also a search function.
You can use the search function to find the respective contacts using their full name, Skype name, email address, or telephone number. Then simply click on Call and you will be connected.
Video conference with Microsoft Teams
Microsoft Teams is a powerful software that offers video conferencing in addition to tools that make working together easier. The program was originally intended as a work collaboration tool. It offers numerous chat and news feeds in different groups, as well as access to Microsoft software such as Excel and Word.
Microsoft Teams has an excellent video chat offer. You can of course also use the Microsoft Teams video chat for a personal conversation however this program is aimed more at professional users.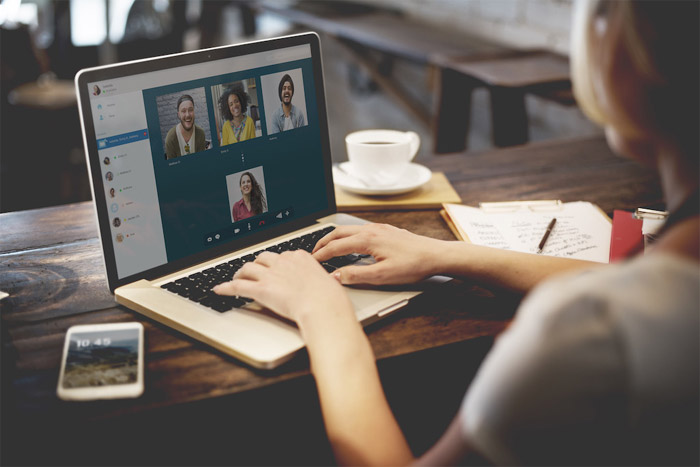 For private use, Microsoft itself refers to the above-mentioned Skype program, which also belongs to Microsoft. It is because Skype has focused specifically on video telephony making the app much easier to use by not including other diverse functions compared to Microsoft Teams. If you want to use Microsoft Teams in the company, you will receive this when you purchase the Office 365 Business Plan however the basic version is free to use however Video conferencing is not possible in the free version. It is also available as an app for mobile phones and the Mac.
Zoom meetings
Zoom is software that you can use to conduct video conferences. The tool is used extensively, especially for professional purposes, but it is also good for private video conferences. Unlike the tools mentioned above, you do not call contacts here, but a person sets up a meeting. Other participants can be invited via a link or request participation via the meeting ID. During the video chat, participants can also share their screen with the other participants.
One disadvantage of zoom is that without a subscription, calls are only possible for up to 40 minutes. You can download Zoom for the desktop, regardless of whether Windows or Mac, as well as for your cell phone.
Other alternatives for mobile phones
In addition to the tools already mentioned, numerous other options are popular. FaceTime is popular with Apple users because it is preinstalled on any iOS and Mac device. Here, too, you can make video or audio calls over the Internet. The disadvantage, of course, is that only Apple users can use this app. It is not possible to contact an Android user.
Also Read – Data Protection And Data Security – Things You Must Know About
Another app that young people especially use a lot is houseparty. This app is available both in the Google PlayStore and in the Apple App Store free of charge for mobile phones and the desktop. Video chats and conventional written chats are also possible here. In addition, shared games are also offered as part of the call. You can play a quiz with your friends using your mobile phone.