HMD Global recently announced that they're bringing back the Nokia 8110 feature phone into the market. It's the same phone that made a huge mark on the pop culture, all thanks to a brief cameo in Keanu Reeves' The Matrix released in 1996.
The company decided to bring back the phone considering that there's a need to good feature phone in the market which offers a good interface to the buyer. It comes with 4G LTE support, Google apps support, and more importantly Wi-Fi Hotspot support. All of this and much more is being offered at the €79 (or approx Rs 6,285) to the consumers.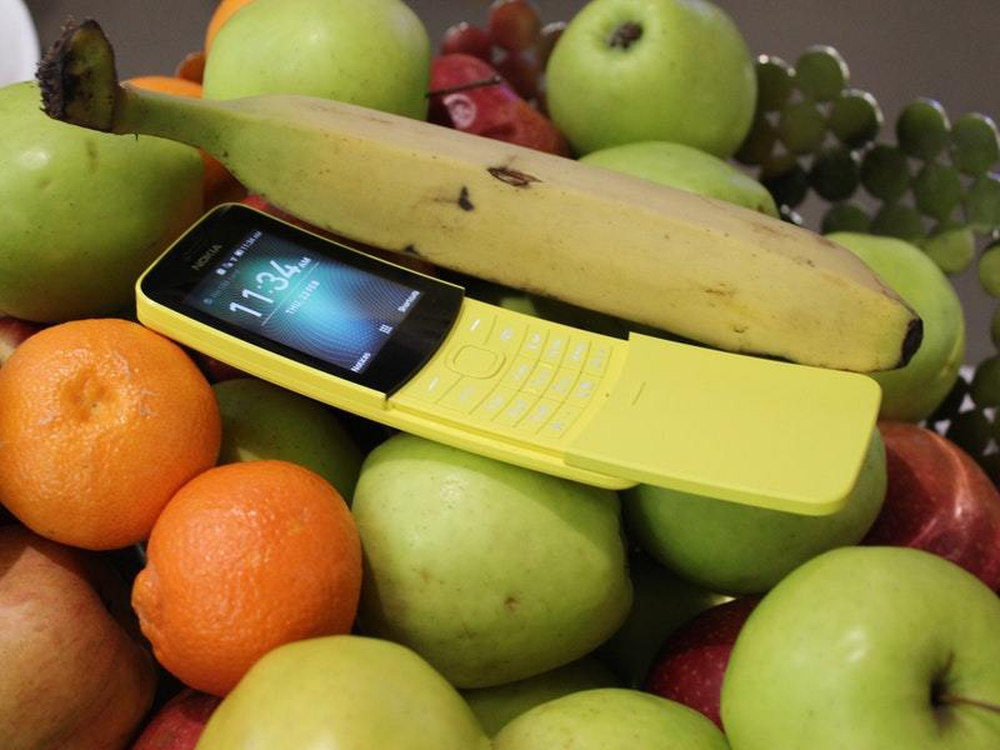 As per the company, the new Nokia 8110 comes in two new colour – black and banana yellow, standing true to the term banana phone, that it once got popular with.
HMD also announced that the new Nokia 8110 will also support a bunch of Google apps such as Google Assistant, Search and Maps, that can installed on the phone, including Facebook, Twitter and Snake apps. However, the users would have to go through a hard luck in terms of Whatsapp on their phone.
Talking about the hardware features, the new Nokia 8110 features a 2.4-inch QVGA display and HMD is calling it a curved display. The feature phone is powered by Qualcomm 205 Mobile Platform, which was launched last year exclusively for 4G VoLTE supported feature phones. The phone would have 4GB internal storage and 512MB of RAM. There's also a microSD card storage slot that one can use to expand the storage of their phone.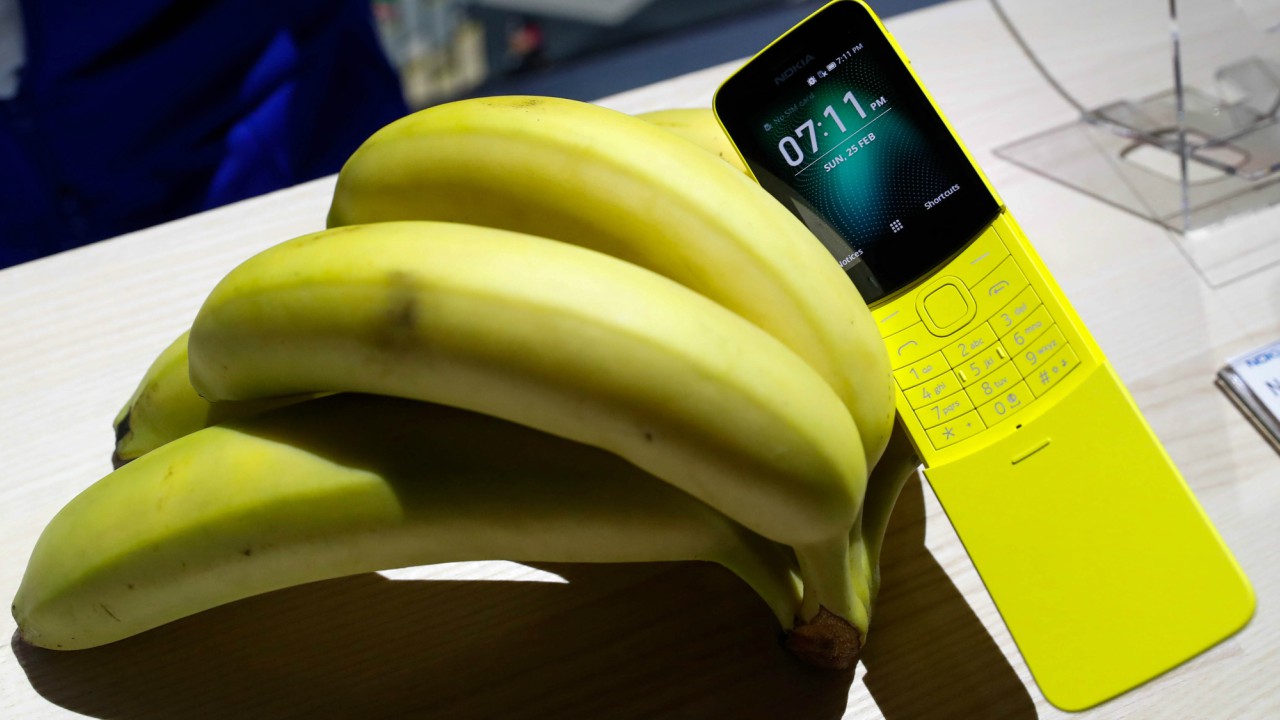 Now, let's come to how the people on the Internet came to terms with this news.
A lot of people instantly became excited about the news of the comeback of the banana phone and many even took a quick trip back to The Matrix world. Twitter was filled with people expressing their joy and excitement over the news and there were definitely more than few analogies between a banana and Nokia 8110. Check out some of the reactions on the news over here:
When your weird cousin steps in the the group photo at the last second!#Nokia8110 pic.twitter.com/A4HhpS43Ru

— Daily Driver (@Daily__Driver) February 25, 2018
https://twitter.com/_joannaosborne/status/967933171894509575
speaking of banana phones, i saw someone talking into a banana today. It looked wild, I don't think things were too good with whoever she was talking to

⚡️ "Nokia brings back the banana phone made famous by The Matrix"https://t.co/i1YOtxiQ9b

— luaiva (@spideyboii_) February 26, 2018
Gosh! This brings back memories from my 80's!

Nokia brings back the banana phone made famous by The Matrix https://t.co/46NBps1bL7

— Anisagrams (@cookwithanisa) February 26, 2018
@Potsy_70 @Trege33 @HabAListen @JP92720524 @FPOnTheDL Do you mean this phone? #GoHabsGo #bananaphone Photo by: @RocketSports @FlyersRule pic.twitter.com/nnyKcYaEL4

— All Habs (Canadiens) (@AllHabs) February 26, 2018
Ring ring rin ring… Ring banana phone!
Nokia's banana phone from The Matrix is back and its simply awesome. In this continuous transformation era of the smartphone, I never wanted to buy phone continuously… But now I want this one. #Nokia pic.twitter.com/izm2IUjoc1

— Akshay Munot (@AkshayMunot_) February 26, 2018
The banana phone is back! I've been hands on with the @Nokiamobile 8110 4G. https://t.co/7pPQLB9Pj7 pic.twitter.com/zMTB8YV1Eu

— John McCann (@JJMcCann) February 25, 2018
Everyone. Meet banana phone. #DTMWC #MWC2018 @DigitalTrends pic.twitter.com/3HhcVa9HAu

— Julian Chokkattu (@JulianChokkattu) February 25, 2018
Am I time travelling or @nokia
Is going old-style again! #Nokia8110pic.twitter.com/tGAoY5lByI

— nikhil braganza (@nikhilbraganza) February 25, 2018
We are overcome with emotion at DPC. This was one of our top selling devices in the 90s. We thank you @nokia for this! The Nokia 8110 in banana yellow! Pinch me! #Nokia #Nokia8110 #BananaPhone #MatrixPhone pic.twitter.com/2DypA5n4Kg

— Digital Phone Co (@DigitalPhoneCo) February 25, 2018
*Ring! Ring! Ring!*

🍌🍌BA-NA-NA PHONE! 🍌🍌
😉 pic.twitter.com/Bru4BT9eLL

— ☄khaleesi☄ (@khaleesi_1) February 25, 2018
https://twitter.com/likethemountain/status/967892983226957826
https://twitter.com/rafreuter/status/967849297533423624
Behold the Banana 🍌Phone! #mobile #flashback at #mwc18 by #thomaspower pic.twitter.com/Sn1d7OhKPi

— Euro Maestro (@euromaestro) February 26, 2018
The Nokia Banana phone will need to wait until after Brexit as the curve exceeds EU policy and is too bendy #MWC2018 pic.twitter.com/E8liv3ETLH

— Colin Jellie (@Jelliewobbler) February 25, 2018
What? #Nokia8110 pic.twitter.com/WINGl9cUNk

— Erikku (@Erikku_95) February 25, 2018
https://twitter.com/PrissyKristaly/status/967957705523630080
Neo wants it back! #Nokia8110 #Matrix 😃 pic.twitter.com/NnICeXBJDM

— Andrea (@Pura_Vida69) February 25, 2018
Just saw the #Nokia8110 is coming back. Time to jack in to #thematrix again. pic.twitter.com/1MFGRJ7gKW

— THECYBERBEAR (@thecyberbear2) February 25, 2018
#Nokia8110 is back 😂 pic.twitter.com/gGbeBANWPK

— Khaled AbouLail (@khaledaboulail) February 25, 2018
Remember, people. The #Nokia8110 saved Mr. Anderson, but it also handed us the one called "Morpheus". pic.twitter.com/TzRFkGop1U

— overdone and dry (dm29) ♿🚑 (@judacris) February 26, 2018
✅ Buy bananas for work #Nokia8110 🍌 pic.twitter.com/MJJEqoQNVh

— Chay Lázaro (@chaylazaro) February 25, 2018
My mobile email signature is "sent from my banana phone." — True story. But as you can see,… https://t.co/uH4dqNrTa6

— Ellen Noble (@ellenlikesbikes) February 25, 2018
There was one time when Nokia and durability were synonyms of each other, however, with time the glossed up facade came down and people were no longer interested in investing. Which has pushed the brand to recapture the market by touching the sentimental cords of the consumer and offering them nostalgia along with a device. Before Nokia 8110, the brand earlier last year relaunched Nokia 3310 in bright colours.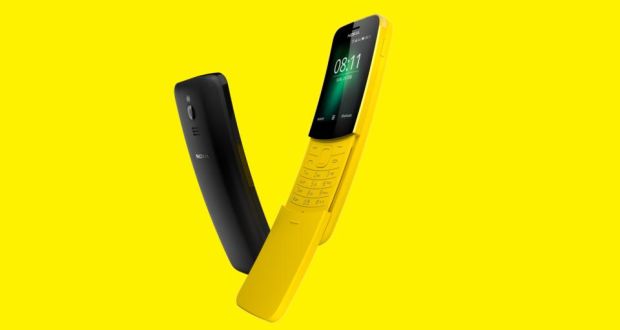 The same can be seen in the new relaunch which offers the traditional banana phone with coloured screen and nostalgia. The device will be available in the market from May 2018.
Jyotsna Amla