Xiaomi is undoubtedly one of the biggest smartphone manufacturers in India and with the launch of its Xiaomi Redmi Note 7 series, the Chinese smartphone maker even triggered the trend of smartphones with 48MP cameras. Now after announcing that the Redmi Note 7 series has sold over 15 million units all over the globe, Xiaomi is all set to take the competition a notch higher when with its next-generation camera modules.
Xiaomi has just announced its first 64MP camera smartphone imaging technology at a global event held in Beijing. This makes Xiaomi the first smartphone company to exhibit the upcoming 64MP imaging technology. Powered by Samsung's GW1 64MP sensor, the 64MP camera smartphone technology will first appear on a Redmi smartphone in India in the Q4 of 2019.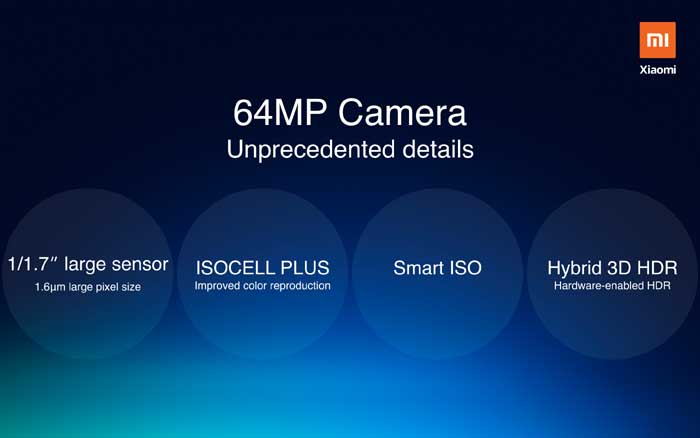 Bin Lin, President and co-founder, Xiaomi, took to the stage to announce the 64MP imaging technology alongside Jesuk Lee, Vice President, Head of Sensor Design for Samsung Electronics. The GW1 sensor uses ISOCELL Plus technology to create a pixel-to-pixel barrier to reduce light interference between pixels and consequently improve color reproduction. The sensor will also use 1.6μm later pixel with help of 4-in-1-pixel technology for better low-light shots, while the ISOCELL Plus technology is expected to offer 15 per cent enhancement in light sensitivity. Moreover, the technology will reportedly help image sensors to equip 0.8-micrometer (µm) as well as smaller-sized pixels without a loss in camera performance.
The GW1 features smart ISO supported by Dual Conversion Gain (DCG) technology, which intelligently adjusts the ISO sensitivity based on ambient light intensity. It uses low ISO in high-brightness environments, and high ISO in the dark-light environments to achieve the best signal-to-noise ratio for the entire scene. The GW1 outputs 64MP photos with a resolution of 9248 x 6936 pixels.
It comes with support for real-time hardware-supported high dynamic range (HDR) of up to 100-decibels (dB) that provides richer hues. Compared to the dynamic range of a conventional image sensor, which is at around 60dB (while that of the human eye is typically considered to be around 120dB), the GW1 strives to provide true-to-life imagery. The technology will first appear on a Redmi smartphone in India in Q4 of 2019.
Apart from this, Xiaomi has also confirmed that it will soon be launching a 108MP camera smartphone after disrupting the market with its upcoming flagship featuring a 64MP camera. In a recent tweet, Manu Kumar Jain said, "Yes, we've been working on 100MP camera flagship phone! Beginning of 2019, we launched #48MP, & today all flagships use it. We'll soon disrupt the market again with #64MP camera. And then #100MP". Xiaomi has also claimed that it will be the first company to launch a 100MP ultra-clear camera smartphone, which is rumoured to debut as the Mi MIX 4. The device will be using Samsung's 108MP ISOCELL camera sensor which will offer 12032 × 9024 pixels images.