Smartron and Sachin Tendulkar will be launching their second smartphone named srt.phone on 3rd May 2017 and will be the first ever device from the signature series of Sachin Tendulkar. Srt.phone is expected to be launched with a price-tag of anything below Rs 15,000 and after the Smartron tphone that was launched at Rs 22,999, srt.phone is going to compete in a much more flooded category.
Just before the launch of 'Sachin: A Billion Dreams', Smartron is looking to bet on the Sachin Tendulkar brand and the hype of the movie might result in the favor of srt.phone. SRT stands for Sachin Ramesh Tendulkar and the 'God Of Cricket' invested in IoT startup Smartron last year, before launching the tphone.
Coming back to srt.phone, there is little known about this smartphone but it is touted to bring a first of a kind revolution in the market. Being an Indian made device, srt.phone will also benefit from the 'Make In India' drive and since Sachin Tendulkar is the strategic investor as well as the brand ambassador of Smartron, it will definitely dismantle the sub-Rs 15,000 smartphone segment in India.
Despite being a rather new company in the smartphone business, Smartron has already set various benchmarks, and why not? It's associated with the master blaster Sachin Tendulkar himself.
Gearing up for the srt.phone launch, Smartron India tweeted
Ready for a surprise? We're excited & can't wait to share it with you all. #srtphone is on its way on 3rd May'17, are you ready? #TwoOfAKind pic.twitter.com/mw5a2NYMHw

— Smartron (@smartronindia) April 28, 2017
Smartron India has appointed former Motorola India chief, Amit Boni, as the Vice President, Sales and Marketing. Boni will be responsible for brand building and will also head the sales and marketing functions for Smartron. The IoT startup also roped in former chairman of Motorola Mobility, Sanjay Jha, in March, to its board of directors with immediate effect. Sanjay has also invested in the start-up and is an independent director with Smartron.
The hype about srt.phone is a result of previous launches from Smartron including the t.phone and t.book laptop-tablet hybrid. While the latter didn't manage to live up to the expectation despite high-end innards and Rs. 39,999 price-tag, it was the t.phone that brought a revolution of some sorts in the Indian smartphone market.
Smartron t.phone was priced at Rs 22,999 and came with specifications like 5.5-inch full HD (1920X180) AMOLED display with 401 ppi and Gorilla Glass protection, 64-bit 1.6GHz Qualcomm Snapdragon 810 processor, 4GB RAM, 64GB of internal storage (expandable via MicroSD), 13MP primary camera with LED flash and 4MP front shooter with 2µm pixels. It also came with 3000mAh battery with Quick Charge 2.0 support, Android Marshmallow 6.0.1 and dual-SIM support.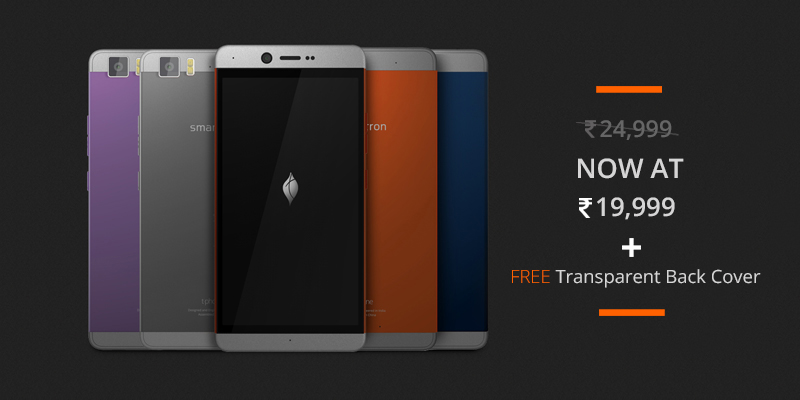 The one thing that was holding t.phone back was the front camera and srt.phone might be launched with amends in this department.
P.S srt.phone will have an autograph of Sachin Tendulkar on the rear cover and that alone can work wonders for the smartphone.