Samsung Galaxy S8 and Galaxy S8+ have been unveiled and after all the tiring rounds of leaks and rumors, it's finally here. Interestingly, almost every leak turned out to be true but Samsung Galaxy S8 still didn't fail to surprise us. By the looks of it, this is the by far the best-looking smartphone and the kind of specs it boasts, the Korean company have ticked all the right boxes and has made this a defining comeback after the Note 7 debacle.
Samsung Galaxy S8 is not just a comeback device as it will succeed the most successful smartphone of 2016, Samsung Galaxy S7 Edge and with the inclusion of newly developed Bixby digital assistant and the Snapdragon unit, this handset has definitely raised the bar this time too.
Samsung Galaxy S8 Specifications
5.8-inch Infinity Super AMOLED curved display with 2960 x 1440 resolution (571 PPI)
Corning Gorilla Glass 5 protection both at the front and rear
Samsung Exynos 8895 (Europe and Asia) or Qualcomm Snapdragon 835 (USA)
4GB RAM, 64GB storage (microSD up to 256GB)
3000mAh battery with wireless and fast charging
12MP rear camera, f/1.7 aperture, and dual-pixel sensor
8 MP front camera, f/1.7, and autofocus
Iris and fingerprint scanner
Samsung Bixby personal assistant
Android 7 Nougat with Google Assistant
IP68 water and dust proof certification
Wi-Fi 802.11 a/b/g/n/ac with dual band support, GPS, Glonass, USB Type-C, 3.5mm headphone jack
Samsung Galaxy S8+ Specifications
Except for the 6.2-inch Infinity Super AMOLED curved display with 2960 x 1440 resolution (529 PPI) and 3,500 mAh battery with fast-charging, wireless charging, and battery saving modes, rest remains the same as the non-plus variant.
The Best Of Samsung Galaxy S8 and Galaxy S8+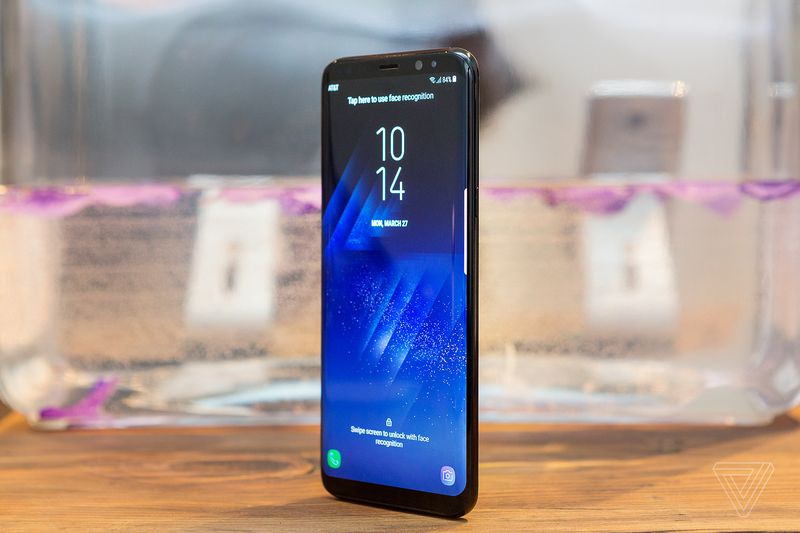 1. Infinity Display: The always-on gorgeous 5.8-inch/6.2-inch Super AMOLED curved display looks great, vivid, colorful and appealing, setting up a new bar in the multimedia experience.
2. Security: The iris scanning, Samsung Pass, and a host of other software features like Secure Folder, the Samsung Galaxy S8 gives you unparalleled levels of privacy. You can keep all your usernames, IDs, passwords and other such important data in one location which will be secured with your fingerprint, all thanks to Samsung Pass.
3. Bixby Voice Assistant: this was one of the most talked about feature before the launch of Samsung Galaxy S8. Bixby will take on the likes of Apple's Siri, Google Assistant and Amazon's Alexa. Moreover, there is also a feature called Bixby Vision, which is an image searching tool, much like Google Now on Tap, but comes with Samsung's own touch.
4. Hardware: This is where Samsung Galaxy S8 and Galaxy S8+ have really dented the other companies. The all new octa-core Snapdragon 835 SoC for America and Exynos 8895 chipset for Europe, Middle East, and Asia, coupled with 4GB of Ram and one of the best GPUs, make this device the one to beat, even for Apple iPhones and Google Pixels. You will no longer find the front facing home button this one comes with a pressure sensitive unit. The fingerprint scanner is now repositioned at the rear, next to the camera sensor and LED flash. The dual-edge Quad HD (2560×1440) display is also a thing of beauty and gone are the days and worries of sunlight visibility.
5. Camera: The 8MP front sensor really shines with it's Auto Focus capabilities delivering incredible selfies. The 12MP rear camera has been carry forwarded from the predecessor, which already was one of the best in the industry.
6. Other Features: The most futuristic specification of the Samsung Galaxy S8 is the 'Samsung DeX'. It allows you to connect your SMART-phone to external monitors and TVs, pretty conveniently. Moreover, there is Bluetooth dual-audio feature that allows you to stream music via two separate Bluetooth headsets from your device.
Samsung Galaxy S8 and Galaxy S8+ Price
The Galaxy S8 is priced at $750 (INR 49,000 Approx) and Galaxy S8+ is priced at $850 (INR 55,200 Approx ). Pre-bookings for both the devices start at 12:01 AM on 30th March and the smartphone will hit various stores starting 21st April. Samsung Galaxy S8 and Galaxy S8+ are expected to be launched in India by the end of April and will be available in Midnight Black, Coral Blue, Maple Gold, Orchid Grey and Arctic Silver colors.