Samsung Galaxy Note 7, a device that was expected to climb the sales chart as the Galaxy S7 and S7 Edge but ended up giving the biggest dent in the Korean Manufacturer's image by blowing up whenever it wanted, is set for a come back in a refurbished form and rumor has that the Samsung Galaxy Note 7 can be relaunched as soon as next week.
For those who don't know, millions of Samsung Galaxy Note 7 were recalled and its production was scrapped after the self-combustion fiasco that even forced several airlines to ban the Samsung Galaxy Note 7 on their flights. Galaxy Note 7 was touted to be the best device last year but heating problems and battery forced the smartphone/phablet to dig its own grave and left the company with $5.5 Billion worth of losses.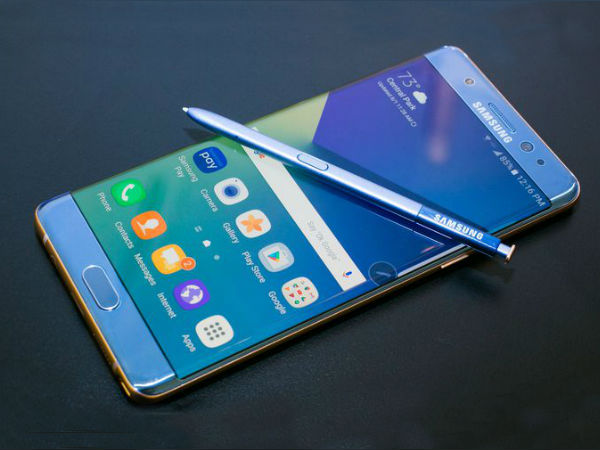 However, time has changed now. Samsung Galaxy S8 is selling in good numbers and the Note 8 is expected to be scheduled in September this year, but the dent that Samsung Galaxy Note 7 left in the company's image is still fresh and with a refurbished unit, Samsung is looking to regain the lost grounds.
The refurbished Samsung Galaxy Note 7 is expected to be launched as Galaxy Note FE is likely to come with similar specifications. However, there were reports that the device may come with a smaller 3200mAh battery, updated software, a dedicated Bixby button and an improved S-Pen.
Other than that the refurbished Samsung Galaxy Note 7 is expected to feature the same Exynos 8890 chipset, 4GB RAM and 64GB internal storage, a 12MP rear camera as well as a 5MP front shooter.
The price of the smartphone is also expected to be reduced and it will be positioned right against the likes of OnePlus 5 under the sub-Rs 40,000 category.
While the refurbished Samsung Galaxy Note 7 has also received FCC and Wi-Fi certification, which we saw during its benchmarks registration, the question still remains,
Whether it will lay a path of success of Galaxy Note 8 or the highly anticipated flagship from the company will witness a downfall due to Note 7's existence in the market?
If taken the expected price of Galaxy Note 8 (€999) into consideration, we expect the refurbished Samsung Galaxy Note 7 to not feature any of the new technology that the Korean manufacturer has been playing with because that will definitely create a confusion among the buyers.