Oppo, the Chinese smartphone manufacturer, has joined the race with Samsung and ZTE, to develop a new innovative design which is a foldable smartphone. While ZTE announced the Axon M last year which uses two displays to offer the 'foldable effect' but comes with a hinge.
On the other hand, Samsung is expected to come up with foldable or flexible displays this September or even assemble a prototype by 2019. However, Oppo's patent shows a design which is nothing like ones we have seen from ZTE and Samsung and according to the patent filing, the upper half of the display will be flexible enough that it can be folded onto itself.
There will be some sort of hinge which will help in the folding mechanism and it is assumed that the whole display module will be touch-enabled, so there might be an interesting UI change with the phone folded backward.
OPPO's foldable design focuses on the top third part of the smartphone which actually reminds us of OPPO N1 and N1 Mini as they use a rotating camera on top which is used for both normal photos as well as selfies. The same can be seen in the OPPO patent as well.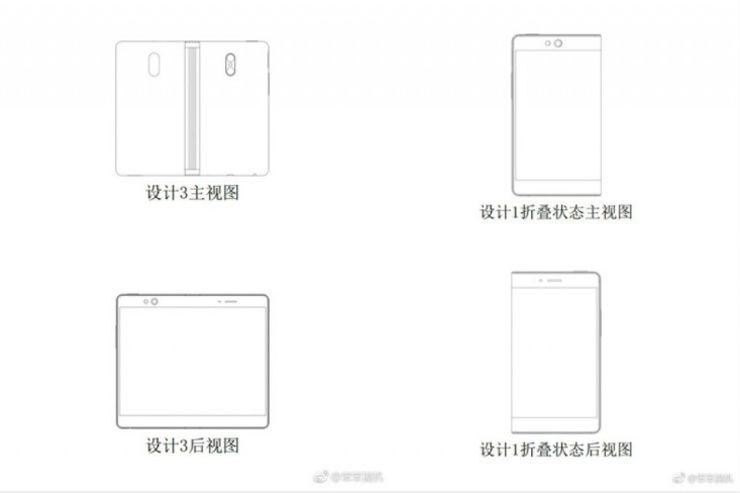 As for the outward hinge which comes up once the device is unfolded, it will act as a part of the display. On further analyzing the images, it seems that on one side, there is a vertically arranged dual camera setup and on the other, there sits a cut-out with a similar shape as the camera housing.
A dual camera setup on the rear can also be seen when the said-smartphone is unfolded and according to the patent, one of the sides will be used for making calls when folded, while the other side will be used for taking selfies from the front camera which also appears to be backed by a LED flash.
Everything said and done, from all the hype around a foldable smartphone, two things are perfectly clear. First, smartphone manufacturers like Oppo are working hard on this technology and are patenting as many designs as possible so that in the soon-to-be-seen rush of foldable designs, it will have something to negotiate in case of any patent tussles.
Second and the most important one is the question of why there is a need for folding smartphones. Solutions like Oppo's recent patent don't offer a natural answer while the expected flip phone which is Samsung Galaxy X, has the benefits of decreasing the dimensions for a more comfortably fitting device for your pocket.
But will this be enough to attract consumers towards this upcoming trend in the business?
Share your thoughts in the comments section below.