Nokia 3310 has been launched in India by HDM Global and once again the iconic feature phone is back to rule our hearts and recreate the magic that left us mesmerized, way back in the year 2000.
Keeping in mind the legacy that it had left behind earlier, the all new Nokia 3310 will only be made available via offline stores, keeping us away from the hassle of those couple-of-minutes sales that still leaves us empty handed in many cases. Nokia 3310 will be available in red, yellow (glossy finish), dark blue and grey color variants and will go on sale from 18th May.
Nokia 3310 (2017) is a revamped version of the old Nokia 3310 that was a rage in the days long gone. The newer version, despite bearing the same name, is different in many ways. It is faster, looks modern and has a better hardware than the old iconic Nokia 3310.
When it comes to hardware, there are a hell lot of changes in the newer and funkier Nokia 3310. From a 2.4-inch (240 x 320) QVGA display bearing a curved glass to the micro USB port that replaces the small pin charger, Nokia 3310 is back in a better avatar.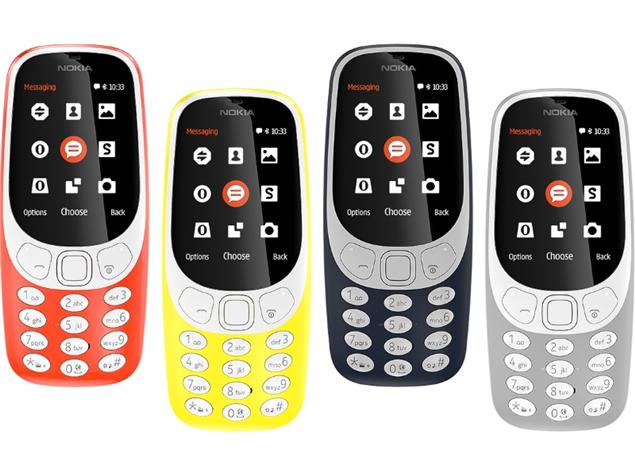 The handset runs on Nokia Series 30+ OS and comes with just 16MB of internal storage but it can be expanded up to 32GB via microSD. Nokia 3310 also features a 2MP camera with LED flash and this one of the biggest addition to the revamped version. It packs a removable 1200mAh battery, offering 22 hours of talk time and a month long standby time.
Another highlight of the Nokia 3310 is the Snake game that has been optimized for the new color display and carries the same mojo as the older version. However, there is one thing that makes Nokia 3310 a device entirely focused on evoking nostalgia among Nokia fans and that is the 2G connectivity with dual-band 900/1800 MHz support. In the days when everybody is moving towards 4G, Nokia 3310 with 2G connectivity seems to be a bummer in this case. Moreover, internet browsing is limited to Opera Mini.
Other features in Nokia 3310 includes FM Radio, MP3 Player, classic numeric keyboard, 3.5 mm headphone jack, dual SIM variant (microSIM), Bluetooth 3.0 with SLAM and it weighs 79.6 grams including the battery.
Now the biggest question, How much Nokia 3310 Cost?
While earlier expectations were of a price tag anywhere near Rs 4000, HDM Global has taken a step further and has launched Nokia 3310 at Rs 3310. Cool, Right?
Everything said and done, in the days of smartest smartphones, Nokia 3310 will be a device that brings back the emotions of dependability, durability and reliability, the three features that made Nokia a legend in its days.
Moreover, Nokia 3310 is also a stepping stone for HDM Global, that owns the 'Nokia' brand, for bringing back one of the most dominant forces in the business as the company is expected to launch its Android smartphones Nokia 6, Nokia 5, and Nokia 3 in India in June.
Are you going to buy the iconic Nokia 3310, if yes, then why?
Share your thoughts in the comments section below.