Nokia 3310 has been launched by HMD Global at MWC 2017 with two other offerings from the company i.e. Nokia 5 and Nokia 3. However, 3310 was a brand in itself and that is the device we are going to spend time with. Not the actual handset though, but what we saw at the launch.
So, after 17 years, Nokia 3310 has been finally launched or rather 'reborn'. The device will be the torchbearer for the company as what's better than making a comeback with a device that already sold 126 million units before getting out of production in 2005.
The announcement has triggered a wave of nostalgia among millions who owned the original device (including me), and brought back memories of predictive text and typing that we were so used of that even without actually seeing at the display, tak tak tak, and the message was gone. The musical ringtone, and of course, 'Snakes' is also making a comeback with this device and man!! The good old days are back.
But will the revamp live up to the original device? Or would anyone want to ever trade their smartphone for the Nokia 3310?
Well, the question in itself is wrong. Nokia 3310 is here for being your companion, and by this we mean a month to be exact. While your smartphone will help you for all those smart things, 3310 will be there to save you from a blackout, and that is what this device is all about.
The revamp version carries the same basic with that traditional sturdy finish but for the first time, you will be able to have the same experience in a colorful way. It relies on 2.5G connectivity not (3G or 4G) which has slower data speeds and is powered by the S30+ operating system, which further allows web browsing, however, the operating system allows a smaller range of apps than Android or iOS. What apps does it support? Well, there is no Whatsapp to start with!! However, you can access stripped-down versions of Facebook, Twitter, and Gmail. Moreover, there is a basic multimedia system that supports videos and music but since there is no Wifi option and only the 2.5G connectivity, you won't be using it to download videos.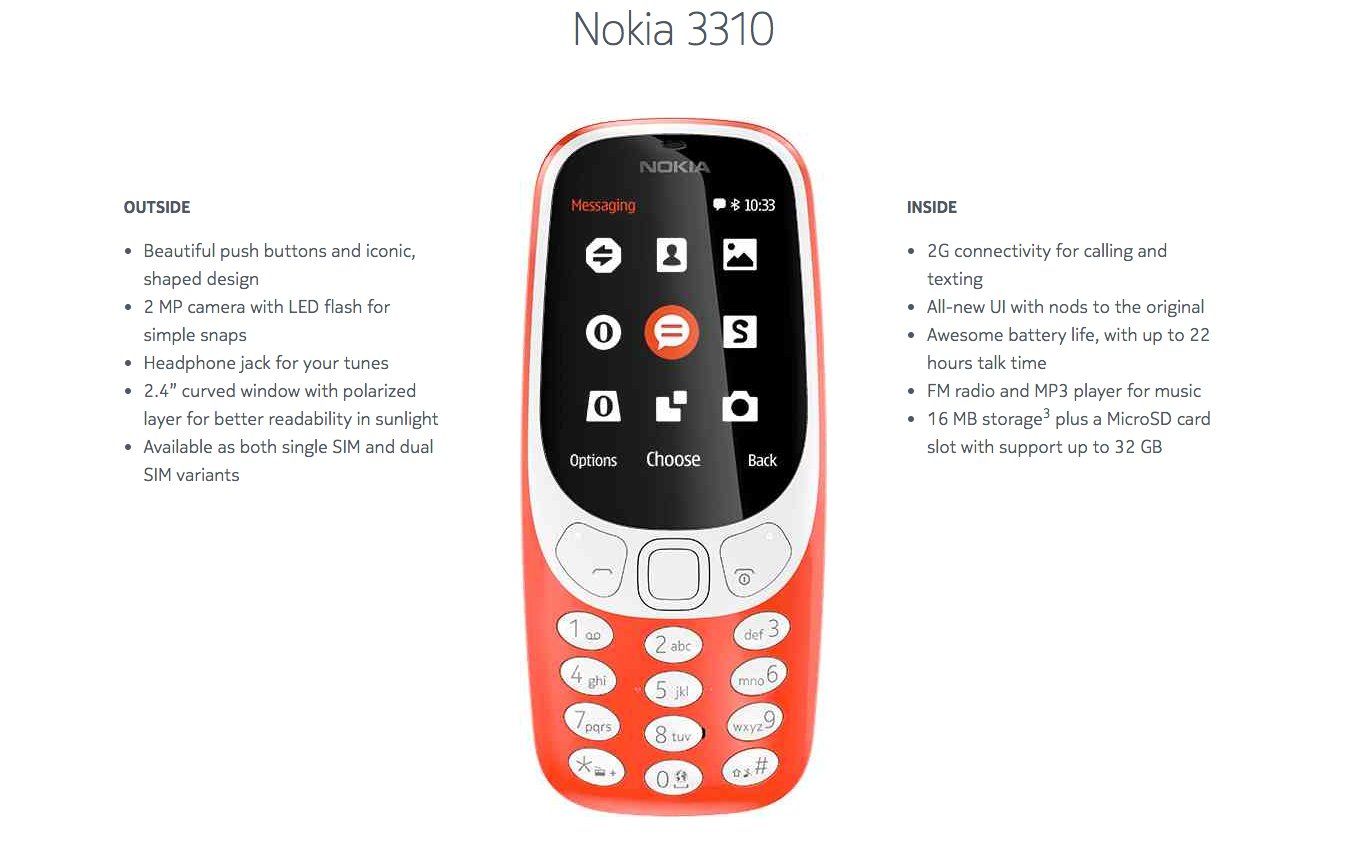 But what's a Nokia without a standout feature? Nothing, so for videos, you have an SDcard slot that can with expandable memory up to 32GB, however, there just 16MB of internal storage.
Its single camera is restricted to two megapixels but yes a camera is there and it is the best 2MP one. Nokia 3310 will deliver more than 22 hours of talk time and it's way more than many budget smartphones.
Nokia 3310 will be available in four color schemes, Warm Red and Yellow (both with a gloss finish), and Dark Blue and Grey (both with a matte finish). The color runs through the whole device rather than just a coating, making the body color a long lasting one.
The layout doesn't seem exactly faithful to the original 3310. For starters, there's a rectangular D-pad in the middle and not the up and down keys of its predecessor which feels pretty much as long lasting as the earlier Nokia 3310 except it is now a little lighter and thinner.
So, here is our best friend in a new Avatar but with the same old soul, especially the 'Snakes' and while there is no denying the fact that it won't replace your high-end smartphone, Nokia 3310 will definitely climb up the sales charts due to the nostalgia it comes with.
P.S Khub Jamega Rang Jab Mill Bethege Teen Yaar, aap, smartphone aur Nokia 3310.
Follow us on Facebook, Twitter and Instagram for more updates. Don't forget to like and share. Do tell us your views in the comment box below.