LG Mobiles has launched the LG K7i Android smartphone with Mosquito Away Technology at Rs 7,990 and if you are thinking that the amount is going to get you a benchmark specifications then think again.
LG K7i is not just any other smartphone and in the days when we were yet to digest the fact that FaceIDs are going to take over fingerprint scanners and bezels are going to be the past of smartphones, here is LG K7i with its one of kind feature.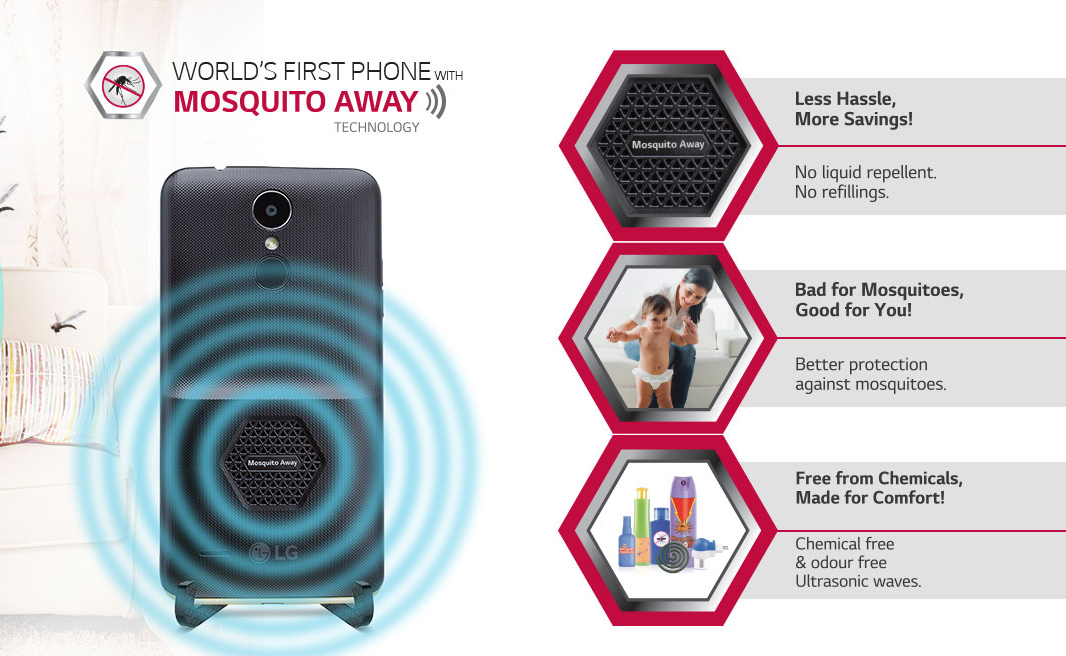 However, before dwelling into the details, we would like to mention that, yes, we saw smartphones with reversible cameras, dual displays, thermal cameras and even a built-in projector but what LG K7i can do is just weird.
The USP of LG K7i is the fact that it comes with 'Mosquito Away Technology' that can keep mosquitoes away by creating an Ultrasonic noise which is inaudible to human ears with the Mosquito Away cover, having a separate hardware built into it. LG K7i also comes with a Mosquito Away Stand, however, users will also get a normal back cover with the smartphone.
What's more? Well, you might be disappointed with the LG K7i because apart from the edge-to-edge display and 'Mosquito Away Technology' there is nothing special about the smartphone.
LG K7i Specifications
5-inch (854 x 480) FWVGA On-cell Touch IPS display
1.1 GHz quad-core processor
2GB RAM and 16GB Internal memory, expandable up to 32GB with microSD
Dual SIM and Fingerprint sensor
Android 6.0 Marshmallow out of the box
8MP rear camera with f/2.0 aperture, PDAF and LED flash
5MP front-facing camera with Gesture Shot
2500mAh removable battery
4G VoLTE, Wi-Fi 802.11 b/g/n, Bluetooth 4.1, GPS
Dimensions: 145.7 x 74.1 x 8.1 mm
LG K7i Review
While the spec sheet doesn't feature a single specification that can even give LG K7i the tag of an entry-level smartphone while the price tag makes things even worse. Neither the users will get Android Nougat on the software front nor the performance credentials for heavy gaming and multitasking.
So what exactly is the LG K7i? Truth to be told, the only thing special about this smartphone is the 'Mosquito Away Technology', however, if somehow this feature alone attracts potential buyers, one thing that can still hold LG K7i back is the 2500 mAh battery.
However, if we talk about the bigger picture, LG K7i could have been the best device to carry during camping but since it comes with the tiniest battery ever seen in a major smartphone launch, for how long do you think that LG K7i will take to die on you?
Moreover, LG has used Mosquito Away tech in its air conditioners as well as TVs earlier, however, we are just as skeptical about this as our readers might be because when Googled about this feature, we found a report by BBC in 2010 which examined 10 field studies that concluded,
Ultrasound mosquito repellent devices "have minimum or no effect when it comes to preventing mosquito bites" and " they should not be even recommended or used."
Are there any takeaways from LG K7i? Well, there is surely one. As a concept, this is something never seen before and considering the Indian scenario, once developed to its full capabilities, Mosquito Away Technology can become a weird yet interesting chapter of Android smartphones. Until then, all you can do is wait and choose your next smartphone from this list.