These days, no WhatsApp means less popularity, and Jio wouldn't like to put JioPhone in that situation.
JioPhone has been the talk of the town for quite a while now since it was unveiled during Reliance Industries 40th Annual General Meeting with an effective cost of rupees zero, however, this 4G enabled feature phone has also raised many questions regarding the support of some essential app, especially WhatsApp.
The JioPhone sports a 2.4-inch QVGA display, an alphanumeric keypad, 512MB RAM, 4GB of internal storage as well as support for microSD card slot. The JioPhone comes bundled apps like Jio Music, Jio TV, and Jio Cinema, to name a few, however, featuring a Firefox based OS under the hood, its capabilities are somewhat limited.
In one of our Videos, we talked about all the confusion that has been triggered after the launch of JioPhone, which can be acquired with a security deposit of Rs 1500, that will be refundable after a period of three years.
Watch the video here.
As we told our views in the video that WhatsApp will not be available to users of the basic model and it might be added to the lineup later, here comes a report by Factor Daily, that suggests Reliance Jio being in talks with Facebook-owned WhatsApp for a tailor-made version to run on the JioPhone.
The version could be called WhatsApp Lite, or something like that but unlike the full-grown WhatsApp available on smartphones, or the iPhone, it may have some features missing.
It was not too long ago when WhatsApp entered India, but the messaging app has gained a wide popularity while becoming extremely popular across India, even in small towns as well as cities.
Users usually prefer WhatsApp over SMS as a means of communication and JioPhone makers might have realized that a 4G enabled feature phone without WhatsApp support possibly won't be a good thing for the revolution it is touted to bring. Considering the fact that, nowadays, millions and millions of phone users in India, having internet accessibility, also want WhatsApp to connect with their friends and family, the omission of this particular application from JioPhone might have resulted in a downfall.
Currently, other than a mini-voice assist, LTE (VoLTE) calls and basic internet browsing, there is hardly any thing that JioPhone users will be able to do with a fast 4G connection. Features like Hotspot and Dual-SIM support, to name a few, also need some light to be shed on them, and in this situation, the lack of basic applications will not be a good thing for JioPhone's future, from any angle.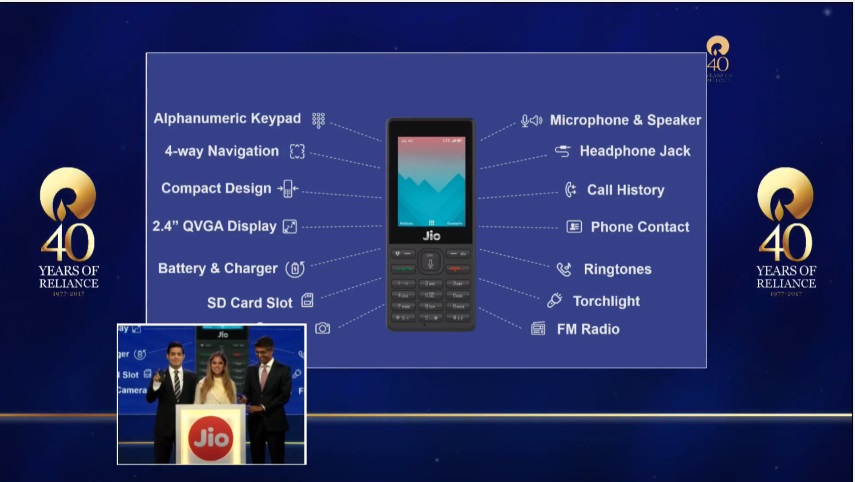 Even though Jio has its own messaging application – JioChat, but not many use it or prefer it over WhatsApp.
Idea Cellular is also said to be working on the same concept and they are expected to come up with a 4G enabled feature phone that supports all the basic application but at a higher price tag, which will be justified due to its practicality.
As for the JioPhone, pre-bookings begin from 24th August and the deliveries will start from September on first-come-first serve basis.