JioPhone has been launched in India with an effectively free price tag during Reliance Industries 40th AGM hosted by Managing Director and Chairman of Reliance Industries Ltd (RIL), Mukesh Ambani. The JioPhone is touted to be the most affordable intelligent device in the world as the company will collect 100% refundable security deposit worth Rs 1,500, which will be refunded after 3 years.
With the JioPhone, Reliance Industries is looking to bring the same revolution in smartphone business as they did in telecommunication sector last year with the launch of Reliance Jio, which now has over 125 million subscribers, thanks to its affordable data prices and free calling services.
#RILat40
It took 25 years for our competitors to build 2G network. Jio will have created a larger 4G network in just 3 years: Mukesh Ambani

— Reliance Jio (@reliancejio) July 21, 2017
What's even special about the JioPhone is the fact that it comes with pre-installed voice assistant which help users to make calls, send text messages, use Jio apps, search the web, and more on voice commands.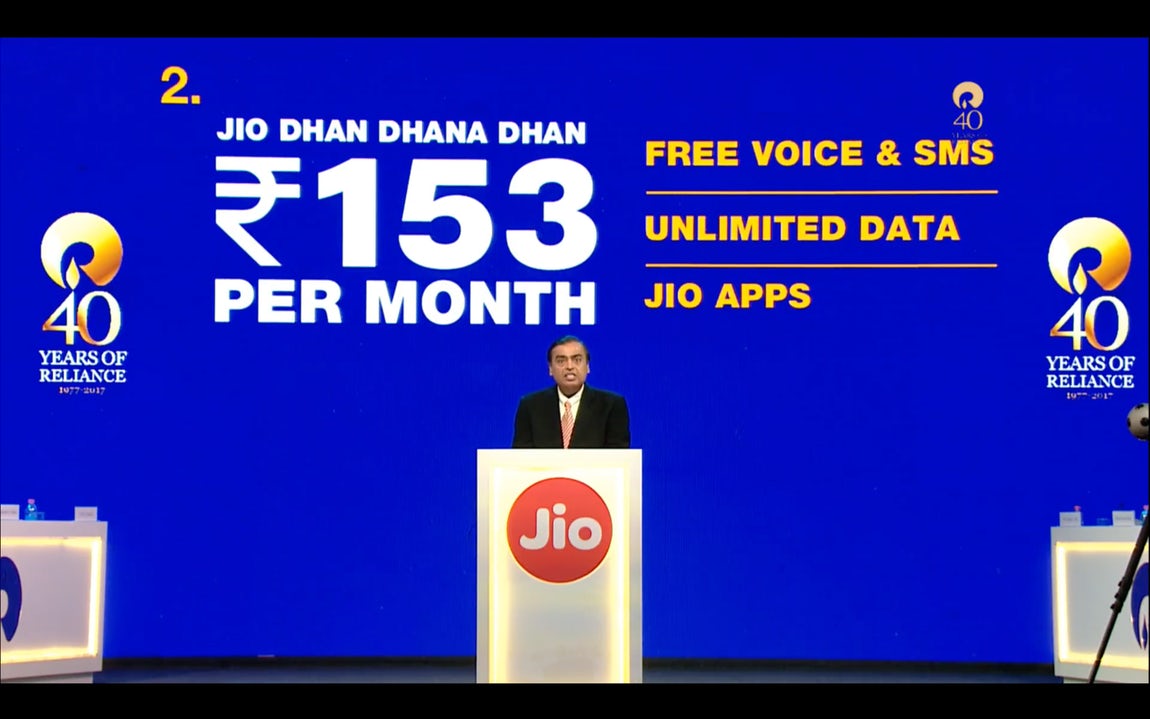 The JioPhone sports a 2.4-inch QVGA display, an alphanumeric keypad with a 4-way navigation toggle wheel, 512MB RAM, 4GB of internal storage and support for SD card slot. JioPhone comes bundled with the Jio's own apps like Jio Music, Jio TV and Jio Cinema, to name a few, and offers other features like Torchlight and FM Radio.
The JioPhone comes with a 2MP rear camera and a VGA unit at the front. It supports 22 different languages and comes with a 2000mAh battery. While the NFC feature will be added through a software update later this year, the JioPhone comes with a distress call feature that can call all your selected contacts by long pressing 5.
JioPhone users also have an option to mirror the content from their feature phone to their large screen LCD or CRT TV via Jio TV cable with an additional Rs 309 recharge for a month.
Additionally, Reliance Industries announced a new set of data plans under the Dhan Dhana Dhan offer for JioPhone customers at just Rs 153 per month. Under this plan, users can avail free voice calls and SMS, unlimited data as well as a free subscription to Jio apps.
In days when a decent feature phone costs at least Rs 2000 and comes with only basic features, JioPhone with 4G connectivity and support for all Jio Apps comes as a breath of fresh air. Moreover, despite the 4G and smartphone industry booming in India, the reach of these developments have been a reason for concern in the country, especially due to financial constraints.
However, with the launch of JioPhone and weekly plan of Rs 54 as well as a two-day plan of Rs 24, Mukesh Ambani Led Reliance Industries have achieved another milestone towards PM Narendra Modi's 'Make In India' and 'Digital India' dreams.
Watch Reliance Industries 40th AGM Here:
Availability Of JioPhone
The JioPhone will be available for beta testing starting from August 15 and will be available for pre bookings from August 21. It will be available for sale on a first come, first serve basis and the JioPhone will always have free voice calls.
P.S Voice assistant feature is unprecedented for a feature phone anywhere in the world except JioPhone.