Gionee has finally launched its M2017 smartphone in China, after several leaks and rumors, at a starting price of 6999 Yuan (Rs. 68,240). The USP of M2017 will be its humongous power capacity of 7000 mAh that will be supported by two 3500mAh batteries. Chinese Manufacturers are known for taking the specs sheet to another level and Gionee M2017 is a great example of that.
China has one of the largest smartphone markets in the world regarding manufacturing and sale, Gionee being an upcoming player in the market. The company hasn't launched many premium smartphones in India and it's always good to see what is cooking in its hometown.
Gionee M2017 has been a mystery of some sorts since it was first teased earlier this year. The initial rumors stated that the smartphone will come with a 7000mAh battery and a 2K display. Further, it was rumoured that M2017 will have all the capabilities to stir things up in the industry. Gionee has stayed true with their promises and here we are, reviewing Gionee's most expensive flagship device till date.
Specifications
5.7-inch Quad HD AMOLED curved glass display with sapphire glass protection
Octa Core Snapdragon 653 processor
6GB RAM
Adreno 510 GPU
128GB / 256GB internal memory
Android 6.0 Marshmallow based on Amigo OS 3.5
12 + 13-megapixel dual rear cameras with LED flash
8-megapixel front-facing camera
Dual SIM
Fingerprint sensor
4G LTE, Bluetooth 4.0, GPS, WiFi 802.11 ac, USB OTG, USB 2.0 Type-C
7000mAh Li-ion battery with 24W Qualcomm Quick Charge 3.0
Display And Design
5.7-inch Quad HD AMOLED curved glass display comes with sapphire glass protection. The screen is slightly farfetched but it will definitely turn heads and the whole purpose of the smartphone seems to attract attention. Since the display comes with curved edges and has 1440×2560 resolution with 518 ppi, it is one of the most sought after displays in the market. Working under direct sunlight is not going to be a tough task with M2017 i.e. if you can afford one!
Coming to the design, a smartphone that costs more than Rs 65,000 has its share of highlighting features in the design. However, the aesthetics on the back will win some fans but may push other away.
Hardware and Software
M2017 costs a fortune but still comes with midrange 1.95 Ghz 64-bit octa-core Snapdragon 653 with some sidekicks like Adreno 510 graphics and 6GB of RAM. Gionee has misunderstood the concept of sidekicks. Sidekicks exist because they have no importance without the superhero and infusing 6GB of RAM is not going to do wonders for the smartphone. M2017 further comes with two internal storage options i.e. 128GB and 256GB (16,999 Yuan)
In an era, where consumers want everything from good camera to an X-Box kind of gaming experience in a smartphone, Gionee is wheeling M2017 on Android 6.0 Marshmallow. And there is no 3.5 mm headphone jack. Oh Come On!! What were Gionee's developers thinking while launching this smartphone. It costs f***ing Rs 68000!!
However, Gionee is touting that the addition of homemade Amigo OS 3.5 User Interference (UI) will provide a drooling experience which I don't agree with. Amigo OS was initially used in PC operating systems and needs at least 4GB of RAM to operate properly. And this is the reason why M2017 comes with 6GB of RAM.
Camera
A dual rear camera system comprising of 12MP and 13MP cameras with LED flash, 2x optical zoom, and an 8-megapixel camera on the front are some of the best features that this device boasts. The rear cameras are capable of taking high resolution pictures with least amount of irregularities, even in videos. The front shooter will never ever let you down in selfie duties or video call and the camera software comes with numerous beautification modes.
Battery
This is where Gionee has left its competitors to tatters. The 7000mAh dual battery system is one of a kind feature and provides 25 hours of video playback and 915.42 hours of standby time. Gionee also claims that its newest entrant will provide 36 hours of talk time over 4G and the 24W Qualcomm Quick Charge 3.0 will juice up battery even before you know.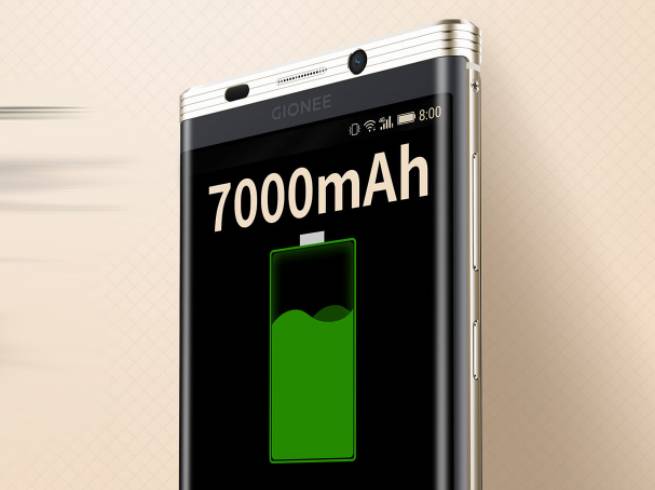 Gionee M2017 comes in two variants. Both the variants have the same specs except the 256 GB of internal storage in 16,999 Yuan (Rs 166,000) model that further comes with Italian custom alligator leather back.
Should I Buy One?
It may sound surprising but i would like to own a Rs 65,000 just to see why Gionee M2017 has been launched in direct competition of iPhone 7 and Google Pixel XL while the latter two are the most sought after smartphones in the industry.
My main concern here is, is the hardware of M2017 capable of supporting so much technological infusion at a same time? It's just because Gionee is not Apple and the latter is the only company in the world to successfully incorporate all this in Mac OS and not even in iPhone.
However, if you have a fortune to spare, which I don't, you can always buy the 16,999 Yuan variant and use it as a status symbol because seeing a M2017 is going to be a rare sight in the future.
Follow us on Facebook, Twitter and Instagram for more updates. Don't forget to like and share. Do tell us your views in the comment box below.
28 December 2016
Rohan Jaitly