Apple iPhone 6 32GB variant is now available for just Rs 28,999 on Amazon until Tuesday and after being launched with the price tag of Rs 40000, two years ago, this is the biggest price cut for the smartphone at the e-commerce site.
Flipkart, another e-commerce giant, has also listed the Apple iPhone 6 16GB variant at a price of Rs 27,990, which when compared to the Amazon listing is not a bargain. If you are wondering what exactly is surprising in this news, well, Apple only launched the 16GB, 64GB, and 128GB officially and the 32GB storage variant is being offered by the third-party retailers and not the Cupertino-based company itself.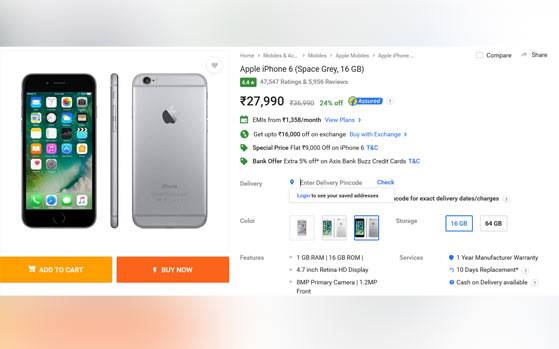 What makes the listing more exclusive is the fact that the 32GB iPhone 6 is only available on Amazon India and the smartphone is unlikely to show up on other websites or via offline retail. Apart from the Rs Rs 28,999 price tag, Amazon India is also offering an exchange offer up to Rs. 8,550. If you want another couple of thousands worth of discounts, you can exchange your old smartphones to enjoy the offer. However, this doesn't help much, as for a substantial discount rate, you need to have an expensive phone in the first place.
The iPhone 6 uses A8 processor, backed by 1GB RAM, has a 4.7-inch screen, an 8-megapixel primary camera, and a fingerprint scanner. While the 4.7-inch screen is brilliantly bright and has great colors to offer, the 8-megapixel camera compliments it with the ability to click quite neat photos.
However, The iPhone 6 is still not a great buy as it doesn't have the specs that similarly-priced Android phones boast of nowadays. Take OnePlus 3 into consideration. Priced near the Rs 30,000 bracket, has better Value for Money and even leaves behind the iPhone 6 when it comes to camera capabilities. But for the members of the iPhone clan, who are rocking an iPhone 4 and want something bigger and better without shelling Rs 60,000 or so, the Amazon listing can be a viable choice. It is also a nice option for those seeking an entry into the Apple clan with a smartphone that will support software updates for another year or two.
Other iPhones ranging from 5S to the recently launched iPhone 7 and 7 Plus, have also been given the same sort of discounts on e-commerce sites.
iPhone 5S has a listing price of Rs 17,000 on Amazon India while on Flipkart the phone is listed for around Rs 19,000. The big brothers, iPhone 7 and the 7 Plus, are selling for a discount of anything between 5% to 10%, on both the portals.
Follow us on Facebook, Twitter and Instagram for more updates. Don't forget to like and share. Do tell us your views in the comment box below.