LG is back with another flagship smartphone or as we like to call it a 'Premium Phone' with V20. After G5's 'not so known' success in the Indian market, the company has launched a phone with two screens, three cameras and abundance of power under the hood with Snapdragon 820 and 4GB of RAM. Priced at Rs 54,999, LG has directly challenged iPhone 7 and iPhone 7S, however, V20 will also face tough competition from Samsung Galaxy S7 Edge and Google Pixel XL.
V20 features a 5.7 inch HD Display and a 2.1-inch secondary display above the primary one. It is powered by a Quad Core Snapdragon 820 processor, Adreno 530 GPU with 4GB of RAM. Internal storage is supported up to 64 GB and can be expanded up to a humongous 2TB with microSD. Believe me, it's not easy to stuff your smartphone with 2TB of data. The 16MP f/1.8 and 8MP f/2.4 lens at the back and 5MP front camera are the added advantages for V20. It is powered by Android 7.0 Nougat and weighs only 173 grams.
The 3200 mAh battery will suffice anywhere between 14-16 hours, however, for heavy users, it may not be enough as they may need to find a port after every 12 hours. The phone is available in three color variants- Titan, Silver and Pink. LG is further offering a Rs 18,000 worth of B&O headset and six months screen replacement offer for free.
Biggest Drawback: The phone is not water-resistant. Come on!! This phone costs a fortune, but is still not water resistant. Why LG Why?? It's not like every other premium phone has this feature but where is LG that was first to adapt every time?
However, looking at the hardware, it is visible that V20 is built up with top notch technology and feels solid in hands. However, the phone will face tough competitions from flagship smartphones and here is how V20 stands against the competition.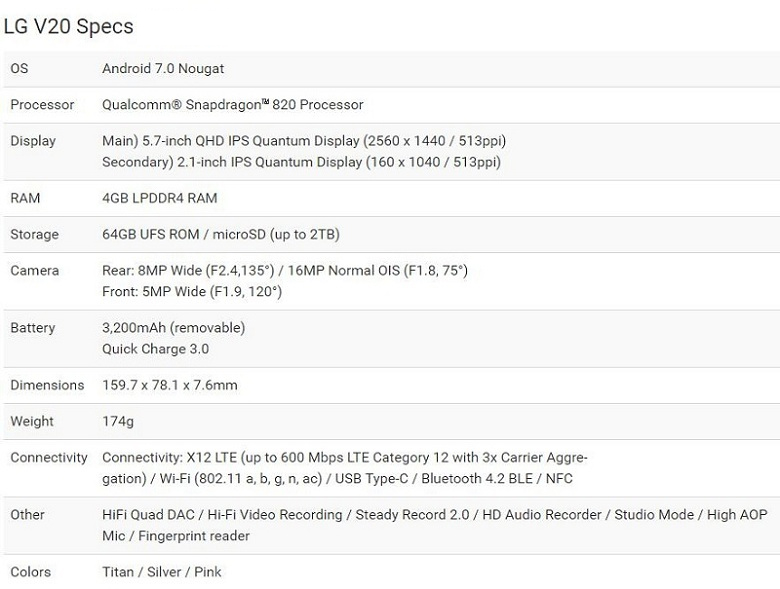 The comparison includes an in-depth review of LG V20, simultaneously comparing it with Google Pixel XL and Samsung Galaxy S7 Edge:
Display and Design
All premium smartphones boast some impeccable features in this category and comparing these smartphone is somewhat hard for everyone. Google Pixel XL has kneeled down in front of Samsung Galaxy S7 Edge as the latter is a thing of beauty with its slick chassis, broad curves, and a generally more "premium" aesthetic design. Google Pixel, on the other hand, focuses more on hardware than the overall design.
With the entry of V20 in the competition, S7 Edge has found a strong competitor for dominance in the segment, as the twin display on the former gives access to apps, shortcuts, notification etc, will definitely incline more buyers than the other two.
The build quality of all the three smartphones is up to the mark but Google Pixel XL takes a marginal lead here. The combined aluminum and glass body that this phone boasts is a 'love it or hate it' situation. For those who need a dependable phone that can endure unexpected drops, Google Pixel XL is a beauty, but for those who need class, Samsung Galaxy S7 is the most preferred choice.
Want something that does both? Close your eyes and go for LG V20, it's that simple.
V20: 8.5
S7 Edge: 8
Pixel Xl: 8
Hardware and Software
LG V20 has a Snapdragon 820 processor with 4GB RAM and we can easily associate it with a V8 engine but it is surprising that LG is not marketing this phone on its performance. The 4GB RAM will allow you to work on multiple apps and the it's better if we don't talk about the number. It may be 10, 15 or even 20 and there is no one who will multitask on more than 20 apps. The Snapdragon 820 with Adreno 530 GPU will not let your apps shutter and the same has been guaranteed by LG.
For heavy gamers, this is nothing less than Zeus' Thunderbolt as games like Asphalt 8, Mortal Kombat and Call of Duty can be played with ease.
Same goes with Samsung Galaxy S7 Edge (830) and Google Pixel XL (821), however, the area where LG V20 stands out is the screen heating. Even After regressive gaming, the screen temperature remains below 38-degree celsius which is rather amazing for a smartphone of this size. Samsung Galaxy S7 Edge and Google Pixel XL lacks behind marginally with 39 and 40.2-degree temperature.
V20: 9
S7 Edge: 9.5
Pixel Xl: 9
Everything said and done, Samsung Galaxy S7 Edge shines as the clear winner because of its much powerful Snapdragon 830 processor.
Camera
Every premium smartphone users know what the G5's dual camera was capable of, however, it was later overshadowed by iPhone 7 Plus, even though the technology was the same. LG is back at it again and they have tweaked the dual camera (I say revolutionized) by swapping in different sensors.
It may take time to get used to it but once you make a healthy relation with this one, it will never let you down anywhere. LG has infused so much in this camera that pictures will turn reality, if taken with precision.
However, it is Google Pixel that takes the lead here. When shooting in Auto mode, which you will be doing most of the time, the V20's camera tends to get a little too anxious to eliminate noises, further hampering the originality of the picture. Goggle Pixel, on the other hand, stands out with an Auto mode that can put some professional photographers to shame.
Samsung Galaxy S7 Edge also does well with color representation and detailing in Auto mode.
V20: 8
S7 Edge: 8.5
Pixel XL: 8.5
Since most people use their smartphone camera in Auto mode, therefore the ranking is based on the same scenario. However, if you know how to do justice with the smartphone camera, you should give LG V20 a chance to shine.
Storage and Battery
With 64GB of internal storage, LG V20 has nothing for us but when it comes to external storage through microSD card, it's nothing short of a Frankenstein with 2TB external storage support YES 2 F***ing TB. I have 1TB of storage in a recently acquired laptop and it's getting hard for me to utilize it fully.
Clear winner: LG V20
We don't even have to mention the other two.
However, when it comes to battery life, LG V20 has inherited a problem from G5. The battery life is the only department where this new entrant lacks, as the 3200 mAh battery fails to compete with Google Pixel XL and Samsung Galaxy S7 Edge.
With heavy usage, the 3200 mAh battery will last for only 12 hours while the other two have enough juice to cross the 18 hours mark.
V20: 7
S7 Edge: 8
Pixel XL: 8
Price and Verdict
Priced at Rs 54,999, LG V20 is placed exactly between the Samsung Galaxy S7 Edge (Rs 51,000) and Google Pixel XL (67,000).


If we talk about value for money, all three have something that the other doesn't offer and for buck by buck, there is a tie between LG V20, Samsung Galaxy S7 Edge and Google Pixel XL.
With the trio dripping oozes of class just like an extra cheese pizza does with cheese, you won't have to worry about your decision getting haywire.
However, if I have to choose one, LG V20 will turn out to be a clear winner as this smartphone actually gives the best of both worlds.
Follow us on Facebook, Twitter and Instagram for more updates. Don't forget to like and share. Do tell us your views in the comment box below.
8 December 2016
Rohan Jaitly