Wi-fi has become an essential part of everyday lives or we can say our online self and from booking a cab to Googling something new, wi-fi is what we have chosen to be our best buddy in the times of emergencies. However, it sometimes irritates us, just like any other friends by being its annoying self with slow speeds.
Even if you have opted for the best wi-fi available, you might end up getting just 300MB per second of speed in total which, by all means, is something huge, if we talk about the current scenario and put the sometimes inconsistent network aside.
But what if we tell you that there is a technology being tested which could provide 300 times better speed? Yes, you read it right!! Professor Ton Koonen and a Ph.D. student from the Eindhoven University of Technology, Netherlands, are working on a wireless network based on harmless infrared rays, that might provide more than 40 Gigabits of speed per second.
These researchers have devised a new technology that relies on central 'light antennas' to transmit rays of different wavelengths to wireless devices which means that networks won't get jammed by multiple competing devices.
Since the wireless data comes from a few central light antennas, the system is simple as well as cheap to set up, for example, mounted on the ceiling, which is capable of precisely directing the rays of light dispersed by an optical fiber.
These antennas in Infrared Wi-Fi contain a pair of gratings which will radiate light rays of divergent wavelengths at different angles, which is called passive diffraction gratings. Changing the light wavelengths means that the direction of the ray of light will also be changed and since a safe infrared wavelength is used in the process which will not reach the vulnerable retina in a human eye, this technique is harmless, as well.
The researchers added that if a user walks around and his smartphone or tablet or any device connect to the wireless network for that matter, moves out of the light antenna's line of sight, another light antenna will take over. These networks track the precise location of every wireless device using the radio signal transmitted from the same device in the return direction.
By using Infrared Wi-Fi, devices are assigned different wavelengths via the same light antenna and therefore, there is no need to share capacity or speed. Moreover, there will no longer be any interference coming from a neighboring wi-fi network.
Professor Ton Koonen of Eindhoven University of Technology said,
"What we are doing actually is using rays of light which convey the information in a wireless way, and each ray is acting as a very high-capacity channel.It's actually the same as an optical fiber without needing the fiber, and what we achieved up to this moment is 112 gigabits per second".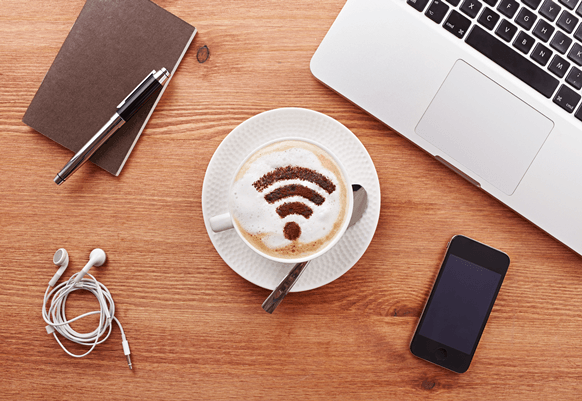 The Infrared Wi-Fi system developed at the Eindhoven University of Technology, Netherlands was able to achieve 42.8 Gigabytes of speed per second using infrared light rays. This is equivalent data required to download three full-length HD movies per second.
Koonen Added,
"Another efficiency, another advantage, is that light doesn't go through walls. So that means your communication is really confined to the particular room. Nobody can listen in from outside, so it offers you a lot of security".
In-the-works Infrared Wi-Fi system has so far used these light rays only to download while uploads are still done using radio signals as in most applications, comparatively less capacity is needed for uploading.