WhatsApp, if you haven't heard this name, then you might be from another planet or live a cave, still waiting for technology to rescue you. WhatsApp is one such app that was an instant hit among the smartphone and not-so-smartphone users that even Mark Zuckerberg had to shell out $19 billion to buy this technological revolution.
Over the years, we have seen WhatsApp coming up with several new features, be it new emoticons, file sharing or calling. It even forced people to buy a new phone in order to enjoy the services the App provided.
While people, earlier used phones to either text or call someone and pay for it, the moment WhatsApp came, paying for text messages or opting for a bonus card became a thing of the past, jolting the telecommunication industry. And then came voice and video calling features.
Although these two features were not lag free, in the days of Reliance Jio and other service providers giving free data, it sounded like a better option. Coming to the Indian market, people here know how to take the best out of anything and save a buck here and there. Same has been the case with WhatsApp usage.
People now have Wi-Fi and data packs offering unlimited internet usage and Indians have exploited this opportunity the most. WhatsApp recently announced that Indians have been making 50 million minutes of Video calls on daily basis.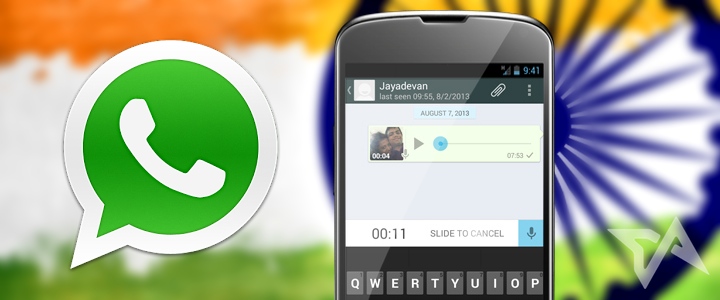 So, if you are one of those who likes to see-and-talk with someone you love, that too for hours, before bedtime, congratulations you have contributed to making India the biggest WhatsApp lover. (For those who are fed up with their friends doing the same after a party, your friend is serving a bigger purpose. Pun!!).
The fact that WhatsApp does not pre-judge network quality of the server from which the call has been made and the quality of video call improves as the system recognizes the actual network quality, also made WhatsApp a leader in a market like India.
WhatsApp also noted that the chat app now has 200 million monthly active users in India compared to 160 million, back in November. This also means that the launch of Video calling feature has given the Facebook-owned app around 40 million new monthly users in less than 6 months in India.
Coming to the global figures, over 55 million video calls are made and 340 million video calling minutes are used per day, making WhatsApp the most used messaging app among Hike, Google Allo, Facebook Messenger and Viber. Moreover, the company revealed that it has around 1.2 billion users worldwide.
After the success of voice and video calling features, WhatsApp is reportedly planning to launch a P2P payment platform and is also testing new features that enable businesses to contact users.