Ever thought how important Gmail backups could be for you or how backing up and resting your Gmail data can save the day for you? Online security has become one of the most debatable topics in the Internet industry as we have seen multiple hacks being executed in the last couple of years and data of millions and millions of users being compromised.
While Google has had a rather strong track record when it comes to managing data, the fact still remains the same that Gmail accounts could be hacked while the possibility of the same does exist. There could be someone who might get locked out of his or her Gmail account and while many of us probably have years of mission-critical business as well as personal history stored in our Gmail archives, it becomes more important to know about how to backup Gmail as it is always a good idea to execute regular backups.
Moreover, with hackers constantly looking for weaknesses in any account, it's possible that your Gmail account, which stores a plethora of important emails, could become compromised or your messages could be lost or you might even end up losing access to your Gmail account. If any of this happens, you'll want to have all your data Gmail data backed up because losing that information could be quite costly as well. So, on this note here we take a look at how to backup Gmail accounts and save all your Gmail data from being lost.
How to backup Gmail or create Gmail backups: A step-by-step guide to backup and restore Gmail data
Step 1: Open your Google Account page. Visit https://myaccount.google.com/ on your system's web browser and you will find all your Google account settings as well as information stored there. In case if you are not signed into your Google account, select the Sign in option present on the top-right corner of the display. Once done, enter your email address and password.
Step 2: Now select the Personal info & privacy option which is present in the dead-center of the page.
Step 3: Click on Control your content which is an option you will see under the "Personal info & privacy" settings on the far-left side of the display.
Step 4: Click on the create archive option which will be found below the "Download your data" section present on the right side of the display.
Step 5: Click on Select None option: There will be a grey button near the top side of the page and once to select this option, every item on the page will be deselected. This will prevent you from backing up everything that there is in your Google Account instead of just backing up your Gmail.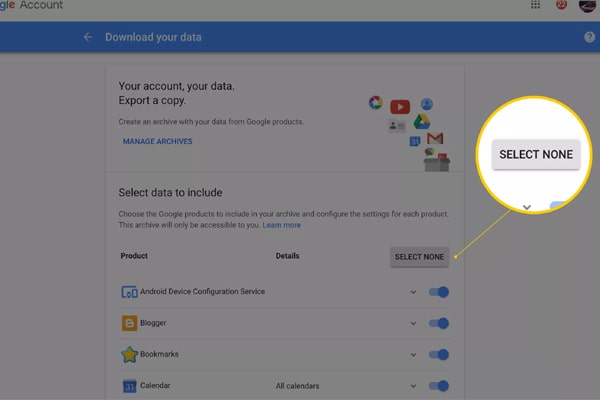 If you want to back up your entire Google Account, you can skip this step and the one that follows.
Step 6: Scroll down on the window and you will find a "Mail" switch in Grey colour. The switch will turn blue which signifying that your Gmail contents will now be backed up. After this, you will see an arrow facing downwards to the right of "All mail" option and clicking it will allow you to choose whether you want to download all of your mail or selecting specific labels in order to download only emails with which those labels are attached.
Step 7: Scroll down and click on Next at the bottom of the page.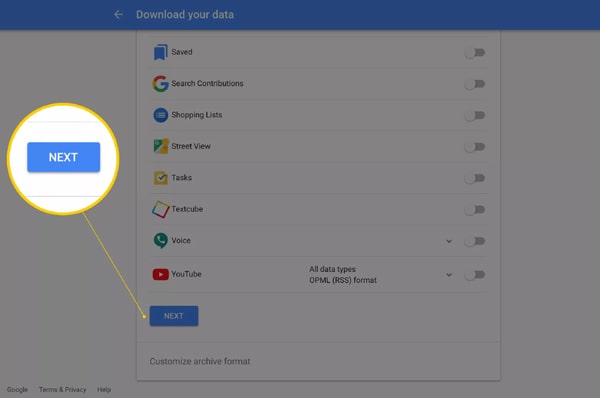 Step 8: Now select an archive size by Clicking on the icon below the "Archive size (max)" section, then click on a size in the drop-down menu. It should be noted that ideally, you will need to select a size which will allow all of your Gmail files in just one folder. For instance, if you have less than 4 gigabytes of data in Gmail, you will have to select the 4 GB option.
Step 9: Click on the Create Archive option which will be present at the bottom of the page. This will prompt Google to start creating a backup file with all the files in your Inbox folder. This can take several hours depending on the size of the Gmail Inbox folder.
Step 10: Once Google is done creating your Gmail backup, it will send an email which will have a download link for your Gmail backup. From here, you will be able to download all your Gmail data. For this, you will have to open the mail which states "Your Google data archive is ready" and then click on the Download archive option available in the email. You will be asked to re-enter your Gmail password for security purposes and then you will have to select a location on your computer to save your Gmail backup.
Alternative ways to create Gmail backups
Set up a desktop email client
These days, when the whole world is coming online, Gmail users do tend to overlook some useful desktop email clients and end up using a web or online clients. It should be noted that desktop clients or desktop email apps are said to be more useful and feature-rich in comparison to the online one as the major expect of using a desktop app is the fact that it will excel in creating Gmail backups. There will be options to retain a copy of every email that you have backed up in your Gmail inbox, as well. Some of the most popular desktop email clients include Thunderbird, Mailbird and eM Client.
IFTTT
IFTTT is widely regarded as the easiest way in which one can get apps, as well as devices, work together seemingly. It offers services such as smart and effective integration with smart home products, however, it can also turn out to be a phenomenal productivity tool. A user can find lots of ways, known as recipes here, in which they can repurpose IFTTT into backup tools. For instance, a user can archive emails received, or a whole thread, from a specific address to a Google spreadsheet, save any email attachments to Google Drive, automatically sync starred emails to Evernote and more.
Create a secondary email address (email forwarding)
If you are looking to backup your Gmail or create a Gmail backup, email forwarding is said to be one of the easiest and effective solutions that there is. You will just need to set up an option in your Gmail account which essentially forwards all your email received from any other user to a secondary email address. This means that you will not need to use any third party app or any of the above-mentioned guides to create a Gmail backup.
Moreover, you will also be able to take advantage of some important yet typical tools in Gmail such as search, flags, filters and more. That said, email forwarding also comes with a liberty of making this process as complex as you want, for instance, you can choose to forward emails to your secondary account which consists a photo or emails that you receive from your friends or colleagues.
Everything said and done, if you are looking to use this method for creating Gmail backups, it is worth noting that there are some disadvantages to this process as well. For starters, you will have to keep an eye on the remaining storage capacity in your secondary email while on the other hand, you won't also be able to backup existing emails on your Gmail account by using this method as you will only have the selected type of emails that you receive being forwarded to the secondary account.
How to Backup Gmail: Watch The Full Video Here: