Yesterday Google launched its instant messaging app Allo in the market and it has been an instant hit among the users. Allo will compete with renowned messaging apps such as WhatsApp and Facebook messenger which numerous people are already using around the world.
Google Allo is betting on the feature called Google Assistant which allows the users to converse and seek advice from a virtual assistant. This feature will help the users to engage with someone in their free time. It will do anything to everything that an actual person can do like telling you jokes, poems, provide you with news and other information.
Google has already launched another apps like Google Assistant to compete with the renowned Siri i.e.,Google Now for Android phones which have been a great success so far.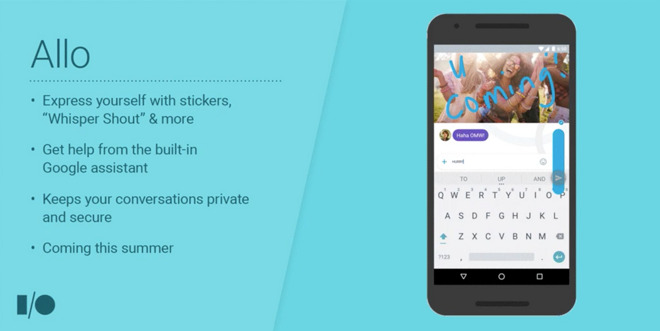 Some of the other features of this app are:
The app will help you modify your replies and will advise you with suitable replies in a conversation.

You can use different type of emojis to express our feeling when not in a mood to write and these emojis can explain much more than we expected.

 

The app also allows you to scribble, if you want to, on the pictures you want to share.

Resize your text: To achieve this you just have to hold the send button and move it upward or downward to enlarge and shrink the text respectively.

Incognito mode helps you to delete your chat automatically within a specified time span which we you can decide.

Following the trend that LINE started, Allo has worked in the stickers department and had launched 25 set of stickers for the app.
Follow us on Facebook, Twitter and Instagram for more updates. Don't forget to like and share. Do tell us your views in the comment box below.
22 September 2016
Rohan Jaitly