Faraday Future revealed its first production-ready car, FF91 at Consumer Technology Association (CES) event in Las Vegas on Tuesday and man!! It's nothing short of a spaceship. First of all, it's an all-electric vehicle and secondly, FF91 have the capabilities of achieving the 60mph mark within 2.39 seconds. Yes, you heard it right 2.39 freaking seconds!! This has made Faraday FF91 the fastest all-electric vehicle present on Earth, it's even faster than Tesla Model S and if there is a life beyond our planet, this might still be a never seen invention.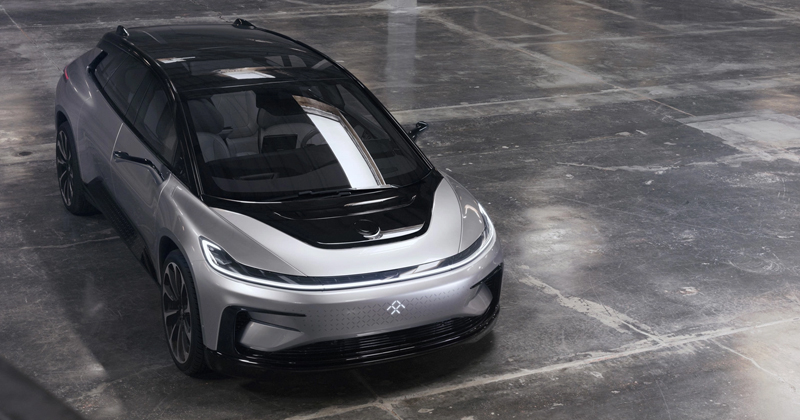 Faraday Future claims that FF91 has the acceleration capabilities of a F1 race car and you might be thinking, how can an electric vehicle achieve this feat? Well, it may be because of the 1050 horses present under the hood, it sounds very modest though.
Officials further added that, if driven at a speed of 55mph, FF91 can cover a distance of 482 miles in a single charge. Charging is also an important feature for Faraday FF91 and an open charging strategy which works across networks at 1.5, 10, and 15 kW power levels, however, the fastest DC charging will operate over 200kW.
( Video Courtesy: Faraday Future )
Some Other Features:
1. Driverless Valet: The owner can leave the car before entering the location in FF91's software. (A car that follows your order!)
2. Aerodynamic Antennas: This will enable the car to act as a wireless router. FF91 will unlock itself by recognising the driver's face and continuously adapt to his/her preferences. (A car that loves you!)
3. Autonomous Driving: FF91 has 30 sensors, including ten rear and front facing cameras, 13 long & short distance radars, 12 ultrasonic sensors and the retractable LiDAR system (self-parking) and these sensors collect data ranging from everything to anything while travelling in the automatic mode.
More details about the car are yet to be disclosed and Faraday Future has already started taking advance bookings for $5000.
However, some of Faraday Future's innovations or breakthroughs failed to meet some basic features, though. While other cars can park themselves, adjust temperatures automatically, compensate for poor weather conditions, have Wi-Fi, torque vectoring system to apportion drive power effectively to the wheels AND other companies have a track record and goodwill that Faraday Future is still in need of. Once launched, Faraday FF91 will go head to head against offerings from established brands like Bentley, Ferrari, and a Tesla Model, which is not going to be an easy task.
So how good Faraday FF91 really is? One has to eat in order to taste something!!
Meanwhile, Consumer Technology Association (CES) event in Las Vegas has taken off with a bang and the party has just begun.
Follow us on Facebook, Twitter and Instagram for more updates. Don't forget to like and share. Do tell us your views in the comment box below.
4 Jan 2017
Rohan Jaitly