Dating apps are growing with each second and every second, all around the world. However, there are certain things that the available apps in the market are lacking at. While some face tagline of hookup apps, others are just not able to get the job done, which is why this new entrant in the Dating app market might be able to change the game forever.
Like one might guess, Facebook's F8 developer conference had a somber start this year. All thanks to the last 2 months in which Facebook faced a bunch of discredits and their repercussion because of the Cambridge Analytica Scandal. And, Zuckerberg just started the conference by addressing to those problems.
Moving on her introduced a bunch of new features and changes that Facebook will undergo and have in the coming months, all targeting to make Facebook safe again. By almost the end of his speech, Zuckerberg announced that Facebook would now enter the Dating market and it will not just be for serving hookups to the people using this feature but to actually create long and meaningful friendships.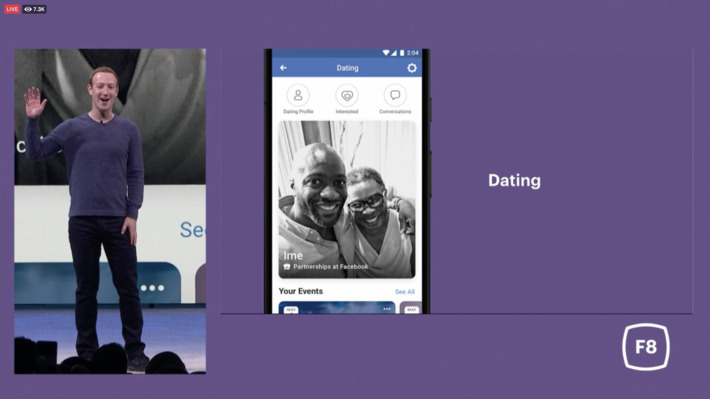 Simply called 'Dating', this new service will exist right within the social network's own app. This new service will allow Facebook users to create a separate profile from their main Facebook accounts, in order to pursue romantic connections. The two profiles won't interact, meaning your Facebook friends won't be able to see what your Dating profile says.
There are a lot of things added in the feature to make it more reliable and trustworthy (something that Facebook has been lacking in the recent days). In order to keep the two version of one's Facebook profile, the Dating profile would only use your first name and existing friends would not appear as potential matches. Dating will also have a dedicated inbox that, unlike Messenger, does not allow you to send photos or links. You can only send text-based messages when chatting for the first time, which Facebook describes as a safety measure.
Adding to all this is a masterstroke, Facebook will use a unique algorithm in order to match you with your potential dates. You will also be able to find romantic interests via shared Groups and Events. For example, if you're attending a concert, you'll be able to "unlock" your profile, so that potential matches who have said they're going to the same show can see it.
Here's the video of Mark Zuckerberg speaking at the F8 Developer Conference:
It has been announced that Facebook will roll out the Dating feature, somewhere later this year and they would not use information from this feature to target ads, which is another good news.
After Zuckerberg, Facebook's chief product officer, Chris Cox came to the stage to talk more about Dating where he explained that the service is made to create a more meaningful relationship, not just hookups. Something that Tinder has a reputation for. But the reality is that even Facebook doesn't know yet about what the service would be used for.
The interface of Dating look eerily similar to that of Tinder, and various other dating apps, minus the swiping right and left part.
Source: Wired
As soon as the announcement was made, shares of Match Group, the company that runs Tinder and other popular dating apps such as OKCupid, plummeted more than 22 percent. This is the largest one-day drop in the history of the company. Various websites have reported that even though the announcement has plummeted the shares big time, the owners and makers of these apps are not so scared.
"We're flattered that Facebook is coming into our space—and sees the global opportunity that we do—as Tinder continues to skyrocket. We're surprised at the timing given the amount of personal and sensitive data that comes with this territory," Mandy Ginsberg, the CEO of Match Group, said in a statement. "Regardless, we're going to continue to delight our users through product innovation and relentless focus on relationship success. We understand this category better than anyone. Facebook's entry will only be invigorating to all of us," as reported by Wired.
However, the companies should be scared or atleast do something to save their apps from going under the rug. Various dating apps rely heavily on Facebook and the information it provides to them for picking out potential matches for their users. From mutual friends to similar interests, there's a lot that Facebook provides to these dating apps and if it stops doing it, who knows what would happen.
On the other hand, something like Dating makes perfect sense to Facebook in terms of lewering in the users who have parted ways with the social network ever since the scandal. Users would be able to meet more people, considering everyone is on Facebook, or atleast would come back with this new service. And, the feature that makes users meet people going to a similar event, solves the ever-long problem of getting the users to meet in real life.
Jyotsna Amla