Scientists from the American University in Beirut have developed a no piercing method enabled blood sugar sensor to measure blood sugar. The innovation is more than just successful in the tests and is expected to be launched as a product. More about the boon for the diabetic patients below.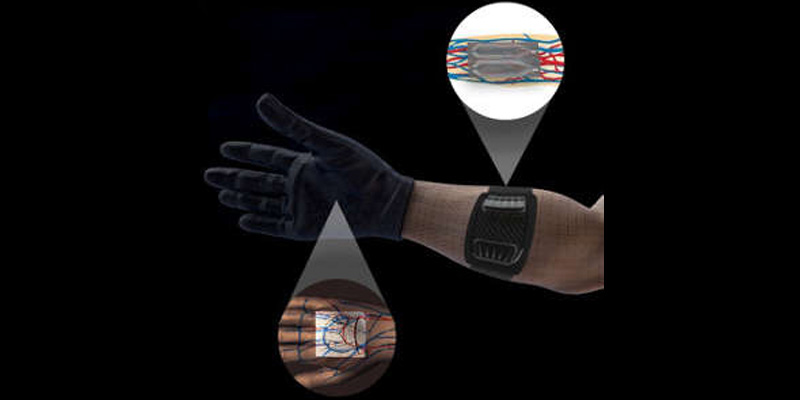 Diabetic patients currently have to prick their fingers even several times a day to get their blood sugar levels checked. The medical professionals understood this painstaking process and are looking for new methods to eliminate the need for this unpleasant and repetitive procedure. Among other things, a contact lens was developed to measure the blood sugar concentration. However, none of the possible solutions is ready for the market.
Scientists have now presented another non-invasive approach to the determination of blood sugar. Scientists used a combination of bendable blood sugar sensor that can be integrated into clothing to permanently monitor changes in blood sugar. The sensors are more precise and faster than previous devices.
Glove With a Bracelet Measures Blood Sugar Levels
To present their development, the researchers built a prototype of a glove with a forearm bandage that contains flexible antennas. These send out electromagnetic waves that penetrate the skin, muscles, and fat layer to scan the underlying veins and arteries. The blood sugar level is determined by the fact that its concentration influences the electrical properties of the blood. Depending on the level of blood sugar, the electromagnetic waves reflected by the body differ in strength.
Blood Sugar Analysis Possible in Real-Time
This measuring method is not new. So far, however, electromagnetic sensors have not been used to measure blood sugar because the results were too imprecise. The scientists have therefore changed the course of the antennas so that they run exactly like the veins in the forearm and the palm. Compared to previous experiments, the accuracy of the results was significantly increased.
In a clinical study with 21 healthy volunteers, the new system was able to analyze the blood sugar level in real-time. This was demonstrated by conventional sugar exposure tests that were carried out in parallel with electromagnetic blood glucose monitoring.
Suggested Read: Lickable Screen Can Soon Become A Reality And We Can't-Wait To Taste The Flavours Of The World
Further studies are now to investigate whether the sensors in socks, necklaces, or other clothing also provide accurate results. In practice, it should be used in conjunction with a smartphone that notifies the user of changes in blood sugar levels and records them for doctors. It is currently still unclear when the system will be launched however experts predict that looking at the successful test results, it would not be long before it hits the market.