People who find it impeccably hard to rouse themselves in the morning are always looking for an option that will kick-start their day. Probably that's why the technology geeks have developed some of the best alarm clock apps for heavy sleepers. We can't blame them, perhaps they are very well aware of the struggles and are part of those dreamy-headed creatures who just can't wake up at the right time.
How many of you have a tendency to hit the snooze button over and over? We hope to get another 10 sweet minutes of sleep, with the thought that we will wake up just at the right time to leave for work yet we end up getting late every time. It's a story of many. Such people are always looking for a miracle that can help them and these best alarm clock apps are the answer to their wish.
So say goodbye to snoozing as we have picked 4 best alarm clock apps that are perfect for heavy sleepers.
1. Alarmy
This one really comes with the challenge ( Sleep If You Can). Basically, you have to register a picture, it can be an object such as your bathroom mirror or dining table. Register that image before sleeping and the next morning, the alarm won't stop till you take another photo of the same place or object and it matches. Whoa!
This is certainly one of the best alarm clock apps ever. We suggest you register a picture of downstairs or another room so that you can wake up properly and be ready for the day.
2. Snap Me Up
This one is the real deal for all the selfie lovers. So this is a "selfie alarm clock", that doesn't stop ringing until you've taken a photo of your wake up look. Don't be scared, it doesn't share any of those pictures on your social media profiles or with your friends, however, it allows you to keep a dream diary where you can save those "woken up like this" pictures.
If you are thinking that it's gonna be easy, we hate to break the bubble as the alarm won't stop ringing till you click an alert and woken up selfie. A lousy one just won't do.
3. AlarmMon

All the game freaks, look out for this one. It is one of the most colorful alarm clock apps. It challenges you with a game and till you finish up this challenge the alarm doesn't go off. Don't be scared as these all are mini-games and puzzles, that are infused there to wake your mind completely.
Have you ever thought that waking up could be fun?
4. Wake Alarm Clock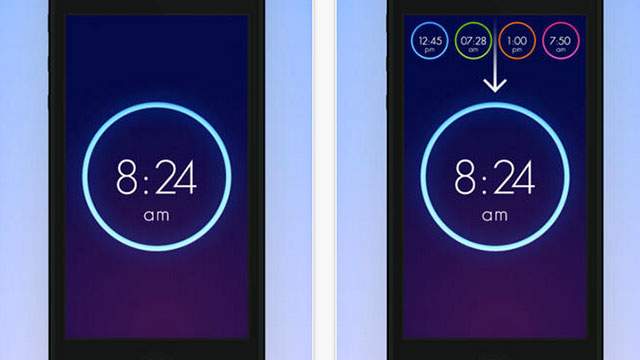 Don't like to wake up to the terrifying sound of your alarm? This is probably one of the best alarm clock apps for you. The best part is, it sticks to the basics. You can set up at least 8 alarms at one time and choose a variety of soothing sounds. However, it starts off quiet but gets louder with time. The idea of this alarm clock app is to wake you up slowly.
The developers have taken care of easing your way into reality so that you can wake up comfortably.
Feel the need to download one of these best alarm clock apps right away? Go ahead and don't forget to share it with other heavy sleepers of your group.
16 November 2017
Avni S. Singh