Apple Inc's market capitalization crossed $800 Billion for the first time on Monday, making it the first US company to achieve this feat and Apple Inc took just 2 years to reach $800 Billion market cap after crossing the $700 Billion thresholds.
Apple Inc's shares have gained almost 50% since the US Presidential elections and 33% growth was registered in the year 2017 alone. If Apple Inc continues to grow at this pace, it might top the $1 trillion market-cap level later this year. The iPhone maker now represents about 4% of the entire S&P 500 index which is valued at $21.7 trillion.
Moreover, the major reason behind Apple Inc's growth is said to be the Chief Executive Officer Tim Cook's buyback program in days when Apple's shares were falling to new lows due to the not-so-good reception of iPhone 7. The company reduced its actual share count by 20.9% and the average diluted shares outstanding by 20.5% over the past four years, a majority of which was done in the year 2016-17.
All these figures are so amazing that Apple Inc can now be termed as a country and if we are considering the proposal, iPhone has to be its capital as this is one product that has taken the tech-giant to new heights. Moreover, if Apple Inc would have been a country, it will be the 17th largest economy in the world, right after Indonesia.
Warren Buffett, whose Berkshire Hathaway has a stake of roughly $20 billion in Apple Inc, said on Monday that he had grown fonder of the company as he could "easily determine" the iPhone maker's competitive position and "who is trying to chase them".
Larry Page and Sergey Brin-founded Alphabet ($660 billion), Bill Gates' Microsoft ($530 billion) and Apple Inc constitute the three 'AAM' (Apple, Alphabet, and Microsoft) firms that are worth nearly $2 trillion. This is equal to the combined market capitalization of all the 5,400 companies listed on BSE.
Moreover, Costa Rica, Bulgaria, Luxembourg, Yemen, Uzbekistan, Myanmar are among the 119 countries in the world whose combined GDP is equal to the market capitalization of these AAM firms. (One can not even think of calling them AAM firms in literal translation though.)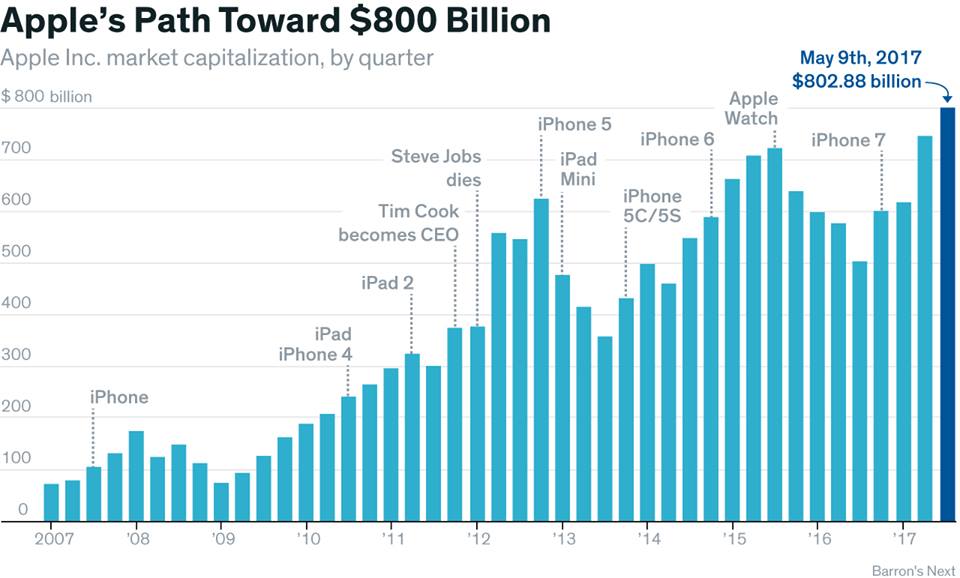 Considering Apple Inc as a country, one can only fathom the technological advancement it could have. Steve Jobs made a point in one of his press interactions by saying, "Be a yardstick of quality. Some people aren't used to an environment where excellence is expected" and "Innovation distinguishes between a leader and a follower". If he would have been the leader of this country, Apple Inc could have become the biggest superpower in the world in the coming years.
Also, Apple Inc doesn't have a long list of products but it has still managed to out-do every of its competitor over the years, be it IBM in computing technology or Samsung and Google in the smartphone business. This means that Apple Inc (the country) will not have a diversified group of states and the ones that will exist, would have the ability to develop such hardware, software, and services that work seamlessly together.
Coming back to reality, despite the fact that Apple Inc sold fewer iPhone 7 than it expected, it still managed to climb to the top. The expected launch of iPhone 8 could be the biggest reason behind this surge in market cap but this again raises the question, whether Apple is able to come up with another product that can garner the same love that iPhones have had during their run?
Moreover, if it fails to do so, wouldn't the country (Apple) come on the verge of a financial breakdown if some other country comes up with an even better smartphone concept?
Everything said and done, Apple Inc has always been about excellence in whatever they do as well as have given the best when it comes to the outcome and rightly so, this is one company that openly accepts the premium it charges for the products and people are ready to shell it out.
As for India, the top three most valued firms are TCS, Reliance Industries and HDFC Bank which are worth $200 billion in terms of market capitalization. Indian firms have to cover a very long distance as the fact that Apple Inc currently sits on a cash pile worth of $ 240 billion, is enough to prove that.