Password manager tools offer an effective solution to manage all your passwords and other important information in secured vault. These smart tools offer you strong encryption services, synchronization feature and more to offer an improved user experience.
Top 5 Best Password Managers for Android
In this article, we have discussed 5 amazing password manager tools for Android you should try this year.
LastPass Password Manager
LastPass helps you protect all your important passwords in secured vault. It helps you save and autofill personal info for all your online accounts. It offers sync services where you can access all your important data across various devices. Here, you can secure all your passwords with only master password to remember. In addition to password information, you can also keep your other details safe with this tool including private notes, health insurance details, credit card info, photos, audio notes and more. It offers fingerprint scan lock in addition to password lock. In other features, it offers data manager, password sharing, emergency access, password generator, password audits and more.
Kaspersky Password Manager
Kaspersky Password Manager offers powerful solution to keep your data safe. Here, it stores all your sensitive and important details including passwords in an encrypted vault. Its autofill option allows you to autofill all necessary information on the browser. You can use this as one of the best Android password manager tools to secure passwords, credit card details, photos, addresses and more. It lets you put items into groups and gives you quick access to all your recently used accounts. Further, it allows you to login to all your favorite sites with few clicks. Thus, you don't need to remember all the passwords for your favorite site individually. In addition to that, it offers fingerprint sensor support, web access to your password vault and records synchronization across multiple devices.
SafeInCloud Password Manager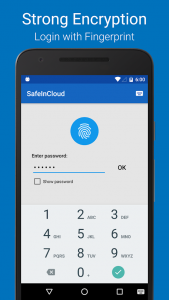 Use this smart tool to keep all your important data into the encrypted database. Using its synchronization feature, you can access all your data across various devices including smartphones, tablet, Mac or PC via your own cloud account. You can use its cloud synchronization feature on multiple cloud accounts. It offers an easy-to-use and powerful interface to offer improved user experience. It offers material design and dark theme option to save your device battery life. It offers Advanced Encryption Standard (AES) 256-bit encryption for better security. In addition to password lock you can use its fingerprint unlock feature to advanced security. In other features, it supports Android Wear app, password strength analysis, password generator, browser integration, free desktop app, automatic data import and more.
Dashlane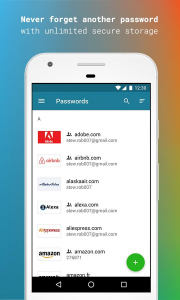 Dashlane not only helps you secure your passwords and other sensitive details but it is also a useful tool to generate unique and secure passwords for various accounts. It helps you automatically login to apps and websites in seconds with autofill option. Here, you can create a master password to store all other important passwords in the secured vault and search passwords in your password history. Its digital wallet feature helps you organize and store credit card details in mobile wallet and sync up all your apps for instant access on any website. Further, it offers AES-256-bit security to keep your data safe. It also offers cloud backup and synchronization feature for improved user experience.
Keeper Password Manager
You can use its amazing security features to keep your all password details safe. It helps you protect unlimited passwords in the vault and generate strong passwords when needed. It also helps you autofill information to reduce your workload. To unlock this app, you can use password, fingerprint and facial recognition option. It allows you to sync and access your data across various devices for an improved experience. Using this powerful tool, you can lock your important files and photos in addition your passwords. Further, you can use this tool to share passwords and files with anyone you want and store other important information securely.  Additionally, it helps you organize passwords with folders and categories and integrates with two-step verification providers. In other features, it integrates with Android Wear for two-factor authentication, built with zero-knowledge security architecture, utilizes AES-256-bit encryption and more.
Conclusion
By using password manager tools, you not only manage to secure your passwords and other important details but it also helps you generate strong passwords for various needs. Here, we have discussed 5 amazing password manager tools for Android you can try for better security. If you know more such tools, feel free to comment below.