India – a nation where Cricket is a not only a sport but it is almost like a religion and cricketers are said to be a god. In a nation like this where no other sports star has been popular other than cricketers, Vijender Singh has emerged as a new face of sportstar in India. Ace Indian Boxer Vijender Singh is not making boxing popular but also making conscious of India's dignity on a global level. Vijender was born in Bhiwani in Haryana, which is also known as Little Cuba as it has produced so many top boxers for our nation. Four of the five Indian boxers who represented India in the 2008 Beijing Olympics were from Bhiwani but Vijender went better from all of them.
The boxer will not be able to represent India in competitions like the Olympics or Commonwealth as he is a pro boxer now but he has given India a bronze in the 2008 Olympics, a gold in the 2010 Asian Games. He was also ranked No.1 in the world in the middleweight (75 kg) category in 2009.
He is a person of countless talents and a role model for most of the boxers of India. He is not only popular in boxing arena but also a star of the Idiot box. He may be popular for his looks among the female fans but his painstaking will, to be better won him millions of followers from all around the world. When Vijender decided to take a step forward in his career and become a pro boxer, it was a bitter-sweet moment for his Indian fans as he was bidding goodbye to the competitions like the Olympics.  Pro Boxing was not only dangerous but involved serious health risks but with his new avatar and five consecutive wins he is ruling Pro Boxing like a veteran.
Let's Go Down The Road And Recall His 5 Thumping Consecutive Wins:
Knocked Out Sonny Whiting In His Pro Boxing Debut.
As soon as Vijender entered the World of pro-boxing he announced his arrival in the ring with style. He defeated Sonny Whiting in the third round of technical knockout. In the first two rounds the boxer was not taking too many risks but in the end, it was clear that this Indian boxer was there to win and win only.  
In the first round, Sonny's swings missed their target as Vijender continued to find his range against him. In the second round, the Indian boxer successfully managed to maintain the pressure on Sonny as he kept pushing the pace of the fight it kept Sonny on his back-foot for most of the time.
The third round of the match saw Vijender controlling the tempo and defending against some overhead punches thrown by Sonny. He hit some uppercuts and a few jabs, Sonny found it difficult to match Vijender's aggression, he lost his balance and fell on the ropes.
The local favourite had earlier stated that he will teach a brutal lesson to India but after the match Vijender silenced Manchester by defeating Sonny.
Second Win Over Dean Gillen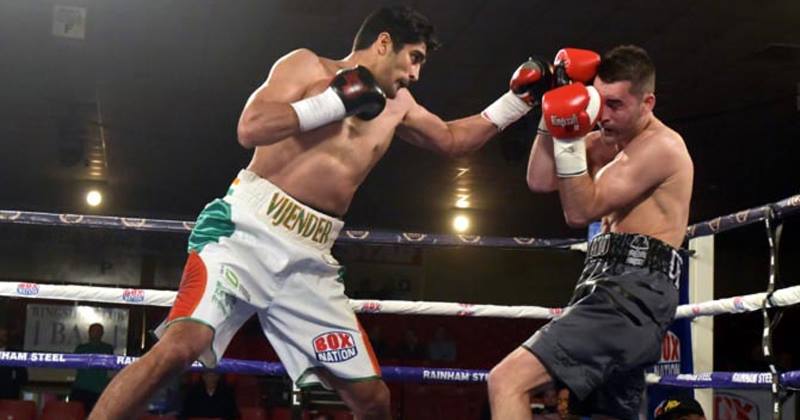 Vijender who made a spectacular start in pro boxing fought his second pro bout against Dean Gillen and register his second consecutive victory at the professional level. The second match of Vijender's pro boxing career turned out to be an easy one for his as the Haryana pugilist moved too well in the ring. From the beginning, he was showcasing some nice footwork and Gillen was struggling to withstand him. Vijender's powerful punches soon sent Gillen crashing to the ropes twice and Nottingham lad could not recover from those crashing punches. The arena erupted in joy and Vijender won his second match.
The Third Consecutive Pro Win Over Samet Hyuseinov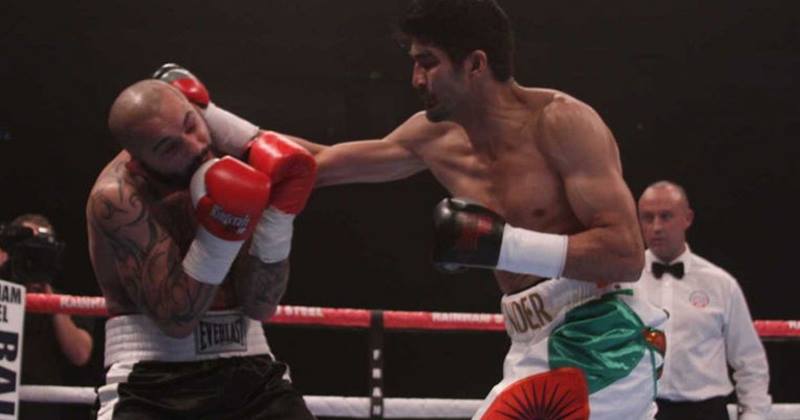 Vijender continued his superb start to his professional career, winning his third fight with an easy technical knockout over Bulgarian Samet Hyuseinov at the Manchester. Vijender hardly faced any blows from his opponent. He dominated the first round of the game with his left-right combinations, Samet was a bit defensive but his high guard was unable to keep out the barrage of powerful Indian's blows.
Vijender wrapped up the contest in the beginning of the second round as he unleashed a blast of blows on Samet which prompted the referee to stop the match.
Vijender Registered His Fourth Win Against Alexander Horvath
With every match, Vijender was becoming confident and he kept his unbeaten run in Pro Boxing alive as he defeated Hungary's Alexander Horvath in Liverpool. In 2015, he had already won 3 fights and this was the first fight of 2016 and fourth fight of his pro boxing career. The first two fights were with easy opponents, the last one was against a wee experienced but Horvath had a better record of five wins from seven bouts.
But the Bhiwani boxer dominated proceedings from the start with numerous left jabs which left Horvath jarred and bruised and the first round drew close. In the second round, the Hungarian moved around the ring to force Vijender to reach forward and make any sort of impact. The tactic of Hungarian succeeded as the former Olympian became less influential but he was not perturbed by his opponent in the red corner. In the third round, Horvath's right arm was injured and referee raised Indian boxer's hand for another victory.
Unbeaten Fifth Match Of Vijender Over Pummels Matiouze Royer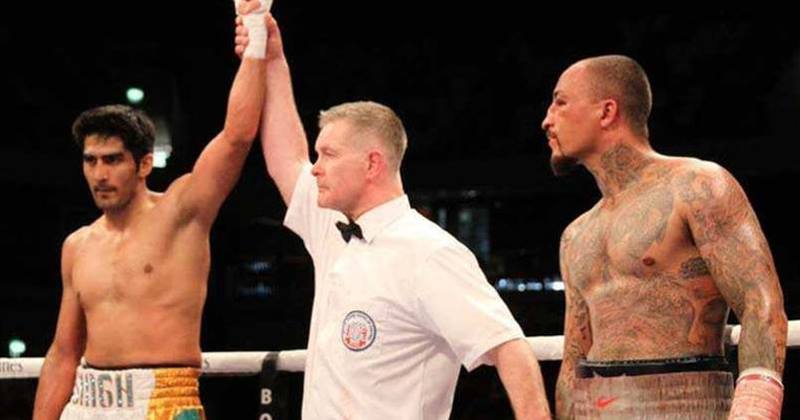 Vijender's power packed punches were remain unchallenged as he defeated Pummels Matiouze Royer and grabbed his consecutive 5th win in Pro Boxing in London. The 30-year-old Indian boxer was facing his most experienced rival till date. Vijender spent the first round observing his rival as he was keeping a shell guard and hardly attempted a hit at Vijender. Pummels Matiouze Royer did not let go of the guard even in the second round but Vijender decided to go on the offensive. He unleashed a flurry of combination punches and the opponent was left with a bloodied face owing to a cut above the left eye. Royer did not give up in fact he tried to attack the former olympian but the blow was hardly enough to stop Vijender. In the fifth round, Royer's determination broke and brought him to his knees. The Frenchman was left with bloodied eye and his broke gave yet another dominant victory to Vijender.
He has fought five matches of Pro Boxing and won all five of them, he will next be seen in action on 13 May 2016 against a  yet-to-be-decided opponent in Bolton.
Follow us on Facebook, Twitter and Instagram for more updates. Don't forget to like and share. Do tell us your views in the comment box below.
3 May, 2016
Avni S. Singh