Age is just a number and a seven-year-old girl, Tajamul Islam who is a soft-spoken kid from a remote north Kashmir village, proves the saying. Tajamul is all set to represent India at an international Kickboxing event in Italy.
She is a national kickboxing champion and her achievements at the national level got her an entry to the World Championships. Tajamul bagged the gold medal in a sub-junior category at 2015 National Kickboxing Championship which was held at Talkatora Stadium in New Delhi. Now, she will be competing in World Championships in Andria, Italy in November. She is not only very small for this achievement but also the first Kashmiri girl to do so.
Tajamul is from Tarkpora village of Bandipora which is about 65 km from Srinagar. The girl is now a hero in her village. She studies at Army Goodwill School, Bandipora and in her school, she is treated like a champion. Kickboxing is not her prime forte but still she managed to grab a gold medal in it, she excels in wushu and is doing extremely well in taekwondo.
She joined a local academy in 2014, which trains young boys and girls in martial arts and her journey started from there.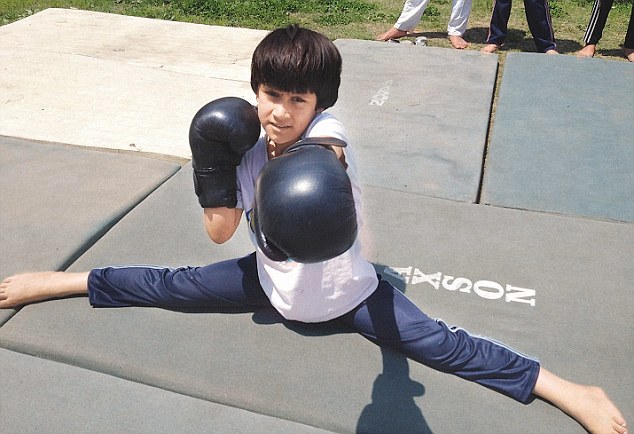 Her journey started in 2014 when she joined a local academy, which trains young boys and girls in martial arts. She was declared as the best fighter of Jammu and Kashmir last year after she won the state level championship.
Kuldip Handu, who was the chief coach at that championship, was very impressed with her skills and he pitted her against a competitor weighing eight kgs more than Tajamul but the girl got better off her opponent. Her state level victory earned her a place at the 2015 National Kickboxing Championship in New Delhi and despite not being her forte she jumped into the competition and participated in the championship.
Her opponent was a 13-year-old and when Tajamul knocked her down, she became the youngest girl to win a national medal. A girl who was studying in the second standard left everyone amazed. Her siblings also practice martial arts and kickboxing, they have also taken part in many state-level competitions.
Now Tajamul dream of winning the international event and she is eagerly waiting for November. Tajamul's father works for a construction company and cannot afford to pay for the event fee and players' kit but Army, which helped Tajamul in the previous state and national events, would facilitate her Italy plans as well.
For all those who are still stirring between what they want to achieve in life, Tajamul is an inspiration. She has high dreams and wants to be a doctor. She even stated that it would be fun to treat his opponents after she defeats them. A little girl who is flying to chase her dreams is making everyone proud of her.
We wish you all the best and may you win all the coming Championships.
Follow us on Facebook, Twitter and Instagram for more updates. Don't forget to like and share. Do tell us your views in the comment box below.
29 April, 2016
Avni S. Singh