It may not be the most premier or widely watched event in India, but it is growing in numbers and by the tick of the clock. Slow and steady may not fetch rampant results, but it is a development rate that assures positivity and optimism. If you are Snap Racing, you understand where you stand in the tumultuous world of Rallying, having displayed a fine exhibition of daring and guile!
You like Formula 1 for the thrills and madness, you admire the newfound passion for Formula Electric, and you regard Moto GP as being a grand theatre of speed and daring. So what about Rallying? Isn't it about as arduous and painstakingly challenging as the pinnacle of Motor-Racing?
F1 driver Kimi Raikkonen has famously said, "Rallying is like racing with yourself and others against the clock." But the Finn, true to his nonchalance probably didn't mention the dangers and unpredictability of the sport. In fact, if one were to measure athletes' true endurance then there may not be anything better than rallying.
It's more than a sport. It's a litmus test to measure one's resolve and endurance.
And proving just that, the United States-based Snap Racing, a popular adventure rallying outfit recently sprung to action by way of garnering its best-ever finish in India.
In the world of motorsports and rallying, Snap Racing is a name to reckon with. It's a commanding force that doesn't hope for soft spots to go through; it makes opportunities happen. And if one had any doubts whatsoever, then all of them were raised to the ground in lieu of what Snap Racing achieved recently in India.
Here's what might interest F1 fans, underline the attention of Moto GP admirers, and impress the critics of endurance-driven motorsports.
In the famous Indian National Rallying Championship- INRC- Snap Racing ended up scoring their best ever result in Round 3 of the Rally of Arunachal, among the most prestigious events in India.
Probably few would've anticipated a stellar showing prior to the start of the Rally of Arunachal, not the easiest stage of the competition to score at in the INRC, in India. Having said that, it's also worthwhile to mention that racing and a passion to compete is hardwired in the DNA of Snap Racing, a known marquee from the United States. Where previous contests and events stand then Mr. Sumit Punabi, the team's founder, as well as Team Principal, won the Super Production Class Title in Rally America Eastern Division Champion in a Mitsubishi Evolution X.
No stranger to racing, Sumit Punjabi made a comeback to the spectre of thrill and unpredictability by forging a solid foundation at Snap Racing, a team he founded. This, it must be said, is a racing outfit that has participated in prestigious American rallies such as- New England Forest Rally, 1000 Lakes Rally, Ojibwe Forest Rally, and the celebrated Rallye Baie-Chaleurs in Canada, the famous land of Giles Villeneuve.
Bolstering the fortunes of the team were two famous names, one, a former rallying champion Phalguna Urs and the other, APRC Title-winning co-driver, Srikanth Gowda. If you wanted a fantastical combination of grit and experience then one wouldn't have to look any further.
A snippet from the press release of Snap Racing shared the following in terms with the Rally of Arunachal:
Phalguna Urs finished overall second in his VW Polo, which has been the best result for the team in Indian Rallying to date. The crew also won the INRC-2 class with a comfortable lead of over 50 seconds. Snap Racing teammates Sumit Punjabi / Shahid Salman encountered early mechanical problems and still managed to finish 5th in class managing to pick up valuable points for the team.
Understandably chuffed by the team's superior showing, Sumit Punjabi shared the following, "the team was able to achieve its best result during the midpoint of the championship. This is great to enter the final two rounds of the championship."
Interestingly, the above names weren't the only bright lamps for the checkered outfit. A rising name in the rallying landscape in India- Shahid Salman- a name to reckon with in the most celebrated rally of India, Raid De Himalaya- was a key factor in the team picking up valuable points in the run at Arunachal. This is when the team ran into some mechanical issues and were still able to consolidate its position that led them to finish 5th in the class.
It's important to mention that while the very determined Amittrajit Ghosh of Mahindra scored the most points, ending on top by a scant margin of 5.9 seconds ahead of Phalguna Urs, this was, overall, an event to remember for Snap Racing.
More on the event:
With two more events remaining and 50 points up for grabs in the Coffee Day Rally, Chikmagalur and the Popular Rally, Cochin, Phalguna is 18 points behind the INRC-2 Championship leader Karna Kadur and will be looking to repeat his success from Arunachal to ensure a tight title fight.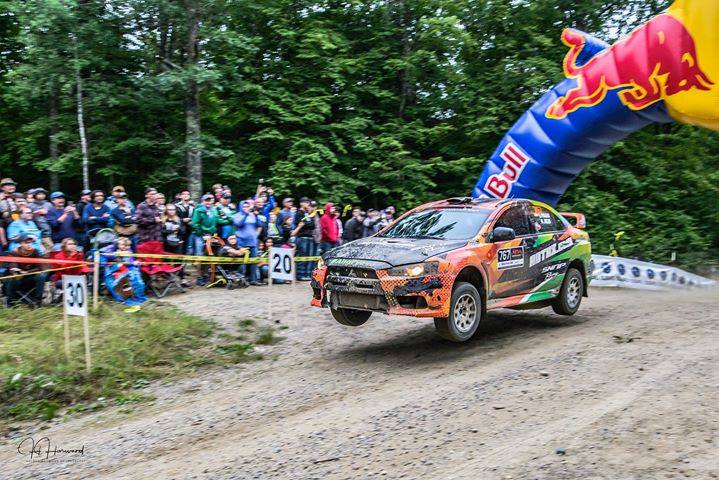 Photographs credit:
Snap – Ojibwe Forest rally 2017 – Sumit Panjabi
Snap Arunachal – [L-R] Phalguna Urs / Srikanth Gowda
Below in team wear – Shahid Salman, Sumit Panjabi and Syed Yusuf (Tuner Snap Racing)