Day 1 of Commonwealth Games 2018 was rather eventful for India with a silver and gold medal in men's and women's weightlifting category, respectively, in their pocket. All thanks to Gururaj and Mirabai Chanu.
Following their success in the games, Sanjita Chanu became the third Indian to bag a medal at the CWG 2018 and the second one to win a gold.
Sanjita Chanu, a 24-year-old weightlifter hailing from Manipur, won a gold medal in women's 53 kg weightlifting final. However, this is not Sanjita's first medal in the Commonwealth. She had won the gold in Glasgow 2014 but that was in the 48 kg category. She has since upgraded to the 53 kg category but the result was no different.
Along with the gold medal, she even broke the Commonwealth Games record in the Snatch category by clean lifting 84 kg, which was more than 3kg of what her nearest rival was able to lift. The record that she managed to break with her winning lift was earlier set by her compatriot Swarti Singh, four years ago at the Glasgow Commonwealth Games in 2014.
As for the gold this year, Sanjita's lift was 10 kg more than the silver medal holder, Papua Guinea's Loa Dika Toua. The third position went to Canada's Rachel Leblanc-Bazinet.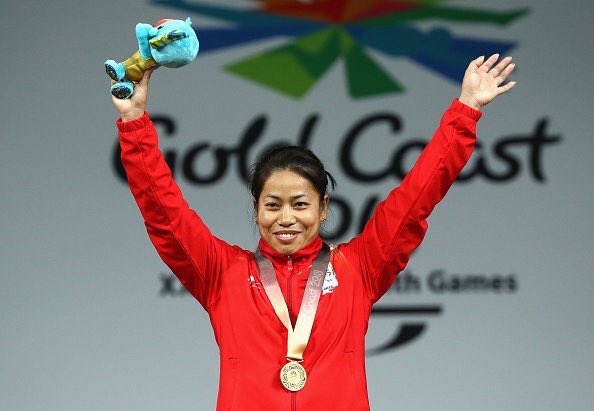 Here's how the netizens congratulated Sanjita Chanu on her gold win and praised her hard work in the games.
Sanjita chanu wins gold…. India's 2nd gold

— ajay sharma (@ajmaahi) April 6, 2018
India's second gold medal of #CWG18 has come from one of the favourites, Sanjita Chanu, who finishes with a combined effort of 192. Superb. #weightlifting

— Jamie Alter (@alter_jamie) April 6, 2018
another day, another Chanu, another record, another gold.#SanjitaChanu #CWG2018

— Nikhil Naz (@NikhilNaz) April 6, 2018
https://twitter.com/hankypanty/status/982122294859350018
https://twitter.com/MajorPoonia/status/982091346084179969
Thank you #SanjitaChanu for making India 🇮🇳proud by winning Gold 🏅in #CWG2018 ! A repeat of the Glasgow performance! 👏🏻
Wish you more & more laurels in future ! #GC2018Weightlifting pic.twitter.com/IX3afiMynf

— Randeep Singh Surjewala (@rssurjewala) April 6, 2018
https://twitter.com/amritabhinder/status/982073559475466240
Congratulation 💐💐💐to our Golden girl #SanjitaChanu winning🏆🏆🏆 gold medal for India .
She wins the medal by lifting a total of 192 kg . pic.twitter.com/BFqeTBCywy

— Niharika Chaudhary (@Niharika89531cb) April 6, 2018
Wonderful start to the day. Heartiest Congratulations to #SanjitaChanu on India's second Gold at the #CWG2018 and her second gold in successive CWG after the one in Glasgow. Top effort and consistency. pic.twitter.com/qFkMOs6z2F

— VVS Laxman (@VVSLaxman281) April 6, 2018
India's golden girls are back in action #SanjitaChanu today 💪🏼 Congrats!!

— Mayanti Langer Binny (@MayantiLanger_B) April 6, 2018
2 Days, 2 Chanus, 2 Golds in #GC2018.
2nd Gold by #SanjitaChanu for our🇮🇳 in #GC2018Weightlifting. Congratulations. Bhartiya Naari, Sab par Bhari.

— GURPANTH SANDHU (@Gurpanthinsan) April 6, 2018
Congratulations #SanjitaChanu for bagging gold in weightlifting at the #CommonwealthGames2018. We are proud of you. #CitizenMukherjee

— Pranab Mukherjee (@CitiznMukherjee) April 6, 2018
Way to go #SanjitaChanu #Commonwealth2018 🇮🇳 https://t.co/Jkp6f0IR6f

— bhumi pednekar (@bhumipednekar) April 6, 2018
Bhartiya Naari Sab par Bhaari. One more Gold. Congratulations #SanjitaChanu for winning our second gold in #GC2018Weightlifting in the women's 53kg category. #CWG2018
Her second CWG gold after the 48kg one in Glasgow. Proud of you champion. pic.twitter.com/Xnms7T6Byz

— Virender Sehwag (@virendersehwag) April 6, 2018
So many more days to come and medals to win. Go India, Go!!
Jyotsna Amla