Though PV Sindhu and Sakshi Malik coveted Silver and Bronze medals for India in Rio Olympics 2016 but we cannot turn a blind eye to the fact that India finished poorly in 67th place on the medal tally.
India sent over 100 Indian athletes to participate in the Rio Olympics 2016, we grabbed two medals, one medal for every 55 athletes and just two for a country that owns a population around 1.3 billion people. It is a huge shame but still if we keep it aside (though it is not possible) then the next big question is that how many names or faces do you remember apart from Dipa Karmarkar, PV Sindhu, Sakshi Malik and may be ten more?
None. Why is that? Well, most of you will counter the question with, 'because they did not perform well', but the reality is that there is more to it than just the individual game of these participants.
There were critics who slammed Indian athletes for not performing well but no one has raised a voice about the facts that Indian Olympics participants were not provided with the proper facilities.

Do you recognise the name of O.P. Jaisha?
She is India's national record holder marathon runner who has completed a marathon (42.195 km) without getting enough water to drink and collapsed at the end of the gruelling run in Rio.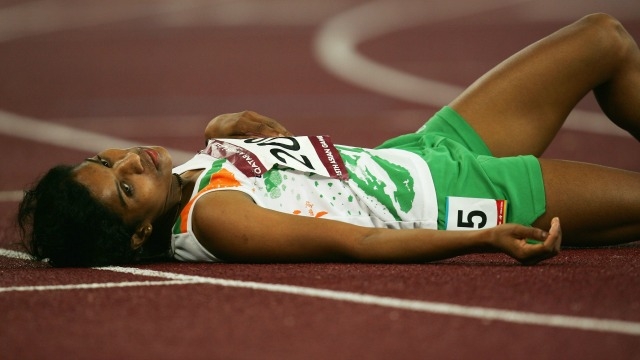 How did this happen? Well, all thanks to the Indian officials who provided nothing, not even a single drop of water  during the women's race at refreshment points.
O.P. Jaisha states that there were officials from all the other countries to provide refreshments to their participants but the desks of India were empty. The refreshment counters were designated after every 2.5 km but India's desks had countries name and flag only.
Recalling her ordeal, Jaisa said that she did not know how she managed to finish without getting enough water. The organisers did provide water and sponge but  only at 8-km intervals which lasted hardly 500m. It was almost impossible to run after the 30-km mark under the scorching sun.

Jaisha had clocked 2:34.43s in Beijing Worlds last year to finish 18th but with the lack of water she finished the marathon in 2 hours, 47.19s.
The other participants had the luxury of taking glucose, honey etc there was nothing for Jaisha and Kavita (Participants representing India) at the Indian stations.
Jaisha collapsed at the end of the race and regained consciousness after 2-3 hours. She was injected seven bottles of glucose to recover. The help does not come from her contingent rather it came from fellow marathon runner Gopi T and coach Radhakrishnan Nair.
O.P. will take  at least 2-3 months of ayurvedic treatment and massage to recover from the weakness. SAI doctors revealed that she has the fever but the top athlete refused to get admitted to a hospital.
As per the rules of IAAF, India could have assigned four officials at four points to provide water and refreshments to the athletes. The coach and the federation officials are responsible for assigning people for providing water and refreshments to the athletes. As per the rules, one country's athlete cannot drink from the other country's desk as it could lead to disqualification.
The national athlete blamed her coach Nikolai Snesarev for forcing her to run the marathon. She said that after the Mumbai marathon she wanted o qualify in the 1500m but Snesarev forced her to continue in marathon. She added that even when she suffered an injury during the training period her coach did not give her time to recover.
This is merely a part of the stories of every other athlete like Jaisha. It's not the talent only that makes India perform miserable in Olympics and every four-year we only erase what we have made in in the previous years. Years after years, the government of India changes but the condition of Indian athletes remains the same.
We are destroying our own legacy in the name of nepotism, favouritism and negligence on the part of the government and officials.
Follow us on Facebook, Twitter and Instagram for more updates. Don't forget to like and share. Do tell us your views in the comment box below.
23 August 2016
Avni S. Singh