Stunning results are often overshadowed in the world of sports, and at times, for good measure.
From a popular cultural perspective, India versus Pakistan games have kept Cricket spectators around the world on their toes, given the verbal volleys and on-field clashes.
When it came to Formula 1, the world's most expensive sport, the rivalry of Senna and Prost; their subsequent fall-out at McLaren got fans riled up, often not knowing who to support and who was right.
How could the realm of Mixed Martial Arts have lagged behind? A sport embedded in the construct of immense physicality, muscular blows and agile moves, was the McGregor vs Khabib post fight fallout that surprising, after all?
Here's a fact about Mcgregor vs Khabib fallout:
In the ecstatic and often tumultuous world of MMA, the McGregor vs Khabib post fight fallout was a scene so bitter and acerbic in the world of mixed martial arts that, even at this point of time, it is trending on social media.
Whether you are a fan of Twitter or a constant user of Facebook, the MMA epic between McGregor vs Khabib is something that's the talk of the town called Internet.
Here's what transpired and is making news:
Conor McGregor was defeated. There was nothing as simple other than the fact that despite fighting valiantly, he had no answer to Khabib, domineering and unbent.
As soon as- in the post fight event- McGregor tapped out, Khabib immediately jumped over the Octagon. The 30-year-old Irish MMA fighter and professional boxer was in for a tough time as Khabib attacked Conor's training partner, Dillon Danis.
The melee was needless and completely unscripted and uninitiated, one thinks and hence the entire occurrence comes across as a big surprise.
That's where things began getting a whole lot ugly.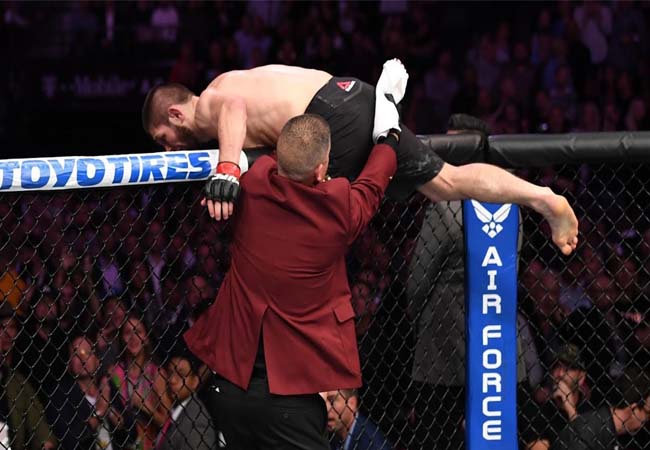 Two members of Khabib's team also attacked McGregor, why, one still doesn't know, apart from speculating about the eventuality of the MMA clash.
The two members of Khabib's squad made their way forcibly into the Ocatgon. What was going on and why, one doesn't quite know.
Police had to intervene in order to separate the two fighting- Khabib and Danis.
A punch, later thrown in at McGregor, that was deflected by another intervening lot comprising of two men. Their actions were utterly needless.
But even as McGregor could deflect one of the punches, another one, hurled at him struck him at the back of his head.
Scenes got so ugly that one of England's leading websites-The Independent- suggested the following:
"Security personnel eventually separated the two entourages. Both McGregor and Nurmagomedov were given police escorts out of the T-Mobile Arena."
Given the pandemic, completely uninitiated that it was, the UFC President Dana White decided not to present Nurmagomedov with the winning belt at that stage.