Kerala blasters hosted a crucial match at their home ground against FC Goa on 8th November and it turned out to be the most dramatic match of ISL 2016 season. Kerala Blasters needed a win to take themselves into the top four of the league tally and it was not an easy task to achieve because of FC Goa's regained vigour.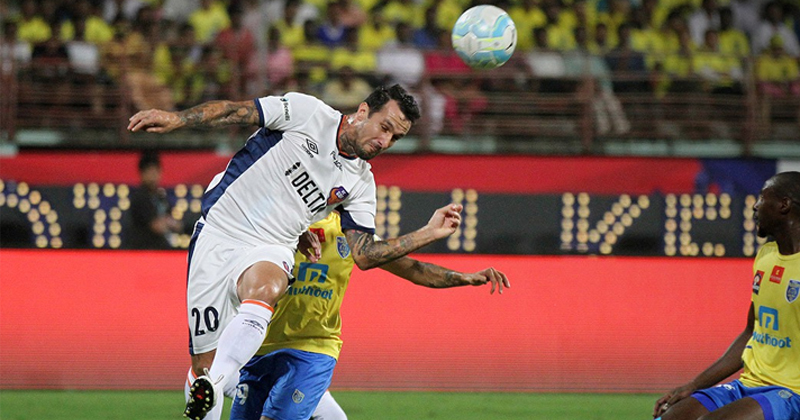 Kerala Blasters had the upper hand during the start of the game but the first goal came against the run of play as it was FC Goa who scored the leading goal in the 9th minute. Richarlyson delivered the ball in Kerala's box and Rafael Coelho's header was enough to let the ball feel the warmth of goalpost.
Kerala soon got a chance at scoring an equaliser when Rafi shot a Chopra pass and the goalpost but the strike went wide of Kattimani's goal.
The whole first half saw the Kerala side attacking at FC Goa's goalpost but the team was not able to score a goal.
The game went into half-time with FC Goa leading the contest by 1-0.
Kerala Blasters again had the upper hand throughout the second half and it all started in the 48th minute when Goa's captain, Gregory was sent off for handling the ball and Kerala Blasters received the resultant penalty. Kervens Belfort took the penalty shot and sent the ball straight into the goalpost. The crowd erupted with cheer and their hope to see the home team in top four came one step closer to reality.
FC Goa opted for attacking strategies after the equalizer by Kerala Blasters but latter showed why it is considered as one of the top contender of current Indian Super League season as it was getting hard for the visitors to breach Kerala's defence.
Kerala Blasters were also attacking the opposition's goal post simultaneously and their effort bore fruit during the last moments of the game.
In the 90th minute, CK Vineeth scored the winner after clearing a couple of Goa's defenders and diverting the ball towards Kattimani. The goalkeeper was not able to block the shot and Kerala Blasters took the lead by 2-1 which should have desolated FC Goa.
The game ended with Kerala Blasters coming out as the winners. Kerala Blasters now sits at the 4th position in ISL league tally and FC Goa again went to the last position.
Follow us on Facebook, Twitter and Instagram for more updates. Don't forget to like and share. Do tell us your views in the comment box below.
9 November 2016
Rohan Jaitly