FC Pune City and Kerala Blasters played at their best and the match resulted in a well-deserved draw on Monday at Balewadi Sports Complex, Pune. Cedric Hengbart and Mohamed Sissoko were the ones who scored the equalisers for both the teams.
Kerala Blasters started their game with a goal by Cedric Hengbart in the 3rd minute. He set the record for the fastest goal in Indian Super League history, as the goal was scored at exactly 2 minutes and 12 seconds into the game. The party started early for the Kochi-based franchise, while on the other hand, the home crowd went into silent mode and were stunned at this sudden affair.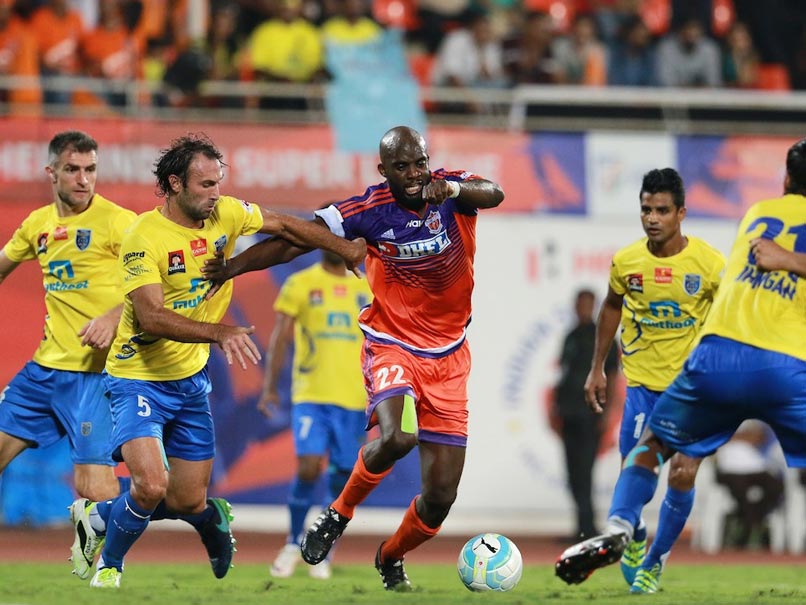 FC Pune City players were devastated after Cedric Hengbart's goal but gained their composure quickly for a come back in the game. They got their first chance at goal in the 15th minute when Tato volleyed the ball from the edge of the penalty box but the strike could not be converted into a goal.
Traore created another chance for the home team in the 23rd minute when he found himself alone in the opposition's penalty box but he dragged the ball a little wide of the goalpost making the Punekars lose another opportunity.
Kerala Blasters came close to doubling their lead in the 37th minute when Copra and Rafique partner to pass the ball towards Mehtab, whose strike went way wide of the target.
Cedric Hengbart and Aaron Hughes dominated the first half and kept the Pune City players on their toes. However, Tato's regular breaches into Kerala's defence also made the visitors worry.
The second half saw Kerala Blasters in attacking position as they were able to create a couple of opportunities for the second goal, Mohammed Rafi's volley being the first one. Rafi struck from the edge of the penalty box, in the 53rd minute, but it was successfully blocked FC Pune City's defence.
The pass by Pune City's goalkeeper was capitalised by Traore but Nandy came in from a far corner and threw Traore out of the game.
The equalizer from the hosts came in the 68th minute, when Lucca's cross came to Sissoko at the edge of the box. Sissoko shot took deflected off Hughes and sneaked the ball in the far corner of the goalpost miles away from Nandy.
Afterward, Kerala desperately tried to score the winning goal but Pune was firm in taking the match toward a draw and this what happened when the final whistle blew off.
Follow us on Facebook, Twitter and Instagram for more updates. Don't forget to like and share. Do tell us your views in the comment box below.
18 October 2016
Rohan Jaitly