FC Pune City continued to struggle at its home ground, as Pune City's match against Chennaiyin FC, concluded with a draw on Sunday. The home team is yet to claim its first victory at home.
Chennaiyin FC entered the game as favorites because of their two consecutive wins in previous matches and the resultant confidence was evident in their performance. Chennaiyin FC has never lost a game against Pune as they won three out of the four outings between them and the fourth match was a draw.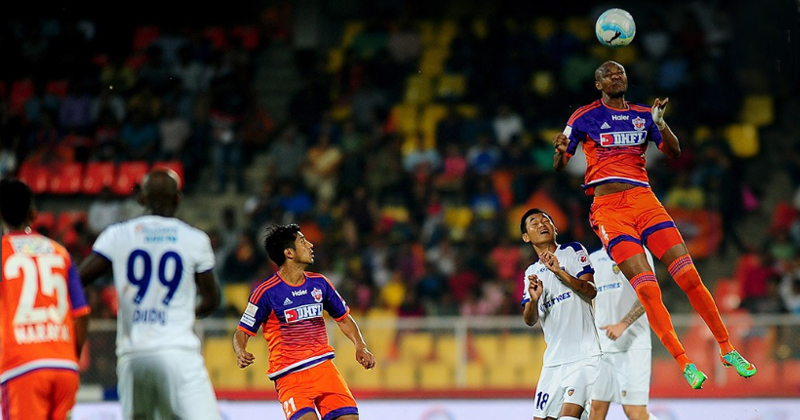 Pune, on the other hand, wanted to claim the victory to boost its self-confidence as it was the best opportunity to do so in front of the home crowd. The team seemed on a fly in the starting moments of the match, when Dramane Traore's header went past the Chennaiyin goalkeeper and the ball felt the warmth of net in the initial stage. But, the goal was disallowed as Tejas Nagvenkar, the match referee saw Jonatan carrying the ball out of the field before passing it to Traore.
The first goal of the game came in the 28th minute, and that too in an unexpected fashion. Jeje Lalpekhlua desperately grabbed the ball from Eduardo and attempted a strike from a distance of 30 yards. Poor positioning of the Chennaiyin goalkeeper was enough to convert the strike into a goal.
The ground came to life after the goal and the Pune supporters' dream to see FC Pune City claim its first win at the home ground became somewhat achievable. Throughout the first half, Pune City was seen breaching the Chennaiyin defence and the crowd was getting loud with every passing minute.
The Chennaiyin FC got not only one, but two chances to score a goal in the initial moments of the second half, when Dudu smashed the ball towards the left side of the opposition goal post but Bete was able to palm the ball. The moment was not over, as after defending Dudu's strike, Bete also felt the wrath of a header by Rane but he still managed to defend his position, much to his relief.
The equalizer for Chennaiyin FC came in the 82nd minute, when Luca was grappled down by Khabra resulting in a free kick just 25 yards from the FC Pune City goalpost. Anibal Zurdo was the one who attempted the free kick and took the game to 1-1.
Chennaiyin FC had a golden chance in the 92 minute to take the game towards victory when a Pune defender slipped while dribbling the ball in front of Davide Succi. Succi then shot the ball towards Edel but the strike did not have enough juice to breach the Pune City's goal post.
The referee whistled to end the game and Pune went off the stadium, still avid of a home ground victory.
24 October 2016
Rohan Jaitly