Mumbai Indians made their way to a comfortable six-wicket victory over Royal Challengers Bangalore in an Indian Premier League on Wednesday at the Wankhede Stadium. The skipper Rohit Sharma displayed a good effort in batting as he smashed 62 runs which led Mumbai to win over Bangalore.
Mumbai won the toss and decided to chase, batting first Bangalore got off a flying start as they scored 49 runs in powerplay with the loss of one wicket. The openers of Bangalore Virat Kohli and Lokesh Rahul pull off the great start. Virat smashed 33 runs off 30 balls and Rahul took 23 runs in 14 balls but in the fourth over the right-handed batsman was dismissed by Mitchell McClenaghan.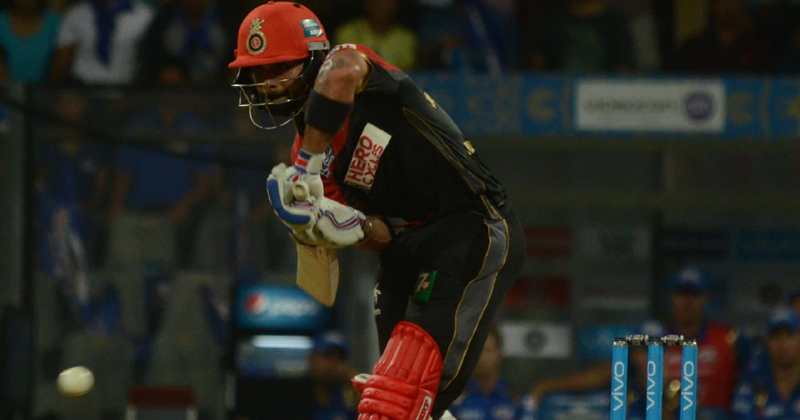 The dismissal of Rahul did give Mumbai their first break through but AB de Villiers played his game naturally and smashed 29 runs off 21 balls. The duo of Virat and De Villiers put on a great show and brought up a 50-run partnership. Bangalore reached 89/1 in 10 overs but in the 11th over Bangalore suffered a huge loss as they lost Virat. Spinner Krunal Pandya took the valuable wicket of Virat Kohli and that brought up a big twist in the game. After two deliveries De Villiers was dismissed and the loss of two important wickets of Bangalore brought Mumbai back into the game.
Shane Watson too did not last long and sent back by Parthiv Patel. Batsman Sarfaraz Khan smashed 28 runs while Travis head scored 37 runs for Bangalore. After 20 overs Bangalore managed to score a good chasing total of 170 runs with the loss of 7 wickets in 20 overs.
Mumbai Indians opening batsmen Rohit Sharma and Parthiv Patel came to bat and from the first ball of Rohit's innings it was clear that he is going to chase this target easily but the dismissal of Parthiv Patel in second over was a blow for Mumbai.
After Parthiv was dismissed the next batsman Ambati Rayudu kept a good batting pace and smashed 31 runs off 23 balls. Without losing any further wickets Rohit and Rayudu helped Mumbai reach 51/1 after the completion of the powerplay. Rayudu was looking set but the Bangalore spinner Iqbal Abdulla gave the much-needed breakthrough of the game as he dismissed Rayudu in the 11th over.
Rohit and Rayudu struck a powerful partnership of 76 runs, Rohit, using his experience smashed 62 runs off 44 balls but Iqbal Abdulla struck again and this time, he sent back Rohit in the 13th over of the match. The dismissal of Rohit put Bangalore back into the game but Kieron Pollard and Jos Buttler was not ready to lose without putting up a good fight.
Pollard who failed to impress in the previous matches came up with a bang and smashed 40 runs off 19 balls. His powerful innings steer his team to the second victory in the IPL-9.
Mumbai chased down the total of Bangalore easily as they posted 171/4 in 18 overs.
Follow us on Facebook, Twitter and Instagram for more updates. Don't forget to like and share. Do tell us your views in the comment box below.
21 April, 2016
Avni S. Singh