Iran form an important constituent of the 2018 FIFA World Cup. Even though a few days back, the very sight of Andre Iniesta and teammates celebrating a key group stage victory meant that the Iranian team had been defeated, it's not entirely glum for the Middle Eastern nation.
What had happened would be sad and painful for any soccer team, let alone Iran, about as powerful as the likes of Nigeria, Switzerland, Senegal or others. Certainly not up to the ranks with a Belgium and let's not get into the biggies.
Just that this time around, in 2018 FIFA World Cup, it seemed that Iran weren't playing alone. No, they really weren't. Attending in large numbers were the women from what's often been openly lamented as an autocratic women-subverting system.
So, even as Iran went down fighting 1-0 to Spain, clearly humbled by a vastly superior footballing nation, there was a lot of cheer and, importantly, emotion out there in the streets of Russia. 
Every country has a footballing history of its own; statistics that draw them to the attention of the rest of the world. Numbers that drive awe and tell people that they aren't some lame pushovers, rather some magnanimous force in the making. And if not about magnanimity, then about a future promise. Surely, Iran aren't the most threatening force in the realm of the ongoing, exciting 2018 FIFA World Cup 2018. Ain't that, right? But they've made it to four previous World Cup appearances.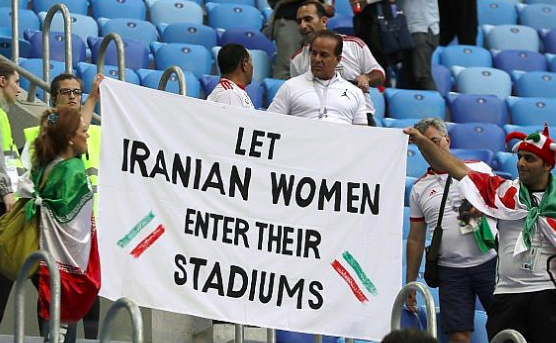 So at a time that this, fifth world cup appearance, was sort of legendary purely from the sympathetic perspective of fans, the current crowd support that the football team is enjoying is a bigger parable of the moment.
Few other sights could ever match that. And while, at the outset, it may seem like a simple narrative been stitched by the presence of women fans- Iran's story goes deeper than that. For a country where women are often looked down upon and not thought of in any spectacular (or great) light for not wearing a hijab in the public- the mere idea of seeing women coming out in full support to see, observe men's sporting events might have been seen as a big cultural setback.
Instead, it's exactly that did not happen.
For the past 40 years, think of this obscure statistic as 4 straight decades, have women in Iran been simply banned from going to sporting venues. There's never been that simple joy where one could sit in a stadium and put one's hands together for cheering for their own team, regardless of sport. That's such a taboo.
But this time, as the impressive, gargantuan 2018 FIFA World Cup came calling, women from Iran were spotted in full gusto, supporting their home team with a lot of pride. It didn't matter what they were wearing; for they were adorned and decorated with a sense of belonging and pride.
This could be perceived as a watershed moment in the history of a country's that constantly bandaged as a regime. Hundreds of Irani women were seen in the Kazan stadium where their team played against Spain and in fact, made a match of the contest. They did not go down by that big a margin, at the end.
But these were the dramatic scenes in Russia- the communist heartland away and distant from the more orthodoxy witnessed back home in the Ayatollah-regime. Any critic who would've thought that back in Iran, the scenes would have been normal- women and young girls tucked away at homes, doing nothing other than running house chores- was bound to get surprised.
It turned out that for the first time ever in history a live Football-game was broadcasted, rather streamlined live on a big screen. Interestingly, this happened in Tehran's main stadia. A number of women turned out to see the live broadcast of the all-important soccer game. Things, this time around, weren't as they were expected- they were bright instead of sullen, they seemed less-dramatic, less-dogmatic and more inclusive.
There were broad smiles all around in the country. 
One simply hopes that the fate of Irani women in the times to come remains positive as well, instead of the 2018 FIFA World Cup being just a watershed moment.