To sum up Neymar's first Le Classique appearance, it will be safe to say that while his goal-scoring run continues against PSG's Ligue 1's rivals Marseille, it had the fans from both teams on their toes as the match ended up with a 2-2 draw.
PSG full-back Layvin Kurzawa wasted the first chance, blazing an angled shot over the crossbar while Cavani's attempt to curl the ball beyond Steve Mandanda was easily defended by Marseille goalkeeper, moments before the home side scored a 16th-minute opener in stunning fashion.
Defensive midfielder Gustavo unleashed a dipping left-footed shot from 30 yards which deviated inside Alphonse Areola's right-hand post. While it was Marseille's first shot on target, their lead should have been short-lived as Paris Saint Germain streamed forward from the restart and Kurzawa's cross bounced over the bar off Edinson Cavani's thigh with the goal at his mercy.
GOOOAALLLLL!!!! ⚽️⚽️⚽️⚽️⚽️

Take a bow, Luiz Gustavo – WHAT A STRIKE! WHAT A GOAL! Beats Areola from distance.#OMPSG 1⃣-0⃣ pic.twitter.com/TLXgngBHRT

— Olympique de Marseille 🇬🇧 🇺🇸 (@OM_English) October 22, 2017
Marseille, the home side, were growing in confidence and the crowd was going berserk as they hustled PSG out of their rhythm, however, Neymar fashioned an equalizer in the 33rd minute out of nothing to silence the partisan Stade Velodrome crowd.
The former Barcelona striker and PSG's prized possession curled the ball to Cavani inside the area and on the return pass, he fired a bobbling, first-time shot which went straight inside Marseille's far post, while marking Neymar's 10th goal in 11 PSG appearances.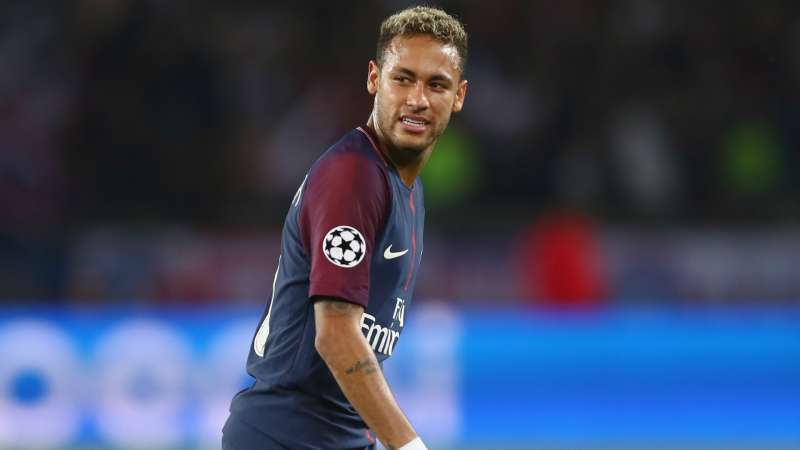 However, the game turned upside down in the second half as, after around 30 minutes of void, Florian Thauvin again gave Marseille the lead with his 78-minute goal, which was followed by Neymar's controversial send-off from the stadium.
Neymar received his first yellow card in the 81st minute for his comments made to the referee out of frustration, followed by pushing his head towards Lucas Ocampos in anger as he was felled by the Marseille defender but referee Buquet showed Neymar his second yellow card and forced him to leave the game in the 87th minute.
Two yellow cards in as many minutes – and Neymar is OFF! pic.twitter.com/fZkKDYYU2Y

— Goal (@goal) October 22, 2017
Edinson Cavani did manage to give PSG a point with his injury-time goal (90+3') with a free kick and taking the game towards a draw.
😍 Nothing but love for @ECavaniOfficial !! WHAT. A. GOAL. #OMPSG pic.twitter.com/01HQ7CNUTv

— Paris Saint-Germain (@PSG_English) October 22, 2017
That said, Neymar's sent off was not received well by PSG manager and players alike. Unai Emery, while defending Neymar said,
'We are a little disappointed with the send-off because he was fouled multiple times (five to be exact) throughout the match. I think that the referee [Ruddy Buquet] needs to think well. We must protect players. The yellow card, I think was not fair to Neymar. He's a player who wants to play, however, if every game he is provoked, there will be some aggression. I think it's a job of the referee to protect the important players in both teams.'
Notably, Neymar was hurled at with various objects including bottles by Marseille fans during his corner in the 78-minute, which gradually gave the home team a lead by 2-1.
Paris Saint-Germain midfielder Marco Verratti also defended Neymar saying that if it would have been him, he would have lost his cool, 20 minutes earlier than Neymar did and the Brazilian didn't deserve the treatment given to him by the home crowd.
As for Neymar himself, the Brazilian No. 10 told Esporte Interativo,
"I think the foul was exaggerated, yes. And unfair. I played the whole game getting enough and I have many marks on my body, It was just a move as I tried to continue after suffering a foul and I was annoyed at the blow from behind. The referee [Ruddy Buquet] did what he wanted and sent me off."
Despite being left out with a 10-man squad, PSG still made sure that Marseille didn't get all the smiles as Cavani leveled the score in injury time. Paris Saint Germain now sits at the top of Ligue 1 tally with a margin of four points, while Neymar set to miss Friday's match against Nice.