Spanish Super Cup became Real Madrid's second trophy of the season after UEFA Super Cup as Zinedine Zidane's men defeated Barcelona in the second leg of the Spanish El Clasico. After defeating Barca in the first leg by 3-1, the same match where Cristiano Ronaldo received a five-match ban for pushing a referee, Real Madrid's plans didn't seem significantly disrupted by Ronaldo's absence as Zidane appeared had a number of changes planned to the starting XI for the home fixture of the Super Cup.
Gareth Bale and Isco were replaced by Vazquez and Asensio, both of whom performed exceptionally well at Camp Nou.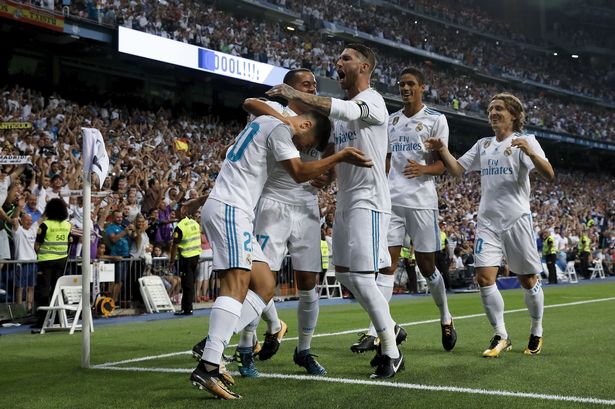 Just 4 minutes into the game, Marco Asensio set the Bernabeu alight with a goal while Karim Benzema doubled the lead in the 39th minute. These two goals were enough for Real Madrid to lift the Spanish Super Cup, their second title of the season, however, for Barcelona, it was a match to forget as the Catalan giants were beaten by an aggregate of 5-1 over two legs (3-1 and 2-0).
Marco Asensio is the 1st Spanish player to score for Real in back-to-back Clasicos since Raúl in Augustus-November 1997. #ElClasico

— Gracenote Live (@GracenoteLive) August 16, 2017
In the first half, Barcelona was able to attempt only one shot, their lowest in all competitions in 2017 and the lack of creativity from Rakitic and Andre Gomes, as well as the absence of Neymar at the front line, meant that the entire burden fell on Lionel Messi and Luis Suarez.
1 – Barcelona only attempted one shot vs Real Madrid, their fewest in a first half of a game in 2017 (all competitions). Lost. pic.twitter.com/NeKq3emjE5

— OptaJose (@OptaJose) August 16, 2017
When we talk about El Clasicos, there is fire, there is the love of fans and then there are on-field verbal spats, one of which we witnessed during the Spanish Super Cup second leg.
When Lionel Messi was bear the brunt of Real's dominance, Sergio Ramos, a player who doesn't need an invitation to wind up Barcelona's players, got the better of the Argentine in the middle of the second half.
Real Madrid were cruising to the first piece of silverware of the new season and Ramos decided the moment had come. As Lionel Messi asked him for the ball back, he extended his arm out, suggesting that he was about to give the Argentine the ball, before he decided to chuck it away when Messi reached in to grab it.
It prompted Messi to echo a few unsavory words and sentiments of his own towards Ramos with a look of sheer indignation on his face.
https://twitter.com/bloggerboxing2/status/897946243678314496
Here is what Lionel Messi said, 'La concha de tu madre', which translates into 'Your mother's v****a' in English.
What Ramos did was everything but surprising, however, seeing Lionel Messi losing his calm is a rare sight and it was definitely Real Madrid's dominance that acted as a pinch of salt.
Zinedine Zidane has competed in 9 competitions since becoming Real Madrid boss; he's won 7 trophies. 🏆

That's an incredible 77.7%. 😳 pic.twitter.com/XHG6osm9Py

— Squawka Football (@Squawka) August 16, 2017
As for Barcelona's Neymar-Less future, the missing 'N' in 'MSN' forward line was glaringly obvious just after 10 minutes into the game and new boss Ernesto Valverde will have to move quickly as the club continues its pursuit of a suitable and, after the Spanish Super Cup defeat, much-needed replacement.