Not the knights, not any champions, not an imposing force either in the annals of the sporting culture- Russia is still going to factor in during the FIFA World Cup 2018.
What better advantage can a home team have in a tournament featuring legendary names such as Lionel Messi, Christiano Ronaldo, Neymar, Sergio Ramos and others- apart from having the luxury of qualifying automatically playing at home?
But will this do for Russia, who are in physical comparison to a side like Belgium and Spain- an ant staring in the eye of an elephant?
The FIFA World Cup 2018- local fans in Putin-land would hope- will turn up something feisty and fabulous for the team etched in the communist heartland of the world, in a tournament exerting gravitas on the sheer power of commerce and capitalism. Need proof? Here's some. A whopping $100 million more is being spent on the current FIFA World Cup 2018, wherein a sum of $39 million is to be extended to the winner.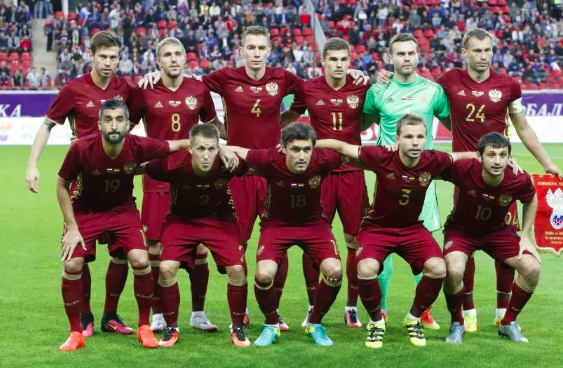 But spare a thought. Actually, spare a thought for the home team. Even as Russia qualified automatically for the FIFA World Cup 2018, the side tried its level best in the recent Confederations Cup Campaign. Sadly, despite true efforts, they would win only a solitary game. Considering where the team is right now, it would not mind having only made it earlier to that tournament's semi-finals.
If there is one great challenge that has onerous written all over it then it is the key absences of striking players in the team; those who hold the power to hold onto their own against formidable forces. It makes for quite a gaping void when one notes that in the mother of all sporting battles- the FIFA World Cup 2018- Russia will be without defenders Viktor Vasin and Georgi Dzhikiya, and forward Aleksandr Kokorin. And that told, one doesn't even need to fathom how big a loss this is?
In borrowing a phrase from Tennis lexicon, there'll be no use of the phrase "Advantage Russia" with the big daddies missing out. All thanks to injuries, the current vapid-looking line up seems like a human body without a spine being made to climb uphill. And there's no end to the team's worries also. This is, but the beginning. For any side, regardless of the stature of format, competing in a contest minus a reliable centre-back is a big loss. It's one of those voids that cannot be filled.
A reliable centre-back could not be nullified, mathematically speaking, by involving, say two strikers even. For Russian coach- Leonid Slutsky- the side is playing without a dependable name that can vouch for the crucial centre-back spot. It did not help the side further that formidable, recognised forces in the form of Sergei Ignashevich and the Berezutsky brothers- Vasily and Aleksey- are no longer in competitive sport.
At first thoughts, key absences and lackings in a seemingly dour side have reflected big on the team's fortunes massively. In the recent results, Russia could nothing more than concede as many as 3 goals each against the likes of Brazil, France and Spain. The team was, for the lack of a better word, simply obliterated by other fierce, capable opponents. Thankfully, these contests were international friendlies. But at some mental level, the defeats were enough to hurt the confidence of the make-up prior to entering the 2018 FIFA World Cup.
But those were the weaklings, who happens to be the strength- if at all- for Russia in FIFA World Cup 2018? It's that man- Fedor Smolov- a cool and calculated contestant at the highest levels of competition. All rests on Fedor Smolov's agility and skill. Back in the Russian league, as many as 14 marvellous goals were struck by Fedor playing for his Krasnodar. Along with Moscow's Miranchuk- the duo will really be expected to out-stretch themselves. Perhaps, it won't be a misnomer to quote that for every 4 players in their opposition, the 2 will have to raise their game to manage 4 at a time.
Russia is that severely "under-staffed" particularly for a tournament where not only the expectation of a berserk crowd (this being the World Cup) weighs in on them, but also the element of pride that they are playing for. For a group that has arguably powerful under-dogs and sedate forces in the form of Saudi Arabia, Egypt with Uruguay among them, it may just be a matter of life or death, make or break for the Putin lands' side starting the blow of the whistle on June 13, 2018.