Real Madrid vs Celta Vigo, this will the game that can take Zinedine Zidane's men to their first La Liga Title in five years and the states are already getting bigger and bigger as Barcelona too is sitting at the top with 87 points in the tally. Since Real Madrid still have a game in hand, a victory and a draw in their next to clashes will suffice to steal the title from Barcelona, who is going through one of its worst seasons so far.
Real Madrid will move three points clear of Barcelona if they win their Celta Vigo outing and in-form striker Cristiano Ronaldo will have all the spotlight to make this happen for Zinedine Zidane. However, Celta Vigo is not an easy challenge for Bernabeu as they already have a 2-1 aggregate advantage over the Spanish giants and the visitors will have to at least take the game towards a 2-2 draw.
Since Gareth Bale and Dani Carvajal won't be featuring in the tie to their injuries and Nacho is suspended after getting his fifth yellow card of the season, the only force that Celta Vigo has to worry about is Cristiano Ronaldo.
The Portuguese national is currently witnessing his one of the best seasons, scoring 100 European as well as Champions league goals and becoming the first player to score 400 Real Madrid goals when Zinedine Zidane beat Sevilla by 4-1, Ronaldo making it past the post, twice.
Cristiano Ronaldo has scored 22 times this season in top flights also have two hat-tricks under his belt which he scored against Champions League quarter-final against Bayern Munich and against Atletico Madrid in the semi-finals.
However, Barcelona is right there to poke Real Madrid as they will play their last game of the league against Eibar whom they have beaten at home and, if somehow, both teams manage to end La Liga points as equals, it will come down to their head-to-head clashed this season, giving Barca a clear edge over their arch rivals.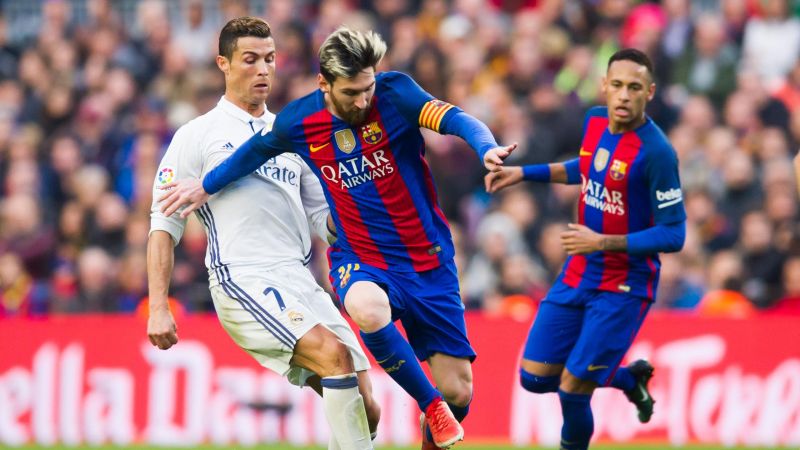 They have drawn the game against Real at Camp Nou and won 'that' El Clasico at Bernabeu by 3-2, thanks to Messi's last-minute strike. In the 2006-07 season the league was decided in a similar fashion as both teams stood at 76 points but a 2-0 win for Real at Santiago Bernabeu, followed by a 3-3 draw in the away match, meant they pipped Barca to the title race.
If Real Madrid wins: They will have a lead by 3 points against Barcelona into the final day
If Real Madrid draws: They will have a lead by a solitary point against Barcelona going into the final day
If Real Madrid loses: Barcelona leads the title race
Zinedine Zidane and the whole Real Madrid fan base would want Cristiano Ronaldo to perform and secure those three points against Celta Vigo. The Vigo side, however, after being knocked out by Manchester United from the Europa League, will be restored to full strength and will definitely give Real a run for its money.