Real Madrid, although having a dominating 2016/17 season and becoming the first club to successfully defend the Champions League trophy, hasn't had one of the greatest starts to their new campaign and since Cristiano Ronaldo was banned from the Spanish league, in his absence, they also suffered three consecutive draws in the initial La Liga group states.
That being said their encounter against Real Betis was expected to turn the tables around as Cristiano Ronaldo as well as Marcelo returned from suspension, adding more power to the lineup. However, the home crowd at Santiago Bernabeu witnessed a shocking defeat as the visitors stole the victory by 0-1 with a last minute goal in injury time.
Antonio Sanabria headed in a phenomenal 94th-minute winner for Betis after ex-Barcelona star Cristian Tello set up the striker, giving Betis the first victory at Santiago Bernabeu in a league game since 1998.
https://twitter.com/FootbaIITips/status/910761817382821888
Cristiano Ronaldo, on the other hand, making his first La Liga appearance was unable to have the same impact on the game as he did a week ago when he netted a brace against APOEL in a Champions League match. The Portuguese tried hard and even had numerous attempts on goal, but Real Madrid failed to score a single goal for the first time since April 2016.
512 – Real Madrid have failed to score in a game for the first time since 26th April 2016 (0-0 vs City in CL), 512 days ago. 0. pic.twitter.com/yISp9wNojb

— OptaJose (@OptaJose) September 20, 2017
Interestingly, it was only against Malaga back in September 2015 (14) when Cristiano Ronaldo attempted more strikes without netting the ball, than he had against Betis (12).
The result of 0-1 also ended a record-equalling streak of 73 matches in which Real Madrid had scored at least once while this was the first time since 1995-96 that Los Blancos failed to register a victory in any of their first three home games during any a La Liga season.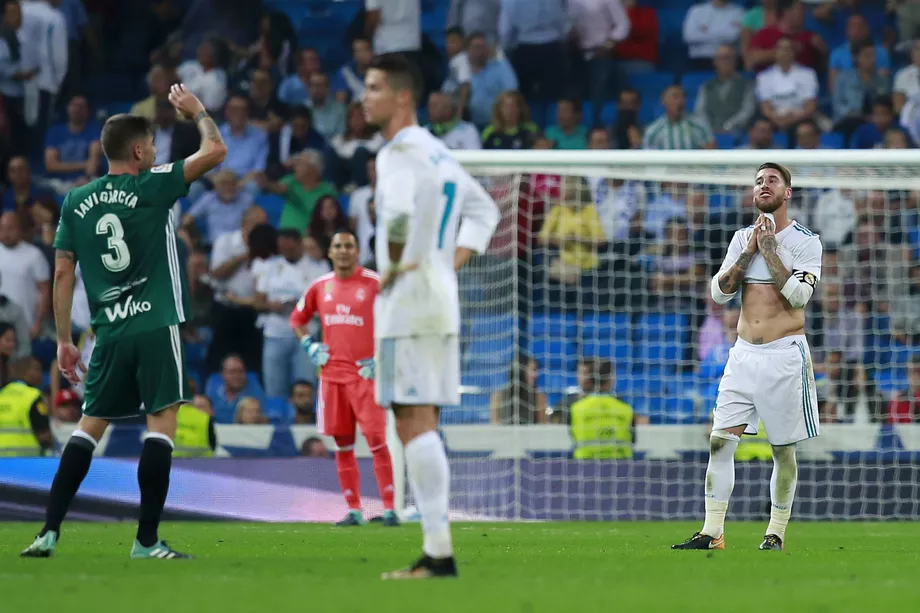 Moreover, Real Betis became the first team, other than Atletico Madrid and Barcelona, to win at Santiago Bernabeu since Gijon back in 2011.
Zinedine Zidane's men are now trailing behind La Liga leaders Barcelona with seven points and since Lionel Messi scored four goals, a day before Real Madrid encounter with Betis, Cristiano Ronaldo failing to take Los Blancos to a victory couldn't have come at a worse time.
Messi is also leading the tally of the most number of goals in 2017 with already striking 43 times in 40 games for Barcelona while Ronaldo has 29 goals for Real Madrid in 30 appearances.