Neymar-Messi-Suarez, Barcelona's attacking trio, is definitely one of the best in the world in modern football but rumors had it that Messi's greatness is holding Neymar Jr back and till the Argentine is at Camp Nou, the 25-year-old can never become the lead talisman of the club.
Further, it was reported by Spanish newspaper Sport that Neymar is wanted at Old Trafford and Manchester United's manager, Jose Mourinho is eying summer reinforcements. The club was said to be ready to make the Brazilian striker the highest paid footballer in the Premier League and meet Neymar's £173 million release clause.

It was claimed that the Red Devils are confident of landing Neymar due to Lionel Messi because the former feels that he cannot become the Barcelona's top priority until Messi is there at Camp Nou.
It was also reported that the relationship between the duo has grown strained in recent weeks since Neymar missed their 2-1 defeat to Deportivo for the birthday of his sister, Rafaella.
However, Neymar has broken his silence and put all the rumors to rest by saying that Lionel Messi's support means a lot to him and the 4 time Ballon d'Or winner has helped him settle in Spain.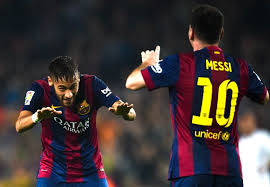 The attacking superstar, during a pre-match presentation against Paraguay for the World Cup Qualifier, said, "I was having a lot of difficulties in my beginning (at Barcelona). Then the best in the world said `Calm down, it will all fall into place, play your game.' It was great for me. I was reticent about talking to an idol, but Messi helped me relax."
The Brazilian also insistent that he is intent with his current position at Camp Nou and shares a good repo with his other teammates including Luis Saurez.
He added, "I think it's the best moment of my career, not in numbers, but in football, I hope to keep this average by helping my team-mates".
The statement must have come as a breath of fresh air for Josep Maria Bartomeu as Luis Enrique has already announced his retirement from the club by the end of this season and the club can't afford to lose a player now.
The trio will also go through the test of the time in their La Liga match against Real Madrid (El Classico). However, before that, there is a lot of football still left to be played and after the players resume their club duties, the fight to the top of the league will continue.