Lionel Messi's contract with Barcelona has been in the news for quite a while now and the club's President, Josep Maria Bartomeu has, on many occasions, said that the Argentine's contract renewal has been finalized but there is still a pen required to be on the paper.
While there is no clear idea about why Lionel Messi hasn't signed the contract which was framed last year, it is said that the five-time Ballon d'Or winner is waiting for his demands to be fulfilled and the Barca authorities have not been able to live up to his expectations.
That said, Barcelona FC is not in the stage of losing another flag bearer after Neymar's world record transfer to Paris Saint Germain and since the Catalans are left with a huge stash of money, there seems no logic in saying that the contract extension hasn't been signed due to financial reasons.
Notably, Lionel Messi's contract with Barcelona will come to an end on 1st July, 2018 which will also mark the end of the current season and if Messi doesn't sign an extension by that date, he will be available in the pool for free and for a player of his stature, no club would want to let that opportunity go to waste.
However, there seems one Premier League club who doesn't want to take any risk and has already offered a record transfer amount to Barcelona for Lionel Messi, which, if the contract extension is never going to work, is a win-win situation for the Catalans.
If you are wondering about the subjected club, you might not be surprised to know that Manchester City is rumored to have planned a huge set-up to bag the services of Lionel Messi in the next transfer window that opens in January.
According to a report by Spanish Daily AS, Manchester City is ready to shell out a massive sum of €400 million for Lionel Messi and overshadow the hype created by Neymar's transfer to PSG. However, the report should be taken with a pinch of salt as there has been no confirmation regarding the development AS has been known to provide some of the most shocking inside reports that go on to become the reality.
Having said that, Lionel Messi, 30, is happily settled in Barcelona with his wife and family, and if things do work out with the Spanish Giants, we would never want to leave the club. (A big 'IF' though)
It was also rumored that Messi will be signing the contract extension with Barcelona, which will also make him the highest earning footballer in Spain, when he returns from the Confederations Cup duties to pre-season training, but that date passed well over a month ago, with clubs having played more than half a dozen matches through their league seasons.
Pep Guardiola, on the other hand, still remains desperate to bring Lionel Messi to Manchester City, and it is said that some 'serious conversations' have taken place over the course of time, with City's manager more than eager to reunite with the Argentinian. The Premier League giants seem hopeful that Barca will cash in on Lionel Messi's soon-to-end contract, after which he will be able to leave for free.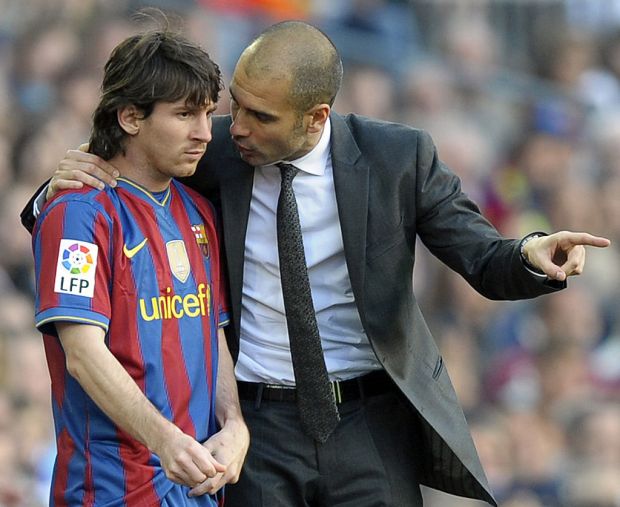 Barca chiefs, however, continue to insist that fans shouldn't worry as there is nothing for to be concerned about and just like his fellow club legend Andres Iniesta, Messi will also end his contract hold-out as well as officially sign up for more success with the club.
As for Lionel Messi himself, he has netted 45 times in 43 appearances in all competition and is leading the race against Cristiano Ronaldo for the most successful footballer of 2017 as the Portugal national has 31 goals in 34 appearances.
Lionel Messi's stats are enough to prove his dominance in Spanish football and of the Argentine were to move to English Leagues in January, first, it would completely shatter Neymar's €222 million world transfer and secondly, it would result in a huge power shift in the history modern football.