Lionel Messi hasn't had a glorious 2016/17 season with scoring 25 La Liga goals and 41 in total in all competitions. Further, his contract with FC Barcelona was on the verge of ending after the next season and Josep Maria Bartomeu was struggling to come to terms with Lionel Messi's demand for a contract extension.
Luis Enrique has already announced his departure from Camp Nou by the end of this season and Barcelona's defence has also been highly criticised due to their lack of support to the front line. With the trio of Messi-Suarez-Neymar bearing all the responsibility, Bartomeu just couldn't let go of his talisman.
Manchester City has also been linked with the Argentine for a record transfer as Pep Guardiola is keen on a reunion in the Premier League. However, Spanish outlet Don Balon, has claimed that Lionel Messi has finally agreed to all the terms and has signed a contract extension till 2022 with FC Barcelona.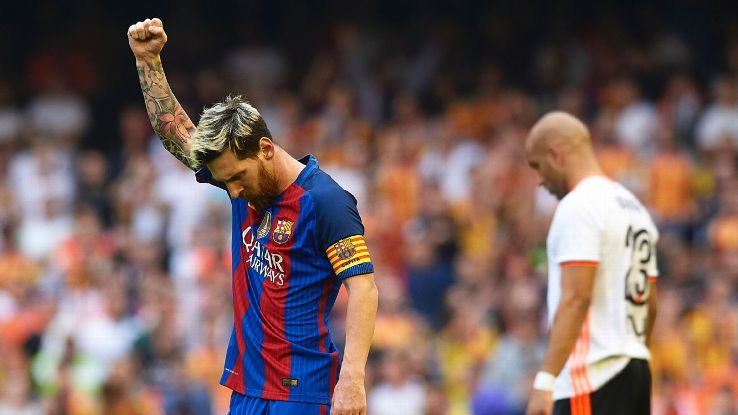 Details about the new contract have not been disclosed but one thing is pretty sure that Bartomeu must have shelled a huge sum to retain his key player and considering Cristiano Ronaldo's value at Real Madrid, there might have been a huge rise in pay-scale for the five-time Ballon d'Or Winner.
This also highlights the fact that despite Barcelona planning a complete overhaul in the next summer transfer window, Lionel Messi's importance in the Catalans remains undisputed. Further, the Spanish Giant feels that neither Luis Suarez nor Neymar is capable of becoming the flag-bearer, despite both of them shining alongside Lionel Messi.
Everything said and done, Lionel Messi has taken Barcelona to new height during his term with the club and he has also never backed down from expressing love for Camp Nou. After all, it's that tissue paper that has made him what he is today. Nobody believed in him but Barcelona knew that Lionel Messi was destined for Greatness and it's his turn to return the favor, as he has done all these years.