It could be said that among the most anxious minds in the world of football is Gareth Southgate. The stylish, genteel 47-year-old is among the finest managers in the current wave of the sport. But as with any team, captain, coach or manager- the burning question is- what can he possibly do to make the Three-Lions from England transform their prominent position into a winning opportunity?
There is, certainly, loads of pressure on England's shoulders. This, of course, isn't another widely-followed English Premier League event. The mother or daddy of all battles anywhere on the space of the earth, or call it what you may, is making way for the FIFA World Cup 2018.
England weren't around the last time when the finals of the FIFA World Cup were played. They had been upstaged already. They were long gone and saw the proceedings on live television in Her Majesty's lair; in their home kingdom. The biggest question, thus far, as also the hope is whether their most favourite star Harry Kane can cause Hurricane in the FIFA World Cup 2018?
But what concerns the side with Harry Kane as its top draw is some distant math that doesn't paint a great picture, after all.
England's finest moment in the football world cup came in 1966, where they were adjudged the champions of the world. None of the present superstars of the sporting kingdom- Neymar, Ronaldo, Messi- were even born then.
It's been 52 years since England have managed to lay their arms around the greatest trophy in the realm of football. The FIFA World Cup 2018, therefore, beckons something great, something prodigious and calls on the team to produce a belter of a performance.
Moreover, it's been 28 long years – think about it, nearly 3 decades- since England reached the semis of a FIFA World Cup. Therefore, can the FIFA World Cup 2018 bring about something different, even it stoked by a drastic venue change? But if their most die-hard fans were to side with rationality over exuberance, then seeing a quarter-final berth does not seem difficult. On game day, if the team are to play a consistent brand of the sport under Southgate's guidance, then even a semi's berth would not be out of hand.
But while there are hurdles, there's also some innate belief. England would believe that they have a chance- even if, an outside one- having made as many as 16 World Cup appearances in the pinnacle of all Football tournaments.
Can it get any bigger? Yes, but only if, they manage to ring in the excitement of gnawing at their opponents. Their task begins with Group G- clearly, a top-heavy one- driving them to get the better of sides like Belgium (could this be England's first real challenge), Panama and, Tunisia.
That told, here is why Harry Kane is holding such a key? It was back in 2014-15, the Tottenham man burst on the scene. That may have been a few footballing seasons ago, but familiar flair backed by consistency and great agility means that he's been England's go-to man in action. And in here remains the biggest scare of Harry Kane. In his last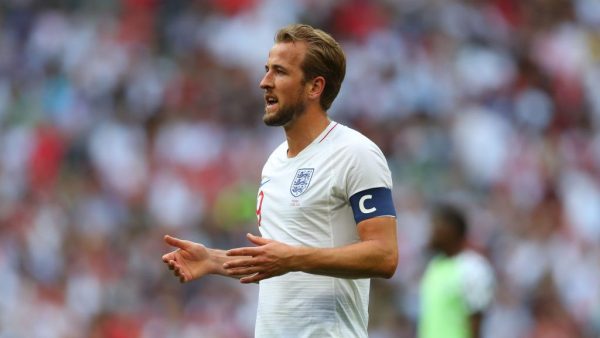 season, Kane's form has been impressive. With 41 goals from just 48 appearances, there's serious talent and numbers to boot for England.
Can he expect great performance from two of the most feisty talents alongside him in England- Raheem Sterling and Marcus Rashford? In fact, it may just come down to England choosing from one among Rashford and Sterling?
A largely defensive coup can pack a power courtesy strikers. Even as most teams today play with a single striker, for England the pivotal function can be played by the likes of Kane, Rashford and even, Vardy. But coming back to the likes of Sterling and Rashford, where popular opinion stands, then Raheem Sterling may actually be a better choice than Manchester United's Marcus Rashford.
The two are more likely to feature in separate games, such tough is the current spot on offer. Even if it may not have to do with current form, that Rashford picked up an injury in training may see Sterling secure what might be a first Sterling appearance in Russia.
In fact, so great has been the form of Raheem Sterling that he's been picked as an exemplary candidate for the "Golden boot" by experts at England's Sky. Even head-to-head, against Marcus Rashford's 13, Sterling has struck 23 for City last season. Moreover, the international appearances go in his favour. 37 isn't a bad number or one to conceal.
What might play to England's advantage in the FIFA World Cup 2018 might be a crucial factor.
For the first time in two and a half decades, does the squad look not only exuberant but young? Did you know the average age of the current English squad? It's a massively young and potent 25.6 years on average.
This may not be the most defining force in motion where world cup appearances matter. But it could be argued that England have got themselves a squad that is young, cohesive and intelligent. Above all- it senses a real opportunity in Hary Kane's brilliance expected to shine brightly at the FIFA World Cup 2018.
The keenest contest for England will, inarguably be the contest against Belgium. The outcome of the contest shall effectively decide the group topper. But that said, even if they have a potentially easy route to the group stage, England will need to score and collect handy points against Belgium to make a considerable progress ahead.
The most likely combination in their final XI is slated to include three centre-backs and two wing-backs. The concern, however, lays at the back. The midfield, therefore, needs to dominate the proceedings and lead the pack as a vigilante force on the move.
England open their campaign on June 14 against Tunisia, followed by a game against Panama on 18th before the biggie against Belgium on June 28.
So how does the team's squad look?
Goalkeepers: Jack Butland (Stoke City), Jordan Pickford (Everton), Nick Pope (Burnley).
Defenders: Trent Alexander-Arnold (Liverpool), Gary Cahill (Chelsea), Fabian Delph (Manchester City), Phil Jones (Manchester United), Harry Maguire (Leicester City), Danny Rose (Tottenham Hotspur), John Stones (Manchester City), Kieran Trippier (Tottenham Hotspur), Kyle Walker (Manchester City), Ashley Young (Manchester United).
Midfielders: Dele Alli (Tottenham Hotspur), Eric Dier (Tottenham Hotspur), Jordan Henderson (Liverpool), Jesse Lingard (Manchester United), Ruben Loftus-Cheek (Chelsea).
Forwards: Harry Kane (Tottenham Hotspur), Marcus Rashford (Manchester United), Raheem Sterling (Manchester City), Jamie Vardy (Leicester City), Danny Welbeck (Arsenal).