Real Madrid has always been about winning trophies and the 12-time Champions League winners make sure that when they are not lifting trophies, they compensate it with making records and creating history.
Real Madrid vs Real Sociedad has to be one of the toughest encounters for Los Blancos this season but despite being ch on the ground, Mayoral (19′) and Gareth Bale (61′) made sure that the result of this La Liga outing comes out, in their favor.
Madrid was a tricky clash on Sunday against an in-form side with the likes of Cristiano Ronaldo and Marcelo suspended as well as Karim Benzema and Toni Kroos injured, however, after disappointing consecutive La Liga draws, the Zinedine Zidane side made light work of Eusebio Sacristan's men and ended up winning the clash by 3-1, with Rodrigues (28′ minutes) being the only scorer from the home side.
However, in the 36th minute, he ended up scoring an own goal, giving Madrid a chance to attack from the front and leave their defense posts.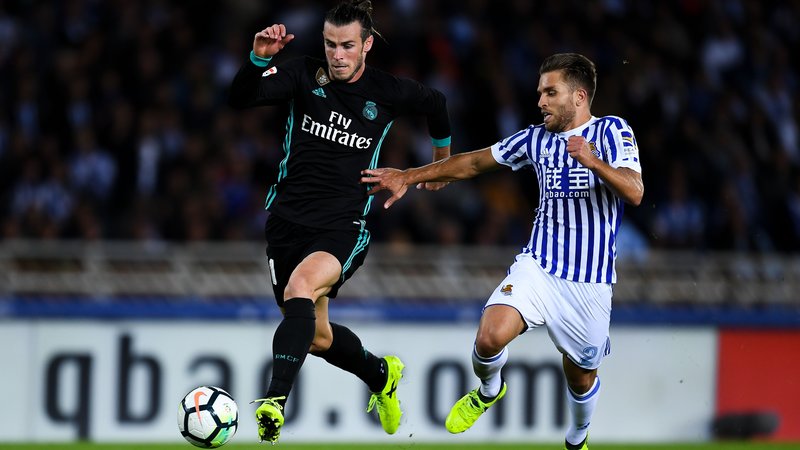 Having said that, prior to the game, it was a known fact that Gareth Bale loves the Anoeta and have scored a goal for Real Madrid at every outing and the love again prospered when Isco chipped a lovely to Gareth Bale, and the Welshman chased the ball, controlled it with a light touch to get away from the defender and then cheekily lifted the ball over the advancing Rulli. It was as if we were witnessing the same player, once again, who was brought in for €100 million, after a long time.
Watch the goal here.
https://twitter.com/myselfieyo/status/909647101721792513
While Gareth Bale's goal sealed the win for Real Madrid, the Welsh professional footballer also became the leading goal scorer (6) as an away player at Anoeta in La Liga history.
Talking about records, Real Madrid too had its share of achievement as they, for the first time, registered 11 consecutive victories in away games in La Liga history while also reaching a world record of scoring in the most number of consecutive games (73) and leveling with Pele's Santos (1962-63).
Real Madrid match Santos' world record! 🙌 pic.twitter.com/Qg9WQ6MVj9

— B/R Football (@brfootball) September 17, 2017
The victory was Real Madrid's first in three La Liga games, keeping them within four points of league leaders and arch-rivals Barcelona.
That being said, despite creating history during the Real Madrid vs Real Sociedad clash, fans continued to boo Gareth Bale as they have been criticising the Wales international's performances this season.
During the post-match presentation, Gareth Bale opened up about the situation and from what he said, we can only deduce that he is talking all the booing as a motivational factor and he is looking to come back in a goal-scoring form.
This is what Gareth Bale said,
"It is normal, as it happens in football and I just keep my head down while keep working hard. That's all I can do and I cannot control what goes on. Players have ups and downs in their career and it is about how you bounce back. But it's always nice to score and the most important thing is the three points we got, especially at a time when we needed them the most."
Zinedine Zidane's Real Madrid have an uncanny quality about them and despite Barcelona having a 7-points lead before the match, they were still considered favorites to win the La Liga crown, once again. Now they are trailing behind with just 4 points and Cristiano Ronaldo's ban from Spanish leagues have also been lifted. Considering that, it's safe to say that the chances of them defending the title were never better than this, since the start of this season.