After a disastrous month of May that started with Barcelona dreaming of a treble, Champions League, La Liga, and Copa Del Ray, Barcelona were left humiliated by a hungrier Valencia in the Copa final, and thanks to their 4-0 capitulation to Liverpool at Anfield in the Champions League, finish the season with just the one trophy, the league title, to show for it.
In truth, following their Champions League embarrassment at the hands of Liverpool, it was always going to take a monumental effort to get the Catalan giants minds right for this Copa Del Ray final, and not for the first time, Ernesto Valverde was found wanting.
In a season that promised so much, only winning the league in a season where perennial challengers Real Madrid started in disarray and finished in a re-build, the climax to the season feels very anti-climactic.
With Lionel Messi pulling the strings in the midfield, Ernesto Valverde only needs to remember to write his name on the team sheet each week, and the league is essentially theirs – hardly a piece of inspired coaching.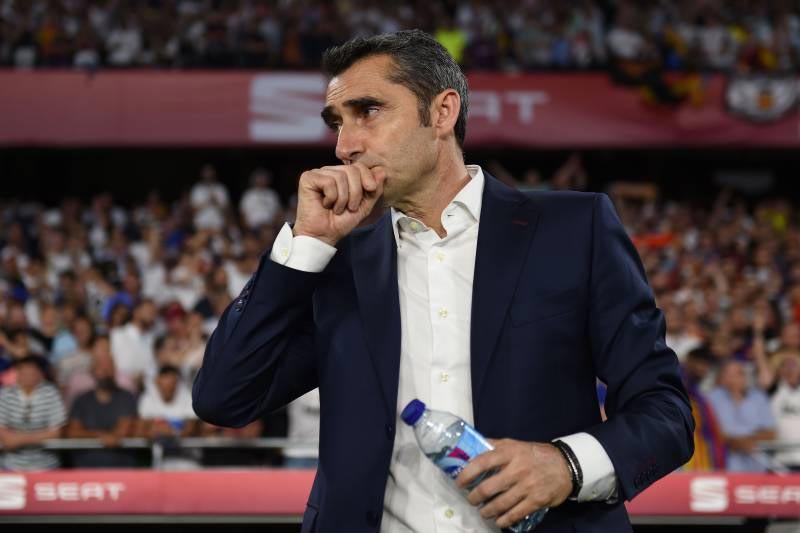 By all reports Ernesto Valverde is a wonderful man and most in the Barcelona squad like him, and therein lies the problem…
As the wheels were falling off at Anfield the team needed a leader, and were found lacking, as Valverde was outcoached by Jurgen Klopp. Ahead of the Copa Del Ray final against Barcelona, the team needed to be picked up, have their bruised egos dusted off, and reminded how they got to the Spanish cup showpiece.
Instead, they looked apathetic at best.
"I feel fine," Valverde said in the post-game press conference. "When you win, obviously you feel much better, much happier — but this is a different feeling to [Liverpool], even though we've lost again.
"We have not been able to fulfil the expectations that we've created throughout the season. A month ago, we celebrated the La Liga title thinking about winning a Treble and we've been knocked off that path at the decisive moment. We're here to win trophies, nothing else.
"But I am fine, I am fine […] When managers lose, we always want to make amends and turn things around. There is no doubt about that. I know losing is tough. Something was lacking. That responsibility [I have] is difficult, but you have to accept it."
With the balance of European power clearly shifting to the Premier League, as evidenced by the Champions League Final set to be contested by Liverpool and Tottenham, and the Europa League final being played between Arsenal and Chelsea, Barcelona are in real danger of losing touch with the rest of Europe's elite.
Having not won the Champions League since their 3-1 triumph over Juventus in the 2014/15 season, a travesty for a team with such riches, the European rot set in well before Divock Origi lashed in the fourth goal in the 79th minute of the most memorable comeback in football history.
Since winning the final against Juventus, Barcelona were been bundled out at the Quarter Final phase in three successive seasons, to Atletico Madrid, Juventus, then in what was the biggest choke of all time, losing to Roma in 2017/18 3-0 away from home, after winning the home leg 4-1.
It turns out that Roman massacre was just a pre-cursor to what was to come at Anfield, a black mark on such a proud clubs history.
With an ageing squad, players not living up to their price tags, and their arch-rivals Real Madrid arguably in need of a bigger rebuild, the time for change is now. Ernesto Valverde may be feeling 'fine', but soon he may be feeling the door to the Nou Camp slamming shut behind him.