Diego Costa is all set to sign a five-year-deal with Chelsea and the club is willing to pay him £57m each year or £220,000 per week, making him the one of the highest paid players in Premier League.
Transfer rumors are in full swing and with high profile players being linked to club transfer and their Chinese counterparts showering money to acquire the stars of Europe, Diego Costa's future at Chelsea also became uncertain because Tianjin Quanjin offered him a £30m-a-year contract. However, this new offer by Costa's current owner will probably keep him in Europe.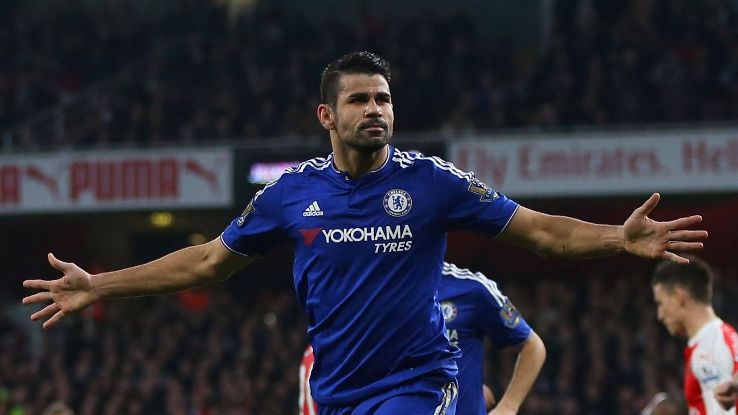 The fact that Diego Costa was not included in the squad for the Leicester trip despite being the top scorer for Chelsea with 15 goals and 5 assists this season, further fueled his transfer rumors. However, Chelsea officials stated that the 28-year-old was suffering from back pain and that was the reason behind the Brazil-born Spain international not playing the critical league game against the reigning Premier League champions.
Amid the bust-up rumors between Antonio Conte and Diego Costa, the club manager said during the interview that everything is fine between the club and Costa.
"Is everything calm now? Yes. Diego is a really important player".
"The situation is very clear. He is very happy to stay with us. He is very happy to fight for the title".
"Will he stay here for a long time? Yes, I think so. I think so".
"I see him every day and I see his commitment, his behaviour is very involved in the team. He loves this club".
When asked about the Far Eastern clubs offering extraordinary amount of money to bag the talent, Conte said "It is a threat. It's very difficult to manage this type of situation. These offers are very strange. £60m for Oscar. A lot of money for the players. This is not the right way to pay a lot of money to keep the players at the club. As clubs we must have the right vision and not to lose that".
Antonio Conte has won three Series A titles with Juventus and now has transformed Chelsea into title favourites this season, with the side currently sitting eight points clear of Manchester City at the top of league table.
Meanwhile, we are now waiting for an official statement from the club for the £57 million fresh contract to make Diego Costa stay with Chelsea, as we don't want this update to become another rumor and we further hope to sea Costa playing for the club in the upcoming crucial stages of the Premier League.
Follow us on Facebook, Twitter and Instagram for more updates. Don't forget to like and share. Do tell us your views in the comment box below.